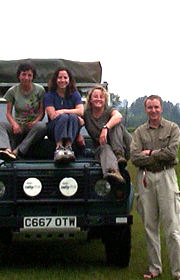 About the Team
It wasn't the best way to assemble a team, put an ad on the Lonely Planet website and pick companions sight unseen, but as the bubble burst in the spring of 2001 and my portfolio value plunged like a shot pheasant - it was the only way I could think to make the $100,000 trip budget. I was lucky. Our crew of 4 stuck it out quite a while, we met some great people along the way, and it was certainly a trip to remember.
A special shout out to some of the folks who joined us along the way; Devy Santiago & Rob Smoot (Southern Africa), Mike Faulkner (East Africa), Janet Porter (East Europe), Kathryn Mertes (China-India), Stacey (Middle East).
____________________________________


Jeff Willner (Canada)
Expedition Leader
jeffwillner@yahoo.com
OTHER EXPEDITIONS
1999 - Six month, 28,000km, expedition through southern Africa (South Africa, Namibia, Botswana, Zimbabwe, Zambia, Tanzania, Kenya, Uganda, Rwanda, Burundi, Mozambique, Malawi), Land Rover 110 Defender
2003 - Two month, 12,000km, drive from Guyaquil, Equador to Ushuaia, Argentina on the PanAmerican highway down the west coast of South America.
Before the Trip...
"The frustrations and hassle of planning an expedition sometimes make me wonder if it's worth it - this latest trip has taken over a year to put together. But then I remember a few of the "moments" from previous adventures, times when it all seems to come together and life overwhelms you with its immediate beauty - twilight bush camp in the Okavango with unseen lions roaring, unexpectedly exquisite french cuisine in a tiny Rwandan restaurant, swaping jokes with the locals over midnight tea at a Tanzanian truck stop. I hope you sign up to share our triumphs, challenges, and "moments", it should be a great year of journals!"
After the Trip...
"In some ways we did this trip at the worst possible time. We didn't get a single sponsor because the economy was so bad. The 9/11 tragedy occurred when we were in the Middle East and we had to alter our itinerary. And because I was short of cash we had to advertise for team members who would be willing to pay their way - in order to cut costs. It's not a crew selection process I would really recommend.
But in other ways it was the perfect time. Life was tough on consultants in 2001/02, we skipped the worst of the job market and had the trip of a lifetime instead. Even through the trip meant a ton more debt, it was an irreplaceable experience. Despite political unrest, riots, bad roads, breakdowns, a disastrous wreck in Patagonia, and a never-ending shortage of cash, we managed to pull it off. Along the way we met some remarkable people, had some amazing experiences, and saw ... well ... the world. And despite a rocky start I made some friends for life. Around the world by Land Rover! Enough stories for a lifetime."
____________________________________

Sally deFina (Australia)
sallydefina@hotmail.com
Before the Trip...
What do I like most about visiting foreign countries? The opportunity to experience diverse and unusual cultures. As an avid adventure traveler, one of my goals has always been to complete an around-the-world trip. I look forward to writing to you about the wonderful people and their traditions as well as the beautiful scenery we will surely discover.
After the Trip...
When I informed my fellow University of Chicago, GSB classmates that I was planning on joining a Land Rover expedition instead of immediately starting my business career following graduation, many told me that I was absolutely insane. But not four months later, when passing through the US after the European portion of the trip, those same classmates were telling me that I picked the perfect time to temporarily "avoid" the job market. While we were seeing new countries, meeting new people, and discovering new and beautiful scenery, our friends and family in the west were going through the worst economic downturn in decades (not to mention the worst terrorist attack in history).

Now that the expedition is finished, I too am out looking for work. And the economy still has not recovered. Sometimes I feel like just chucking in the whole job search and heading off for another year of travel. Max (our Land Rover) is fitted for expedition travel, and there are friends who are willing and able to just take off for exotic locations at the drop of a hat (anyone want to join a Land Rover expedition in South America for 6 months?). Oh, If only I hadn't spent all my money! Alas! I need a job. But despite not having work at the moment, when interviewers ask me whether I would do the same thing again, I tell them most definitely "Yes!. I would not trade the experience for the world!" I will be back.
____________________________________

Jody Finver (US)
finverjody@hotmail.com
Before the Trip...
What would possess someone who has already traveled plenty, already seen enough sights to last a lifetime, to drop out of the working world and travel overland, in a truck, for a year -- with strangers? Maybe it's because once the travel bug bites it works like a virus through your body, with no cure. Maybe it's because I think there's more to the world than the 15 minutes dedicated to it on the nightly news. Or maybe, just maybe, I needed a really good excuse to finally learn how to drive stick shift.
After the Trip...
____________________________________

Gulin Akoz (Turkey)
Before the Trip...

After the Trip...
____________________________________
Other Travelers

Devy (Sri Lanka) / Rob (US)
Southern Africa
Three weeks through Zambia, Botswana, Namibia, South Africa, and Zimbabwe. Highlights - climbing the Great Zimbabwe in the middle of the night and watching the stars while the hyenas howled below.
Mike (Australia)
East Africa
Joined the team for three weeks in East Africa because he couldn't bear to be parted from his sweetie, Sally DeFina. Drives a mean curve in a loaded Land Rover. Excellent CD collection. Managed to talk Sally into marrying him four years later.

Viktor (Slovakia)
Ethiopia
In Addis we met up with a young Slovak Count, Viktor (last name withheld by request). Educated in the finest English prep schools (what, what) he was an interesting addition to the team and often had a different perspective on things. On the unrelenting misery of kids badgering us with their two words of English, "You" and "Money", he commented, "I wonder if one could acquire a permit to export urchins by the kilo. They seem to have quite a surplus here." Today he's a banker in London.

Janet (Canada)
Eastern Europe, Scandinavia, West Europe
Met a cute Canadian while touring Vlad's castle in Romania and offered her a ride to the next village. Sally and Jody adopted her, I had no arguments, she stayed with us for the rest of Europe. We were gutted that she couldn't continue with the expedition in South America. She would go on to work for a non-profit in South America, and is now doing anti-AIDS work in Malawi.

Kathryn (US)
China to India
"What can I say, I love adventure! Whether it is crossing the Andes alone, hitchhiking through South America, sailing in the Caribbean, or climbing Mount Kilimanjaro, I LOVE adventure. So when offered the Chance to meet up with Sally and join the expedition through China, Tibet, Nepal & Northern India, I was more than game. I look forward to truly being on the road again -- free to explore and learn about new geographies and cultures while taking some time off from the rat race back home. My only regret is that my husband cannot be here to share in this wonderful adventure with me."

Stacey (Canada)
Nepal, India, Pakistan, Iran, Turkey - Europe
Talked a friend of mine from Toronto into meeting us in Nepal to see the sights. Found out she was single when she arrived... we were dating shortly after that. She extended her trip from three weeks to six and traveled through the end of the expedition. We were married a year and a half later. A pretty great way to end an expedition!