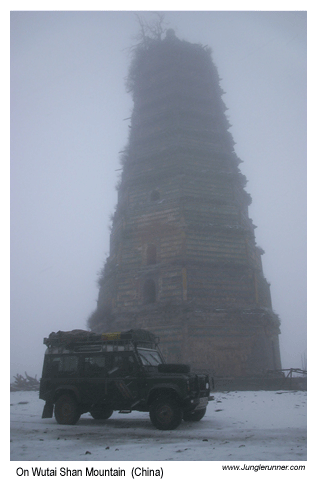 #38 - Shanxi & Shaanxi province (China)
Jeff Willner - 29 April 2002
(Xi'an, CHINA) – Leaving Beijing we drove west and then south through Shanxi province (and then Shaanxi province), spending over a week visiting Buddhist temples, holy mountains, ancient cities, and eating ourselves silly. Northern Chinese food features a lot of wheat so you tend to find noodles and dumplings a lot, though the big cities would also feature a few southern cuisine restaurants heavy on the spices and rice. Restaurants are a central part of Chinese culture, no matter what the income level in a town there are always rows of restaurants and Allen (our guide) said that it is common for virtually everyone to eat out at least two or three times a week.
Of all the countries we visited China has the best food! By the second week in the country I found myself watching the clock in the truck anxiously waiting for lunch time. "I'm getting a bit peckish, anyone else hungry?" "Jeff it's ten thirty." I sigh and keep driving. If ever there was a place to eat four meals a day (besides the all you can eat 24-hr cruise ship buffet) it's China. The only tragedy is the lack of good coffee. Tea is fine but nothing finishes a meal like a hot cup of joe. We resorted to carrying a coffee press and fresh ground beans. By the end of the week I realized that I had added a new addiction to my long standing love of coffee - I just hope there is a good noodle shop back in Toronto when this trip is over.
Most of the driving was done on new expressways or smoothly paved two lane national highways. If the government relaxes the requirement for vehicle-based groups to have their own guide it would be quite fun to rent a car in Beijing and do the 1000km trip independently (though the lack of English signs and speakers would be a challenge). Arriving in Xi'an signalled the end of the touristy part of the trip. We relaxed in 'civilization' with fast food, easy internet, and a few nights at a western style hotel complete with English TV channels. To the west the landscape would be more extreme and the population more sparse. We would be leaving traditional China with it's Han ethnic majority and going into the Muslim minority area - less developed, smaller cities with fewer attractions and more rugged lifestyle. The staging area for Tibet.
In case you do decide to visit northern China and want to explore outside the beaten path, here is a list of the places we visited (with a brief rating):
Area
Attraction
Rating
(out of five)
Shanxi Province
Datong
Yungang Shiku (Cloud Ridge Buddhist Caves)
*****
"
Xuankong Si (Hanging Monastery)
***
near Hunyuan
Heng Shan Mountain (cable car to mountain top and several monasteries)
*
Taihuai
Wutai Shan Mountains (dozens of monasteries in valley and on mountain peaks)
****
near Pingyao
Qiao Jia Dayuan (Qiao Family Courtyard House, Raise the Red Lantern filmed here)
***
Pingyao
Ancient Ming dynasty walled city, Rishengchang Financial House Museum
*****
Shaanxi Province
Hua Shan
Holy Buddhist Mountain (2200m-high granite peaks reached by climbing thousands of steps)
****
near Xi'an
Terracotta Warriors (2000-year-old army of thousands of lifesize ceramic warriors in battle formation)
*****
Xi'an
Bell Tower, City Walls, Great Mosque (also features McDonalds, great shopping and fast internet)
****
Our fist stop after Beijing was Datong to see the Buddhist caves. We stayed at a hotel that defines the word 'rathole'. Aside from the standard filthy carpet it boasted fungus coated shower pipes, intermittent spitting hot water trickle, and the ever popular pervasive open sewer scent. Sally, Kathryn and I decided to try our luck at a local restaurant without Allan. Bad idea. Not only did we not get any discount but our food turned out to be not really quite what we thought we were ordering. Long strips of fuzzy intestines floating in a spicy sauce - ummm maybe not.

The next morning on the way to the Buddhist caves with low morale and lower expectations we drove past this sidewalk kitchen that seemed to be catering to truckers. Allen jumped out and promptly started ordering. Two cooks were hand slicing noodles into a pot of boiling water, another deep frying donuts in a vat of oil, and several others sold an assortment of odd breakfast foods (dirt covered eggs, rice gruel). Some of the more adventurous dishes were too much for our westernized stomachs but the noodles were great - and so were the donuts. The best part was watching these two chefs slicing noodles rapid fire.


"Buddhist caves" read the guidebook, what is a buddhist cave and how could it be worth the hours of driving I wondered. Arriving at Yungang we visited the first couple of caves with carved walls and small statues, gradually the statues got bigger, and bigger, till walking along the sidewalk these gigantic carved Buddhas burst into sight. It was overwhelming, completely unexpected, and very very impressive. Outside we spent over an hour buying old calligraphy, ceramics, brass figures and paintings from the street vendors. Allan had to almost drag us back into the truck to stay on schedule.
Down the road from Yungang is the famous hanging monastery of Hunyuan. This architectural marvel is perched on the edge of a steep cliff face and was built over 1400 years ago. Really the picture says it all. It's a monastery. It's built on a cliff-edge. We walked through it to be sure, and yes, it is indeed a cliff-edge monastery. I might be a bit bitter about this place because the parking attendant stole about $20 off me in a confusion of spilled money, high wind, and quick fingers.

The Chinese government has decided that by 2008 it will be the top tourist destination in the world, and they are investing substantial sums of money into roads, public facilities, and changes to the regulations to achieve this goal. For example, it used to be that foreigners could only stay in one or two 'tourist' hotels - these days in China you can stay in any hotel in town which means competition is up and prices are down. Even so, getting used to the western sensibilities is taking some getting used to. Bathrooms are a prime example. Most Chinese have grown up with outhouses in the back and a bucket bath once a week. That is normal. So virtually all hoteliers invest anywhere but the bathrooms. The feeling is that if there is a hole and a bucket of water that's all you need. You have to go to a new three star hotel before toilet seats appear and the odour goes away.

Heng Shan mountain was another example of the authorities not quite 'getting it'. We were charged an entrance fee to drive up the road to this picturesque peak - one of China's holy Buddhist mountains. Once we arrived at the parking lot we had to pay a parking fee. At the top there was literally nothing to do but climb thousands of feet - or take a cable car. So feeling a bit ripped off after much grousing we ponied up for a one-way ride thinking we could enjoy the scenery and walk down. Arriving at the top station we were told the only way we could continue on the path was to pay an extortionate monastery entrance fee. 'We didn't want to see any monasteries.' Too bad, the path goes through there, you must pay! 'Forget it we will go back down.' Fine but since you didn't buy a round-trip ticket you must pay a premium fee to return on the cable car.

That was the last straw. Fortunately Allen was on our side and after haranguing the ticket clerk for fifteen minutes we were allowed to bush barge down the side of the mountain bypassing the monastery back to the main path down. On the way down Allen had to listen to three MBAs tell him in no uncertain terms why the menu pricing system was flawed, what defined deceptive advertising, and how truly pissed off we were with the whole experience. He survived and we went off and found a hotel that did two things the Chinese do very very well - great food and cheap sauna (with massage).

Wutai Shan is a group of five mountain peaks that surround the little village of Taihuai. Another of the holy Buddhist mountains, the place was undergoing a dramatic revitalisation. Domestic tourism is huge in China, a growing middle-class pile into the family car and drive down one of the new highways to experience a bit of the country with the kids. It reminded me of cramming into the family station wagon with my six siblings when Dad took us across the US to see Disneyland. Taihuai's hundreds of Buddhist temples offer an even more compelling lure to the locals (despite the lack of roller coaster rides) and each May the city is flooded with thousands of nationals.

We were fortunate to visit just before the onset of the tourist stampede and were able to drive the Land Rover up the muddy track to the very top of the mountains, where several of the most sacred monasteries were wreathed in blowing snow. 'You receive extra blessing for coming all this way', we were assured by the monks in their spartan, freezing chapels. They must have been right because that night we found a genuine Brunswick bowling alley in town complete with tacky rental shoes. After three frames we were all feeling the touch of home. It was a nice mix of the new and old, the sacred and mundane, though I suspect that a Space Mountain ride isn't too far in the future for this booming little alpine village.

No matter where we went, the Land Rover always attracted a crowd. It is big, bad, and clearly capable of tackling the roughest terrain - and the van drivers loved to crowd around it nodding and (every time) kicking the tires. Jody purchased a plastic world map much earlier in the trip and we put it in the rear side window with a black marker line to show where we have visited. The map bridged the language barrier quite effectively. Point. They make a circle motion as if to say, 'You have been around the entire world??' Nod vigorously. The whole crowd goes wild. And for an encore I always washed my hands in the rear faucet under the back bumper - knocks 'em dead every time.
At the end of our first week we stayed in the ancient walled city of Pingyao. Formerly the center of Chinese banking, progress and foreign competition crushed almost all the local banks and for almost a century it languished. Industry and progress passed the city by leaving the town remarkably preserved. These days the city is benefiting from the decades of isolation. Tourists take bicycle rickshaws around the top of the intact Ming dynasty wall, or wander the maze of shops. One of our most enjoyable nights of the week was spent wandering the red lantern-lit streets, browsing the old shops and sampling the food in Pingyao's old city.
"Come on Jeff, let's climb the mountain!" But...why? After two somewhat traumatic experiences on Kilimanjaro I subscribe far less to the whole "because it is there" school of thought. There was a very nice Austrian-built cable car to the lower summit that would allow us to wander comfortably between the peaks. But no. Kathryn and Sally needed to 'do' the mountain. In their defence, the guide-book describes a 'tough climb to the top that rewards you with stunning views and weary limbs'. It doesn't really get specific about the thousands and thousands and thousands of steps cut into the granite cliffs that are so steep at times one must cling to a metal chain. All in all we climbed 2200m vertically over a distance of 15km. Seven hours of solid climbing later as we neared the exit with aching legs, Kathryn making sideways loops because the path sloped too steeply and Sally nursing an injured knee, I asked if we had 'done' the mountain enough. They weren't impressed.

As with most things that cost you a great deal of money or effort, you ascribe extra value to the experience - and Huashan is no exception. The cliffs are indeed spectacular but for the love of mercy if you visit take the cable-car.

In 1974 peasants digging a well uncovered what is probably the major archeological discovery of the 20th century - an underground vault of earth and timber that yielded thousands of life-size terracotta soldiers and their horses in battle formation. Constructed as part of the royal tomb of Qin Shihuang (who united China in 221BC, standardised currency and written script, and was considered the first real emperor) - each warrior has different features, is clothed in detailed uniform, and positioned in strict accordance with the book of war. Located near Xi'an, most tourists visit the site on a day trip from the city.
Our mid-China tour finished in Xi'an which once vied with Rome and Constantinople for title of greatest city in the world. In antiquity it was the capitol of China and terminus of the Silk Route. Even today Xi'an retains an exotic flavour in its alleys and courtyards not often found in the rest of China. We visited some sights but mostly just took it easy, staying at a western style hotel and filling up on fast food. Bargains were easy to find in the alley markets overflowing with souvenirs, so of course we bought way too much. It was a good end to the middle part of our tour.

For most of the week we definitely had the feeling that we were special. Tourism hasn't penetrated very far outside of the major attractions and quite often in smaller villages fascinated crowds would gather to watch us eat noodles or pump diesel. We were likely some of the first white people they had ever seen. It's a rare feeling that we all enjoyed, the sense of being some of the first outside eyes to see the sights. Previous visitors to China described it as a 'struggle just to survive' but with the new emphasis on tourism we had a much easier time (despite the bathrooms). So there is a unique chance available right now to benefit from the new ease of travel as the government flings the doors open to visitors, and beat the coming hordes of foreign devils.