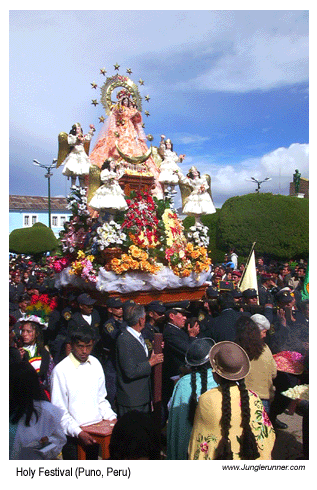 #27 - Peru
Jeff Willner - 7 February
(Lima, PERU) - Peru is well and truly on the gringo circuit. A mecca for two week escapists, the Lima/Cusco/Titicaca route funnels loads of camera toting foreigners. When we arrived in Puno on the shore of Lake Titicaca the touts hit us coming off the bus in full force, "Special rate for you, very nice hotel, hot water all day!" There are pluses and minuses to being on a well travelled tourist route. Internet access is easy and the budget options are usually plentiful. But on the flipside, it is hard to get past the veneer of backpacker amenities. In the end, the local culture is reduced to mass produced alpaca sweaters and Inca styled textiles.
We were lucky to arrive in Puna at the beginning of a major fiesta, the Virgin de la Candelaria, and were able to see some really unique stuff. But much of Peru was in seen in the company of package groups and other budget tourists. Even so, Peru deserves it's status as one of the top South American destinations. There is no other place where so many completely different sights are packed so closely together. And from a purely historical perspective, the rise of the Inca empire and subsequent invasion by Spanish profiteers is compelling reading. If you have never been to South America and are looking for a place to start, Peru is that place.
Coming off the dizzying heights of La Paz, Bolivia, the Lake Titicaca region was a blessed descent. Though for most visitors it is advisable to take it easy - after all at over 2000m it is the world's highest navigable lake. The main attractions are the floating islands. Centuries ago, a local Indian tribe began weaving reeds together to make large floating platforms on which they could build small villages. As the reeds decay in the water, new layers are added on the top. Some of the islands are over a hundred years old.

Having seen the islands on a previous trip, I stayed in the hotel and worked on journals. Taking a break from the computer I wandered down Puno's three-block gringo alley. A pedestrian street packed with restaurants, internet cafes, tour agencies, and shops. Many Indian women sit in the side alleys selling food and souvenirs. I passed this little woman on her way to sell peanuts and snapped a quick picture.

We were very fortunate in Puno to arrive at the same time at the Candelmas fiesta. Thousands of people thronged the Plaza de Armas (main square) for the procession of the Virgin, marching bands, and other entertainment. We saw gauchos (cowboys), regional marching groups that had bussed in from all over the country, and everywhere there were families clutching a picture of the Virgin de la Candelaria (Virgin Mary with candles).

It was raining on Saturday and we expected that to put a damper on the celebrations. But in the early afternoon the sky cleared and immediately men with flowers began creating large murals on the parade route.

Less than an hour later a massive parade had formed up following a shoulder carried statue of the Virgin, and they tramped toward the cathedral directly on top of the carefully crafted flower murals. There were at least a dozens stops in the procession as it inched toward the cathedral. Incense was offered, prayers made, flower petals poured onto the figure from the second storey of a bank building overlooking the parade route. And everywhere crowds of people looking on.

"Just wait till we get to Arequipa, you will love the hotel there" I assured the women after two days of cold showers in Puno (the hotel touts lie). I found Casa de mi Abuela on a previous trip. After a long overnight bus ride with seats that didn't fully recline, we luxuriated in an American breakfast on the lawn. Jody left the group to spend a few days in Machu Picchu but we stayed on for two days soaking up the easy life in Arequipa - even managed to catch the Super Bowl. Most of the backpackers in the bar were watching 'The Exorcist' on another screen so I divided my attention between the two. I'm not sure which was more terrifying, Linda Blair's spinning head or the Patriot's last second march down the field toward their winning field goal.
Another of Arequipa's charms is the Monasterio de Santa Catalina. It is actually a convent, originally founded by wealthy Spanish nuns seeking a place of refuge. It is not a building, but rather a city within the city covering over 20,000 sq meters. The maze of streets and alleys hide delightful gardens and the occasional surprise. Unexpected courtyards painted a brilliant blue or red are juxtaposed with lush beds of flowers and the the distinctive white volcanic brick architecture unique to Arequipa. It really is a photographer's dream location. You can follow the sun all day going from one angle to the next, here a fountain, there a cluster of doves on a blackened old baking furnace. It's one of my favourite spots in the world.
Another all-night bus took us from Arequipa to Nazca, location of the famous Nazca Lines. For decades controversy swirled around the lines. Landing strip for aliens! proclaimed one noted German writer. Others decided they were obscure astrological signs. From the bone dry desert ground there is nothing special about the piles of rocks thrown about. It is only from the air that you see amazing shapes take form. A monkey, hummingbird, whale, even what looks to be an alien figure picked out on the side of a mountain. How the pre-Incan cultures were able to make these large rock figures is a mystery, but even more intriguing was why. Why would they make these fantastic shapes when they could only be appreciated from the air - and they did not know how to fly. Recent theories suggest that the shamans (or medicine men) went into drug induced trances in which they perceived that they were flying above the earth. So the figures may have been created for their benefit. But the jury is still out on a conclusive answer.
Hopping the community bus for $3 we travelled to Pisco on the coast. Peru has a cold water current that runs up the coast, similar to the west coast of southern Africa, which keeps the land desert dry. In our hired Toyota station wagon we bumped around the nearby Peninsula de Paracas. Not much to report really. Lots of sand. Some dunes. And this one particular overlook onto a natural arch carved out by the sea that is known as the Cathedral.

Oh, Pisco is also renowned as the home of the white grape brandy that is used to make the infamous Pisco Sour. Cheers.

Though we were hoping to transit Lima and catch a same day flight to Ecuador, it was not to be. We were forced to spend a night in the capitol. This is not a particularly pleasant prospect. Lima is a big, dirty city of over two million inhabitants. Both Sally and I had been forced to spend time there previously, but we were pleasantly surprised this time when we took a cab out to the suburb of Miraflores. I gotta tell you, the government is getting their act together on street cleaning and beautification in the downtown part of Lima, and Miraflores (which was always pretty decent) is darn swanky. We strolled through clean, well-lit parks, past a string of high class restaurants, and stuffed ourselves at a KFC. Can't get enough of that original recipe. In fact, after a movie, drinks at one restaurant, capirinias at a second, and a Romeo y Juliet cigar from a corner smoke shop - Miraflores seemed like a heckova good stopover.

As Sally said, you travel to many places and get used to the local perception of 'clean'. Most South American countries stop well short of our first-world definition of decent. But every once in awhile, you get to a hotel and walk into a bathroom with shiny clean ceramic tile, fresh toilet paper, and no noticeable odour - and it hits you how much you have been putting up with. It sounds funny to say, but at the sight of the spotless bathroom in our Miraflores hotel, we both flopped down on our beds and let out a sigh of contentment. Maybe we were on the gringo trail, but sometimes a 3-piece KFC meal combo and a functional flushing toilet is cultural perfection.