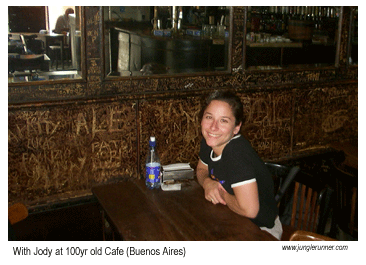 #23 - Buenos Aires Beautiful
Jeff Willner - 8 January, 2002
(Buenos Aires, ARGENTINA) – "You slacker! This food is awesome, and all the time we have been on the road you said you didn't know how to cook." Jody glared at me. Oops, a miscalculation. I stammered, "Well you know I do almost all the driving and get tired at the end of the day, plus I really need to have a full kitchen and oven..." "Whatever!" Jody cut me off. "You are totally going in the cooking rotation when we are back on the road." Ahh well, it was worth giving up my secret.
For three weeks the Hostal San Telmo in Buenos Aires was our home while we waded through the insurance and shipping details. Located in a working class district of downtown Buenos Aires, the hostel is surrounded by century-old cafes, fruit and butcher shops, antique galleries, and shaded plazas. Before each evening meal I would walk twenty steps across the street into my favourite little grocery stall, pick out a single tomato, onion, pepper, or maybe some broccoli and fresh bread. Hold up my fingers to show how thick I wanted the butcher to cut the steaks. Select a bottle of nice red wine, pay $5 for all of the purchases and head back across the street into the kitchen to whip up another sizzling bit of heaven. So relaxing, so laid back, and the crowd that passed through the hostel included some really excellent individuals. People to relax with in the evening, swapping travel tales, sharing some cheese and crackers, going to a tango show, or just vegging out and watching 'The Untouchables' till 1am.
Normally our insurance claim would have been processed in about a week, but due to the meltdown of the Argentine peso, our repair quote was delayed for days and then weeks. Though it took an accident to get us back to the city, by the end of our stay I was captivated. Buenos Aires rocks. It's a city of European sophistication and Latin temperament. South America's most beautiful women in the latest styles, stately buildings, midnight dining where the clubs don't get going till 2am, tango in the squares, art, architecture, and cobbled avenidas.
Our 36hr bus ride to Buenos Aires from Rio Gallegos in Patagonia was a bit more challenging than normal since we were all banged up from the accident. The day after arriving was a weekend, no way to do work, might as well see the city. Thankfully the swelling in my leg had gone down and it didn't look like I was clumping around with an elephant's foot. I popped an anti-inflammatory and Jody and I decided to make a short walk to nearby San Telmo plaza. It was so pretty. Shade trees, clusters of cafe umbrellas with seats, and on the corner of the street this 100 year old cafe. That's gotta be at least twenty years of graffiti scratched into the wall.

After the park Jody and I retraced our steps and went north to the old port. It has been converted into a mix of condos, restaurants, and modern office buildings. It has been really well done - on a quality level with Battery Park in New York or Queens Quay in Toronto. Urban cool.

About twenty blocks to the south of San Telmo is La Boca (or the Latin Quarter). This was a heaving immigrant community at the last turn of the century and from this hodgepodge of tin shack houses and narrow alleys came some of Argentina's best tango music and art. It is completely touristy today, but is still home to quite a number of art studios.

We decided that since we were in Buenos Aires we had to go see a Tango show. Gulin had befriended a Turkish backpacker and he had taken her out the evening prior. She came back raving about the dancing. So a group of us from the hostel went down to see a show. The dancing was fine but the accordion players were the most entertaining. Two sixty year old guys who were totally into their music. They were head bobbing, doing the facial expressions, even bouncing up and down on their chairs when the music got hot. Dinner was interesting too. First course, some bread. Wait. Wait. Then second course, a plate with a gigantic slab of meat and a wee bit of salad. And ice cream. That is all. They love their beef in Argentina!

The next Sunday was the famous San Telmo market. Hundreds of vendors set up stalls with antiques, records, pictures, precious stones, silver, handicrafts, you name it. In the center was an open area that had been curtained off and tango dancers performed for tips. Unlike the cool professionalism at the tango show a few nights prior, this was open air, sweaty, passionate dancing. Somehow it seemed a lot more real.

I wandered the city one weekend intending to walk a dozen blocks to see the Plaza del Congresso and have a cafe cortado. But it was such a fine day that I just kept on walking. Along the Avenida de Mayo with its stately old buildings. Over to Corrientes, the city's theatre district lined with dozens of venues, and then down to Teatro Colon - the majestic national theatre that overlooks Avenida 9 de Julio, one of the world's widest boulevards.

Still walking, I went north into the swanky neighbourhood of Recoleta lined with glamorous townhouses and exclusive apartment buildings. Cartier, Rolex, and Tiffany are crowded into the streets of upscale stores. At the heart of the neighbourhood is a large park that includes the Cemetery of the Recoleta. There are hundreds of mausoleums ordered row by row, shaded by trees, interspersed with statues. Odd as it may sound, it would be the perfect place for a picnic - the solitude and sense of permanency, of peace. The main attraction is Evita's tomb. Not well marked, you have to note it carefully on the map outside and walk about 2/3 of the way to the back in the rear left. Or you just follow the regular stream of tour groups. It is always covered with flowers, personal notes, and is carefully cleaned unlike some of the other mausoleums. I saw one of the workers carefully taking a piss on one tomb of an old muckety muck - calculated? Who can say.

West of Recoleta is Palermo, slightly less posh but with its own cool elegance. One ten block square is known as Palermo Viejo, a collection of fine restaurants, clubs, shops, bars, and restaurants. Because Palermo is middle-class there is a great mix of different stuff. We went out one night with Jody's cousin who lives in the city. "Don't bother coming over till midnight cause its dead till then." And sure enough, things started filling up around 1am. Man, I don't know how they keep up their pace.