#33 - Thailand
Jeff Willner - 31 March 2002
(Bangkok, THAILAND) - Think of every nasty stereotype you have of Thailand... that's how my visit began. I was dumped unceremoniously by my mini-van driver at a hotel several blocks away from where I wanted to go in Phuket (he earned commission from the hotel). Also conveniently, he arrived in town fifteen minutes after the tourist office closed. Angry at the hassles and lying I lugged my pack around town for ninety minutes and found a less expensive and friendlier hotel. Next door, the Jazz Restaurant seemed like a decent place to unwind after the ten hour van ride and long hotel search. I ordered a set menu (fixed meal deal) but was surprised when a bill for twice that amount arrived. Motioning over the manager woman I explained I had ordered the set menu. "NO! You order eggs, bacon, muffin, toast, coffee, juice, separate separate." she retorted.
I was shocked. "Listen, you were right here when I pointed to this line on the menu. English Breakfast. It includes all those things. Don't charge me individually!"
"No, you bad man! You pay whole bill." She was yelling now.
It had been a long day. I was already completely frustrated at people trying to rip me off - and now this? I almost never yell, but this was an exception. "Are you CRAZY? Is this service? What are you doing? Why are you doing this?"
"YOU BAD. BAD! I HOPE YOU HAVE DIARRHOEA! GET OUT! GET OUT OF RESTAURANT!" she screamed.
I looked at my waitress dumbly. She eyed me. I turned back to the manager at a loss. "You hope I have diarrhoea?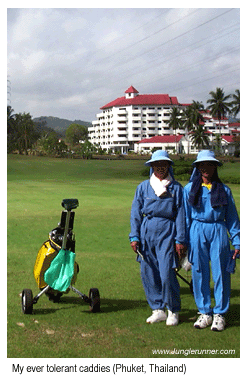 GET OUT! GET OUT! DON'T PAY YOU BAD MAN. YOU LEAVE!"
Well being Canadian of course I had to pay the bill and I left enough for the set menu and a little tip. Don't ask, it's inbred up north, our society demands uncomplaining politeness especially during dining fiascos.
Is this Thailand? Wandering the darkened streets with the pulsing music and brash girlie bars where you are almost forcefully pulled off the street put me in a mild depression. Sweaty potbellied foreigners towed little Thai cuties. Good lord, what a travesty. Everyone gobbling at the trough as fast as they could.
Fortunately I was wrong. That's not Thailand. It has about as much resemblance to the real Thailand as Bourbon St. in New Orleans has to the rest of America. In the next few weeks I met saavy Thai businessmen who were leading their economy out of recession and into a lead position in the surrounding markets. Warm hearted families who welcomed me with famous Asian hospitality. The modern attractive Bangkok chock full of shops, business, and ambitious professionals. And most of all... Thai golf courses where the pace is slow, the caddies are women, and there are cold drinks waiting every three holes.
With a strong dollar the lifestyle is pretty sweet indeed. Some of the world's most delicious food sold for pennies at roadside stands, centuries of history, beautiful temples and historic palaces. And of course you can't forget the amazing beaches. There really is a great deal more to the country than mercenary touts and girlie bars. Thank goodness. And like the Land Rover accident, the riots of Buenos Aires, and the knife fight in Durban, my run-in with the restaurant manager has faded into infamy. Surreal at the time, but makes for a great story later!
On my second day in Bangkok I was introduced to a retiree who had managed to arrange his life around five to seven rounds of golf per week. Wow. I could be so lucky. He adopted me at once and we proceeded to play together with his various golfing buddies for four straight days. I shot a 41 on the front nine on my second day (a miracle with my game) and he got quite excited - tomorrow you shoot 75 for eighteen! Sadly, my pitching wedge completely deserted me and I carded three figures. I felt terrible. "Sorry Visnu, I'm an embarrassment." "No, no! You just had a bad day. Let's play tomorrow again.". Life can't ever be that bad on the course.
Between cable TV, air-conditioning, cheap rounds of golf, and terrific dinners at with the Nalamlieng family - I found little time for sightseeing in Bangkok. Finally on Sunday, the day before I was due to leave for Cambodia, I was told about a festival downtown. The streets were closed to traffic and food stalls were doing big business. Imagine great Thai food, freshly cooked, for pennies. Heaven! I ducked into Wat Po, once of the jewels in Bangkok's historic downtown. It's roofs and cheti lit up by the setting sun - it was an inspiring sight. A whole complex of temples, courtyards, towers and spires trimmed in gold.
Further down the street in a city park, hundreds of families had set up picnic blankets to eat and fly kites. The sky was littered with weaving and darting specks of color. One guy lost control of his kite, it was waaay up, and he was frantically pulling in string when the kite dove into the crowd hundreds of meters away. He tugged a few times on the string but it had fallen across knots of revellers, open bowls of food, napping dads, parked cars... He sadly took it all in and then bit off the string and bought some ice cream. Move on to the next good thing without delay.
So it ended well. Quite well actually. As I sit in this nice apartment finishing up this particular journal I realize that my journalistic detachment has been seriously compromised, but dammit Jim, I'm happy. If you take one thing away from this particular piece then try this. Thailand is a nation of many complexions. I arrived here thinking it had a basket case economy dominated by corruption, drugs and illicit sex. Alright there's that, but I wasn't prepared for it's modernity, sophisticated economy, huge middle-class, and fast moving growth. And the beaches, the food, the sights. Or sitting down for freshly cooked Thai food, on the golf course, every three holes. So forget the little bad patches. Come for the rest. Come for the golf!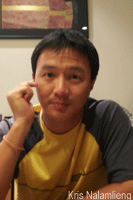 I owe a special thanks to Kris Nalamlieng and his family for taking such good care of me while in Bangkok. An invitation to crash at his place turned into the better part of two weeks. Kris' parents Chumpol and Gae had me over for dinner most nights. And his brother Gunn put up with me lounging around the apartment for days at a time. In short it was exactly the kind of rest and relaxation this weary traveler needed - and for their hospitality I extend my very warm thanks.