#30 - Knifepoint
Jeff Willner - 13 March 2002
(Durban, SOUTH AFRICA) - The attack came on Commercial Street just past the convention center, no traffic, deserted in the night. It was stupid really. I know better than to walk down a dark street in a big African city. But Durban is South Africa's beach town renowned as a place to hang out and relax. And with the exchange rate with the Rand so ridiculously low I was staying in pampered luxury in a four star hotel for only $32 a night. Besides, I had just watched the movie Black Hawk Down and was feeling militant. So against good sense I decided to forgo the cab and walk the eight blocks from the city center to my beach hotel.
I left the theatre and was three blocks into the walk when I heard footsteps approaching from the rear. That's when I realized that despite being on a major road there was no traffic. No witnesses. At the next intersection I decided to cross over onto the median, I felt a bit paranoid but figured what the heck, just be safe. I turned to look back behind me. Both guys were in their twenties, young black punks. They scanned the deserted road and then crossed after me. I had the sudden sense that I was in trouble. Eyeing them, I backed slowly away. They split up, grinned, and circled in.
"Hey mon, do you have any..." Before he finished the guy on my left pulled a knife. Black handle. Flip knife I think. The blade was about four inches. He moved in fast, the other on the right followed in hard. I've often wondered what I would do in knife fight. I know you should stay calm and just hand over the money when you are mugged, but I was carrying a big wad and my digital camera plus the all important VISA card. And these guys weren't negotiating they were coming in with the sharp end first. I clutched the bottle of water in my right hand and swung hard catching the left mugger square on the jaw. It was a one litre bottle half full, and he crumpled in a spray of water. As he fell the other one paused for a second. I wheeled and took off like a flushed rabbit. About fifty meters away I turned and looked back for pursuit but they were moving off. They'd had had enough. I gave them the finger. Jerks.
Going back to the hotel I was jacked on adrenaline. Every ratty looking dude seemed a threat. To be honest most of them were, but normally I would just stare them down. This night after the drama I was on edge. One guy moved at me and I spun at him instantly. He was probably just trying to cross the road. I gave up being a hero and walked the rest of the way down the middle of a crowded road. The traffic seemed very understanding. It's been an hour since the attack and I've been considering my reactions. Some people are elated after a fight, some are paranoid. I'll admit that I was jumpy all the way till I made sure there was nobody inside my hotel room and then locked myself in. But the emotion that lingers is sadness.
Over the last week I have seen some of the worst of Africa. I came back to pick up our repaired Max (the Land Rover) and take him down to South Africa's main port of Durban to be shipped to China. While I was waiting in Victoria Falls for the repairs to be finished I crossed into Zimbabwe. They have had no rain this year, the crops are failing, everyone is disgusted with a government that has caused so much ruin to the economy. Even in the rural areas where the President had support, the people were changing their minds leading up to the Saturday elections because they were starving. There is no food. Yet despite pre-election polling in Zimbabwe that showed a massive majority for the opposition party, Rober Mugabe the incumbent President of twenty years still won the election. A classic example of vote rigging and voter intimidation. So a chance for change has been lost. And the government of South Africa, one of the last bright lights on this continent ringingly endorsed the tampered results. That kind of suspect leadership can't bode well for the people. I grew up in Zaire, one of the most corrupt countries on earth, a country now embroiled in civil war. For those of us with Africa in our blood, even ugly Africa, hope springs eternal. We hope because if we did not the reality would be too much to bear. But at times like these, Africa breaks my heart.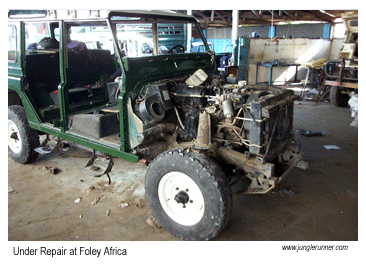 Junglerunner Update
Ok, for those of you who have emailed asking what is going on here is a quick update. We have finished Africa, Middle East, Russia, Europe, and South America. The Land Rover has been completely rebuilt by Foley Africa and is in a container on it's way to Beijing, China. Gulin Akoz, the woman from Turkey, has left the team - but there are several friends that will be joining us to fill the fourth spot for the rest of the trip. Over the course of the next month the Junglerunner team will be traveling independently through South East Asia (Singapore, Malaysia, Thailand, Laos, Cambodia, Vietnam) and we will all rendezvous in Beijing on April 15 to begin the next overland portion of the trip. The final leg will take us across China, Tibet, Nepal, India, Pakistan, Iran, Turkey, and through the E.U. to finish in London, England. Yes, Sally and Mike are still together and going strong. And to her growing fan club, I promise to get more pictures of Jody in future journals.
Over 10 months, 40,000 kilometers, and 41 countries on 4 continents. Junglerunner is still going strong. We have three months left and plenty of stories coming your way.