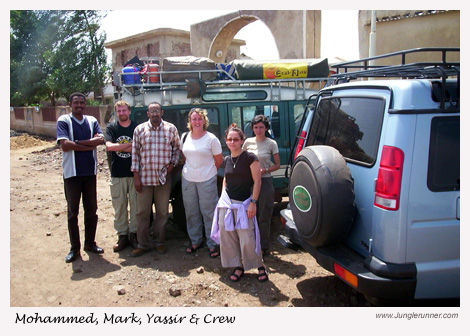 #4 - Sudan
Sally deFina - 21 August 2001
By the time we reached Gondar in Ethiopia, we had heard so many awful stories about the road between Ethiopia and Sudan in Addis that we were dreading the trip. Our first story came from a Polish couple that we met on the street in Addis Ababa. We listened in awe as they told us of their week-long trip through the border area from Sudan to Ethiopia.
"We started off hitching a ride in a Land Rover….but after one day we turned back to Gedaref because we got stuck too many times and the driver decided to wait to make the trip." The couple then hitched a ride on a lorry with twenty or so other people, and proceeded to get stuck about three times over the course of two days. On the third morning, they woke up to rain, so the lorry driver decided he was not going to continue. Since the border was supposedly 11 kilometers away, they decided to put on their backpacks and hike the rest of the way. After hiking in mud up to their knees for about 10 hours, they finally reached the border - exhausted.
"Do you think we will be able to make it in our Land Rover?" we asked. "Not a chance" came the reply. "The ruts that the trucks make through the mud are way too wide for a Land Rover….you'll get stuck for sure." Crap. Frantically, we sat down with our maps and Lonely Planet Guide to see if we could find our way around this area. Unfortunately, all roads to Eritrea were closed due to the war. We could get to Djbouti from Ethiopia, but according to LP, renewed rebel activity in the north made the travel on the road between Dijbouti and Eritrea "inadvisable". Additionally, getting Max on a boat in Djibouti to sail around Eritrea to Egypt was nearly impossible. The only way around Sudan appeared to be to backtrack to Kenya and ship Max to Egypt. Our prospects did not look good.
Luckily, we met a Dutch couple in the Hilton who had just passed from Sudan to Ethiopia in their Land Rover Ambulance. They were in the Hilton for the same reason we were - to try and get money by paying for guests with our credit cards and receiving cash in return. The fact that they were able to push their way through the mud of Sudan offered us hope, but their story was distressing nevertheless….
"How long did it take you to get through?" we asked.
"Oh, about a week."
"How many times did you get stuck?"
"Oh, about twenty times…..but it was kind of fun! Eventually someone came along and pulled us out when we were really stuck. One day we went only 40 kilometers the entire day!" Their enthusiasm did little to lighten our spirits. Jeff turned to us with a worried look on his face and said, "We need sand ladders". "Sand ladders? What the heck are they?" Well, when a car gets up to its door in mud you dig under a wheel and place this metal ramp called a "sand ladder" under the wheel so you can just drive on out. It sounded too good to be true, but if Jeff needed some peace of mind then sand mats were what we would buy. So we went off to the market in Addis to find some cheap ones. After finally finding some (and using $100 of our precious cash to buy them), and picking up Viktor (our first hitchhiker) in our Addis hotel, we set off to see some sights of Ethiopia and try our luck at the Sudan crossing.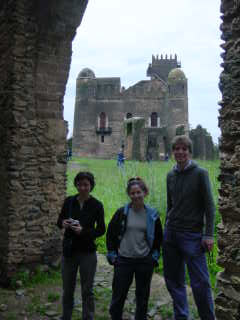 In Gondar, we were greeted with good news from two Swiss boys who had just come across the border in their Toyota Land Cruiser. They took only three days to cross, and got stuck only three times. "How did you do it?" we asked incredulously. Apparently there had been no rain for two days before they crossed, and they went in a convoy with four other cars. They were locals that knew when to go off-roading to avoid the points when the main road was unpassable. This was good news.
After a week trying to avoid the endless squeals of "money, money, money, money, ……" from children, and searching in vain for a hot shower and good food (anything but spaghetti, omelet, fish "cutelet", or Ethiopian injera) we were ready to go.
"Jeff - GET ME OUT OF ETHIOPIA!" I exclaimed.
"Ok - lets go tomorrow." Hooraaaaaay!
We picked up another hitchhiker called Mark from Philadelphia, and we were off.
The road in Ethiopia to the border was spotty. There were many deep patches of mud, but Jeff managed to plow through to the border without getting stuck once. After camping at the border, hiding our electronic equipment and going through the bureaucracy of Sudanese customs, and having a wonderful breakfast of Sudanese fuul (finally real food!) we set off for what was reportably the "bad" part of the crossing.
Our day consisted of stopping the Land Rover every few kilometers so that Jeff could evaluate the passable route through the mud, then Jeff backing up and running at the chosen path at full speed for momentum. Needless to say, the ride was not an enjoyable one. More often than not, all of us disembarked (save Jeff) and walked through the mud to make the truck lighter - and because staying in the truck would have tossed us around like salad. By the end of the day, the inside of the truck looked like a tornado had hit it. All of our possessions were thrown about the truck and there was mud everywhere (inside the truck, on our clothes, in our ears..) We had lost a headlight, dented the carriage underneath, and managed to pick up a squeak in our front right wheel, but we had made it through to Gedaref in one piece and managed to get stuck only twice. The first time, we were pulled out by the local villagers and our tow rope, and the second time by a large truck and our tow rope. We also pulled out to large lorries with our tow rope. We didn't use our sand ladders once. Oh well.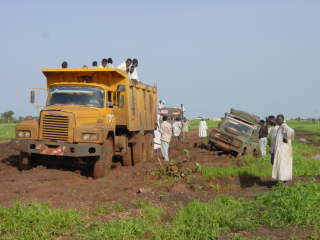 In Gedaref, we were greeted with true Sudanese hospitality - a Land Rover Discovery started trailing us in town and flashing its lights at us. Tentatively, we pulled over. Two guys jumped out of the Discovery with cameras and wanted to take our picture. "Hi - we are Land Rover dealers in Khartoum. How can we assist you?". "Well we are going to Khartoum". "Stay in Gedaref and we will drive with you to Khartoum tomorrow. We will pay for the hotel." Wow. Yassir and Mohammed took us to their hotel, fed us dinner, took us to the police to register the next morning, drove us the 5 hours to Khartoum, took us to Yassir's home, fed us again, drove around helping us to find a hotel, then took Jeff to the Land Rover repair shop the next day (to fix Max's undercarriage).
Everyone in Sudan is absolutely wonderful. Everyone wants to help us. People let us use their phones - free of charge. People give us soft drinks - free. People ask us - "First time to Sudan? Welcome". We have people cheering us as they drive next to us in our Land Rover! We have Middle Eastern food - Shawerma and Hummous and grilled meats! Everyone is soooo nice! And this is totally contrary to the warnings we received from our embassies in Ethiopia ("we strongly advise you not to go there"). Life is good! There is just one problem - money. We can't get any (no credit cards and no Western Union).
Crap. We count our money…..just enough to last one week. So, we have to get to Egypt in a hurry. Too bad, because Sudan is really starting to grow on me.