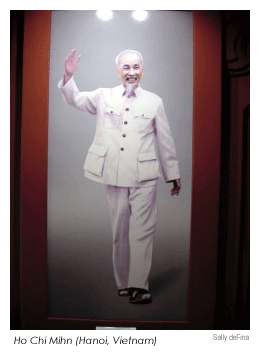 #9 - Vietnam - Too Late?
Sally deFina - April 1, 2002
Ho Chi Minh would turn over in his mausoleum if he could see Vietnam today. Mike and I entered Saigon from Cambodia and were taken aback by how modern and capitalist it was. There were neon lights, skyscrapers, modern buildings, and high-class restaurants everywhere. There were massive traffic jams, thousands of motor scooters, and foreign tourists galore. After Cambodia, where infrastructure was lacking and we mainly saw backpackers, Vietnam came as quite a shock. Since opening up the country to foreign travellers in 1986, Vietnam has seen a steady increase in tourism. In 1999, 1.8 million tourists from all over the world visited Vietnam, and last year saw the largest increase of Americans and Chinese tourists ever. Chinese, with their increasing disposable income, find it easy and cheap to visit their fellow communist country to the south, and Americans, curious about the little country that couldn't be beaten by American military might, visit many of the war sights. As two of the oodles of western tourists, Mike and I had a go at the country, and this is what we found.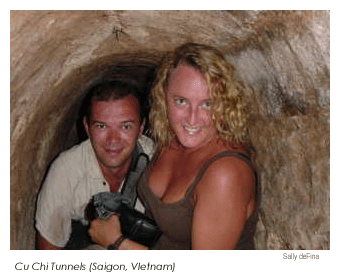 The Cu Chi tunnels, a famous labyrinth of Vietcong guerrilla caves, outside of Saigon had been transformed into a kind of amusement park for the hundreds of thousands of tourists that visit it each year. It was sickening that such light was made of the multitudes of men and women that died on the same ground that we were tramping around. We were allowed to crawl through the tunnels on hands on knees, were shown various traps and given demos about how they worked, given explanations on said devices in gruesome details, took our photos with tanks and weaponry, and given tea and taro root in the 'mess tunnel'. Tourists could even go to the shooting range and fire off a few rounds from an AK-47 for a dollar a pop. Although interesting from a historical perspective, I would say give Cu Chi a miss if you visit Vietnam. There are tunnels in their 'un-disneytized' condition up by Hue that are supposed to be far more interesting and in their natural state.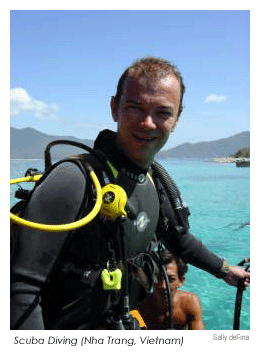 Nha Trang was a major beach town one night bus ride away from Saigon. We arrived at 5am after a crazy, sleepless night in a bus driven by a man that could not seem to keep his blasted hand off of the horn the entire night. Sleepy and sick (from something that I caught in Thailand), I was amazed to see that the entire town was up and walking the streets so early in the morning. Thousands of people in their gym shoes and exercise gear were pounding the pavement for health. Over the next few days, we discovered that the people of Nha Trang were quite serious in their exercise routines. Every evening, while we lounged on the beach for sunset, groups of men and women would come down to the beach for afternoon jogs, callisthenics, swims, etc. We felt quite lazy - and unhealthy. But after all, we were in Nha Trang for two things, and two things only: relaxation and diving. Unfortunately, I was diagnosed with bronchitis and laryngitis the day after we arrived there (I know - lucky Mike - I could barely even whisper), and so Mike had to go diving in the crystal clear water without me.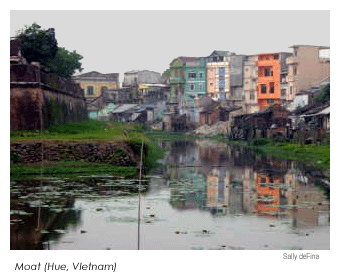 We only had time to go to one other city up the coast if we wanted to get to Hanoi, so we opted for Hue. Big mistake that turned out to be. Although Hue was once the imperial city of Vietnam, the palaces and tombs were largely destroyed by the various wars that Vietnam has been a party to. Additionally, the prices for entrance into these bombed out and non-restored ruins were extraordinarily high. We tried to enter the imperial palace through what we thought was the entrance, where the ticket price was 5,000 dong (about 30 cents US). No - we were informed - we must enter through the foreigner entrance....price - 55,000. 11 times the local Vietnamese price.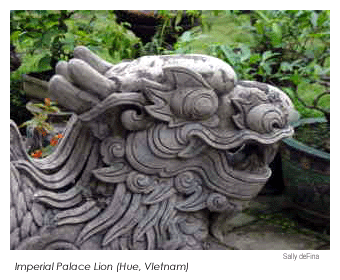 "OK", you say", "we make much more than the Vietnamese and so should pay more for certain entrances". Yes, but I make zero money - I am a student and not working. And since when was the price of something determined by how much money one makes. From Pricing classes during my MBA, I was taught that you should price something according to how much an individual customer would value that product (as well as how much the product costs to make, etc. etc.). And believe me, the entrance to the ruins we saw in Hue should not have been valued at 55,000 dong by anyone. The fact that we were constantly being overcharged by everyone was starting to get on our nerves. Street vendors would ask 10 times the real price for a good and haggling for a fair price was starting to become very tiring. After our nightmare bus ride to Nha Trang, we opted to take overnight trains - but because of the overcrowding - and the lack of proper capacity for the vastly increased number of tourists, we could never get a sleeping car. Vietnam was starting to wear us thin.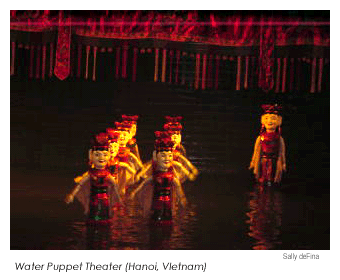 A tireless night train from Hue got us to our favorite destination in Vietnam - Hanoi. The old quarter in Hanoi was how we imagined Vietnam to be before we arrived - quaint little alleys with vendors selling local goods, fruit markets, women on bicycles selling flowers. We explored many of Hanoi's sights, and were pleased to find that entrance fees for foreigners were very reasonable, although we still had to bargain hard for tourist paraphernalia. We took a two day trip to Halong Bay - gorgeous - and then returned to Hanoi for another night, eating fabulous French food and going to the wonderful Jazz cafe in the old-quarter. If you go to Vietnam, we highly recommend Hanoi.
We were warned by one of Mike's friends that Vietnam was a disappointment. The main complaint was that there were too many tourists, and that the Vietnamese, in their newly found capitalist zeal, were constantly overcharging foreigners. I wish that I had had the opportunity to visit Vietnam 5 or 6 years ago. That is when people say that Vietnam was a friendly, quiet, and unassuming place. Well that no longer appears to be the case - Vietnam has been corrupted by too many tourists in my opinion. As an independent traveller it's hard to stomach the feeling that you are being constantly ripped off in some manner or another. I would suggest going with an all-inclusive tour group where you don't have to deal with it, only visiting the north of the country (including Hanoi, Halong Bay, and the ethnic hill tribe regions), or just giving Vietnam a miss entirely.