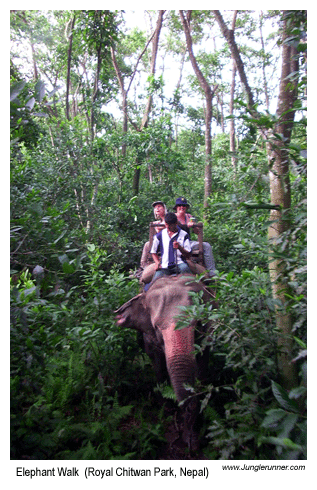 #41 - Nepal
Jeff Willner - 22 May 2002
(Royal Chitwan Park, NEPAL) – We bumped down the side of the mountain on a rough gravel road, descending into warmer air and lush jungle. Despite the slow progress we were happy. Women strolled between shops wearing brightly colored saris, water seemed to stream everywhere off the mountainside glistening in the sun, and the people waved at us happily. Then the road went from gravel to pavement. It was then that I had the first inkling that Nepal and I would share some chemistry.
It was exactly what I thought Tibet was going to be. A dramatic backdrop of snow capped mountains, jagged cliffs covered in foliage, wide open grasslands. Nepal is called the Middle Kingdom because it is the bridge between India's hot humid plains and Tibet's barren fastness. I had never really had a grasp of what Nepal was all about. It was just a little country stuck in the middle of two headliners. I had low expectations. Actually, I had virtually no expectations of the place - I just wanted to get through without being blown up by Maoist rebels. I had no idea it was such a jewel.
Despite the great scenery and relaxing drive toward Kathmandu I started having sharp pains in my stomach. Too early for lunch. What the heck is going on. You get used to traveller's stomach on the road, there's no choice really. Too many new cuisines, too many meals at roadside shacks, aside from blowing the budget on posh restaurants who offer mediocre facsimiles of western food, there is no avoiding it. And anyway, why wouldn't you eat Chinese food when in China - it's worth a day on Pepto. But the cramps I got on the road to Kathmandu were different and they kept getting more intense. By the time we got into town and found the hotel where we were to pick up Stacey (a friend from Canada who was joining us for four weeks) I was about ready to curl up on a patch of floor.
Evidently I had eaten some bad yak meat in Tibet just prior to crossing into Nepal, maybe it was Tibet getting it's revenge for my journal piece. It took almost a full 24 hours of continuous stomach cramping before things finally settled down - my single worst stomach attack on the trip. Still, it didn't take away from the allure of Kathmandu. The city is a mecca for hikers and an entire backpacker city has sprung up. It was a feast of for our senses, rows of cheap internet cafes, clean hostels, restaurants with western menus, real chocolate bars, genuine Energizer batteries. Funny how your needs get boiled down after a couple months of hard travel.
We drove down the steep escarpment, barely skirting a landslide (that would later re-slide and close off the highway for an entire day) on an excellent paved road, heading toward Pokara. Situated on the side of a lake, Pokara is the jumping off point for the Anapurna circuit. The backpacker maze was smaller but still outstanding. Frankly I just didn't have the energy to hike. At almost twelve full months on the road I was worn down. I mean just tired. Tired of having to gut out the hassle of daily driving, keeping the expedition on schedule, dealing with bad food, breakdowns, visa issues, and just the nightly routine of hunting for a decent place to stay. There was a campground in town that only cost $1 per night. But after one night of rain, swatting mosquitoes, and sweating in the night heat - Stacey and I unanimously agreed to splurge on the $3 per night for a nice hotel room. Yeah - I know. It wouldn't even cross the mind of a sane person to consider that choice for long. But the year on the road had not only beat up our bodies, it had also put the hurt on our budget.
Kathryn, Sally, and Stacey decided to hike up to a lookout on a nearby mountain the next day. Stacey was keen to see the Himalayas, Kathryn wanted to rough it, and Sally was drawing on some mysterious reserve of energy. I contented myself with a late breakfast of bacon and eggs, a cold Coke, and a morning of happily typing away on my laptop. Downloading pictures from the digital camera and formatting them for the website, answering emails, and making slow progress on yet another journal.
It was close to dark with the woman finally got back. "Well that was a bit tougher than we thought, plus it was all foggy so we didn't see a thing, AND these rascal kids kept telling us to go the wrong way so that they could charge us to be guides and take us back to the path!" They started peeling off their outer layers. "There were some leeches out there too", said Sally conversationally, "but we kept moving so we didn't pick up any". "OH MY GOD." Kathryn pointed to her sock. It was soaked in blood, and a very happy, very fat leech was stuck to her foot. "We totally got leeched!" Pandemonium.
"LEECHES." "AHHH." "KILL THEM, KILL THEM." Those are the times when you can really rack up the man points. I sized up the situation and issued my calming words, "that's probably the only one." No sooner said than I saw another leech going end over end, up the side of the bed, right for my bare feet. I have to admit I was pretty grossed out - but nothing like the women who made mad leaps for the high ground on any available furniture. We managed to whack the crap out of several unfortunate blood suckers and calm was restored. Sally and Kathryn promptly decided that spending $3 on a hotel room was a lot preferable than going back out to the grassy campground. So we all relaxed in luxury on the next day.
I think the mood carried over because after driving to Chitwan National Park the next day, Sally and Kathryn allowed themselves to be talked into staying at a really nice hotel. The Rhino Residence had a pool, gorgeous little wooden huts with A/C and immaculate beds, and all the amenities of a game park lodge. Thank goodness they gave in because we had an exquisite stay. And despite the mounting tyranny of the schedule (to get the trip done we would have to average almost 500km per day) we stayed an extra day - just to soak up the peace.
Nepal was an outstanding experience. We had no problem with the Maoist rebels, the roads and tourist infrastructure is outstanding, and the scenery is just drop dead gorgeous. I will absolutely go back and visit again!