#5 - Goodbye Max
Sally deFina - 14 January 2002
(Buenos Aires, ARGENTINA) - "Oh no!", I exclaimed as I read an email from Jeff on the 27th of December, "The truck rolled!". With my hand over my mouth in horror, I opened up the photos that Jeff had thoughtfully attached to his email showing Max, our truck, upside-down and then right-side-up with its roof caved in. The email went on to explain how nobody was hurt, and that the junglerunner trip would still go on, no matter what. "He is in shock," I whispered to my boyfriend, Mike, who was reading the email over my shoulder. "How can we continue the trip now?
I was in Perth, Australia meeting Mike's parents for the first time when the bad news arrived. I had decided to spend Christmas and New Years in Australia instead of travelling through Brazil and Argentina with the team. I was to meet up with the team in Santiago, Chile on the 7th of January. Jeff's email threw me into confusion. What was I to do? How could I help? Where was I to go?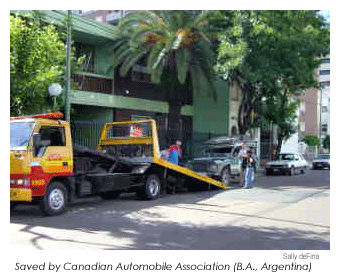 After trying frantically for days to reach the team, I finally got a hold of them in Buenos Aires where they had taken the truck. After our conversation, I decided to hop on a plane to Buenos Aires to help him in any way possible with my passable Spanish. I arrived in B.A. on Jan. 7 and got un update on the situation from Jeff. Basically, Max was stuck in B.A. waiting for our insurance company to come through. While we waited, we decided to take a side trip to Uruguay.
When we returned from Uruguay, we heard from our insurance that they had decided to consider Max totalled, and to give us the full value of insurance coverage. This was partially good news. We could ship Max to Africa, to the shop that we trusted, rather than be forced to have Max undergo repairs in Argentina. However, we had to pay the costs for, and organize, the shipping ourselves, and we would be without Max for approximately two months. After considering all options, we chose Africa.
Our next task was to get Max on a container ship. Foreseeing such a possibility, Jeff had already found a shipping company, Maersk, that was heading for Walvis Bay, Namibia the following week. Once we sat down and organized the transport, we were told all the procedures we would have to go through to get Max cleared out of customs. We found out we could save about $250 by handling the customs clearance procedures by ourselves. This is where my rudimentary Spanish came in.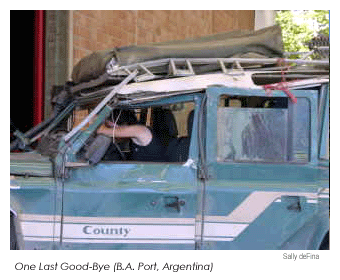 We set off for EMBA (what this stands for I still don't know), and tried to find out what paperwork was necessary. "¿Donde está el passaporte del dueño del vehículo?", the customs agent asked. "Es equí", I said, handing him Jeff's passport. "No, el passaporte correcto". "What does he mean?" we asked each other. After a while, we finally grasped the problem. Jeff has a obtained a new passport in Buenos Aires because his old passport didn't have any pages left. The entry and exit stamps in the car's passport (the carnet de passage) did not match Jeff's new passport. "Ah, mañana, mañana", I said. We were forced to return the following morning with Jeff's old passport in tow. After much back and forth in Spanish, and a couple of hours later, we were presented with a carefully compiled folder that we were to present to customs on the shipment date.
The next day we set out to prepare Max for the journey - emptying out water from the two blown tires that were in the back seat, putting camping equipment into cubbies to hide them from view (for customs), taking out food that was still remaining in the back, and tying down doors. That evening I arranged for a tow truck to arrive the following morning to take Max from the Land Rover dealership to the port - for free. Thanks to the Canadian Automobile Association which had a reciprocal agreement with the Argentinean Automobile Association, and to Jeff who had managed to pay up on his CAA membership through 2005!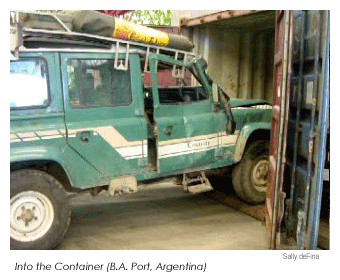 The following morning, we managed to drive Max out of the dealership to the tow truck. What a trooper Max was. We were amazed that after all Max had been through, he still managed to start. With Max loaded onto the tow truck, and all four of us piled into the tow truck's front seat, we made our way to the port. It took all morning, but we managed to clear customs thanks to a worker at the port who took pity on the poor gringos and who led us by the hand to all the relevant authorities. Max coughed to life one final time, and Gulin drove him into the container. A burly looking man showed up and strapped Max down in the container, and the doors were bolted closed (Jeff added his flimsy luggage lock to the container for added protection). And Max was off to Africa to become a new man. Good-bye Max!