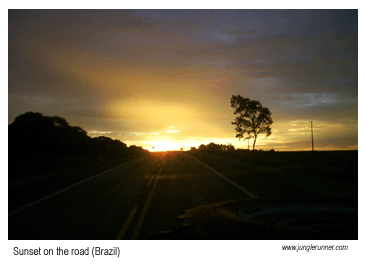 #21 - Rio to Ushuaia
25 December 2001

(Punto Arenas, Chile) – We have had some really major incidents in this trip - and all that stuff is grabbing the journal space. I figured we needed a journal to show you a few of our favourite sights and stories on the trip from Rio de Janeiro to Ushuaia, the southern tip of South America. As usual, we covered the six thousand kilometres at blazing speed. But there was still time to do some sightseeing. Here are some of our best pics.
We headed south from Rio de Janeiro, wiggled around Sao Paulo and kept going to Curitiba. After the chaos and grime of the big cities, it was a massive change. It is a provincial capital and is a fabulously well kept and pedestrian friendly place to visit - it is ranked 3rd cleanest city in South America! They are quite proud of that. Of course they don't tell you which cities beat them. Probably in denial.
There is a cluster of old fishing villages east of Curitiba near the ocean, so we made a little side trip the next day and headed east to Paranagua. Very authentic. It is getting more and more authentic by the day as their tourist industry really kicks in. After a few hours of wandering and some stupendous seafood, we drove 30km north to Antonina. This tiny coastal town tucked along the river is a hidden gem. Picturesque, and really worth more time than the 15min we spared.
On the way back to Curitiba we opted out of the beautifully paved (and heavily tolled) highway, and took the scenic route instead. Avenida Graciosa is the old access road to the coast and winds up some nastily steep cliffs. A couple dozen kilometres of the road has been turned into a flower park. With picnic sites, hiking trails, and little refreshment stands, it adds to the reasons to visit Curitiba and the surrounding area. Now, it the city could just climb a couple notches on the "Cleanest Cities in South America" ranking...

About an hour west of Curitiba just off the highway there is another attraction, Vila Velha - which is basically a path through a cave, a patch of forest, and some rocks which kind of look like chimneys (those smart brains in the Curitiba tourist office, making the most of their allotted bit of real estate). Sure, we wanted a break from the driving so we set off tramping around the path, took lots of pictures, excellent, excellent. And then at the back end of the loop, a full 1/2hr away from the parking lot, there is this huge sign warning of snakes. And the sign is six feet high, in the world of signs would be like a screaming lunatic standing on a soapbox yelling himself hoarse. That is when we realized that Teva sandals may not have been the best choice that particular day.

Foz do Iguacu, or Iguazu Falls as we English speakers like to say. Very nice, the guidebook said a minimum of two days was required to really see them - so that meant one day for us. We went through the national park on the Brazil side of the falls for the best top view of the falls.

And while I am talking about Brazil, the day after we visited the falls, my brand new Sony digital camera was stolen right out of the truck. We were in a cafe waiting for our Paraguay visas to be processed, a kid went past on a bike, snatched the camera and was gone. I haven't lost anything to thieves in such a long time, even in Africa, so it was a complete shock. I called AMEX because I used my gold card to buy the camera. They said, "Oh we're sorry. If the camera was on the table it would be covered, but since it was in the truck - too bad." So never lose something from your car and then call AMEX!

Back to the falls. We drove over to the Argentina side (blitzed through the border with the truck), and spent four hours wandering across miles of catwalk strung along the edge of the many falls. This is the side where you can really get close to the spray. Though after four hours we could echo the sentiment, sometimes you can have too much of a good thing. On our way back across the border we were driving through the Brazil post when the guards started yelling at us. Stopping the truck, we tried to understand their Portuguese. They pointed. Ahh. Everyone piled out, stepped on two foam pads (foot and mouth prevention) and then we were waved through. No immigration, no customs, just 'step on the foam pad!'

"Paraguay is totally like Africa." Jody was looking at the water eroded ditches and wooden tea shacks that lined the highway into Asuncion. Unlike Brazil and Argentina, Paraguay doesn't even have emerging economy status, it is remains a third world country. There are bits and pieces of sparkling new stores and roads in the capitol, but turning a corner you see the poverty all over again. To me, this set of pictures best represents what Paraguay hopes to be and what it has to contend with. Same statue, different angle.

.

Paraguay may have been a third-world country, but at least the prices were easy on our budget. As soon as we crossed the border into Argentina, South America's most expensive country, we were hit by sticker shock. Really cheap hotels were $40 or $50 per night. Even camp grounds were $7 per person. Riiight. It turned out that many folks used gas stations as free campgrounds. And most gas stations had showers and small restaurants attached. So we simply drove till we were tired, pulled into the back lot, popped open the roof tent and slept. The next morning, cafe con leche, a hot shower, and a fill-up of diesel. Truly a win-win proposition.
After a day in Buenos Aires to catch the riots, we split for the south. It became clear pretty quickly that we were in for a long haul. As Jody said, "It's only an inch between cities on this map, but that is one heck of an inch!" I missed the turnoff near Bahia Blanca and we wandered around the city for an hour trying to find the highway again. In the midst of the search, I pulled into a gas station, clear on the other side of town, looked up and saw the Opera House lit up like a jewel sparkling in a light rain. It was one of those moments. Jody found a guy who spoke some English and we backtracked 10km to rejoin the road.
The 3400km south from Buenos Aires was a three day marathon punctuated by occasional stops for food, gas station camps, or quick sightseeing spins through a town. Gulin and I drove in shifts. The first night I handed off at 1am and curled up on the back seat. At 5am I woke up and looked around. Do you know that scene from 'Dumb and Dumber' when Lloyd drives in the opposite direction and when Harry wakes up they are in Kansas not Colorado. It wasn't quite that bad, but we had gone 150km the wrong way. After several minutes of hassling the women reminded me that I had lost over an hour circling aimlessly through Bahia Blanca. 'So shut up.'
It was that kind of a trip. Too much time in a metal box can make you stir crazy. Patagonia was beautiful in a desolate and windswept kind of way (the mountainous area is to the west on the border of Chile), but it was back to that 'too much of a good thing' concept.

We seemed to have more problems than normal too. A fender bender in Brazil that cost us $200 to get out of (my fault), a spike through one of our supposedly impervious Michelin XZY tires, and a stone cracked windshield on one of the gravel roads in Patagonia. Jody lost an ATM card, my camera was stolen, riots in Buenos Aires - an ugly leg of the expedition.

And finally we were at Ushuaia. Past Ushuaia in fact, to the state park of Lapataia - the end of Argentina's Route 5 and the fabled Trans-American Highway. Over 3400km from Buenos Aires (including the time we had to wind around through Chile to get the ferry to Tierra del Fuego island).

We had great weather, December is the middle of summer down here, and hiked till 10pm on Christmas Eve (the sun just barely sets in the evening, from midnight to 3am a dark twilight hovers till the sun rises again). We all felt better after a good shower and a soft hostel bed. All in all, not a bad way to spend the holiday season.

As usual, we were on a mad schedule. We needed to be in Santiago, Chile by Jan. 7 to meet Sally - so on Christmas Day we headed off north again. Destination; Puntas Arenas, the Moreno Glacier, and more gas station nights.