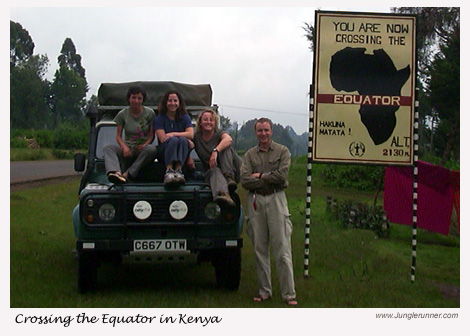 #3 - African Driving School
Sally DeFina - 04 August 2001
(Nairobi, KENYA) - "Give the chicken a chance"
"What?"
"Well chickens generally get out into the road, but then turn around right before you think you're going to hit them - so keep your course steady. Pigs, on the other hand tend to keep their path, so you need to steer towards their tail in order to miss them. Goats are unpredictable, so be ready to steer any which direction to avoid a hit. But give chickens a chance…."
"What about people?" I laughed. This had to be one of the strangest driving lessons I had ever been given.
I had driven the Land Rover in Namibia and South Africa, and had become reasonably secure with its nuances. For instance, the play in its wheel is quite significant, but its track is very straight. So when you pass a truck coming the other way, you must keep your course instead of turning towards it to brace the car for the sudden wind rush otherwise the car will wobble. Then there is the speed with which you must take bumps and potholes in the road for passenger comfort. Large speed bumps need to be taken at about 40 kph, while small speed bumps need to be taken at speeds above 60 kph but below 80 kph. .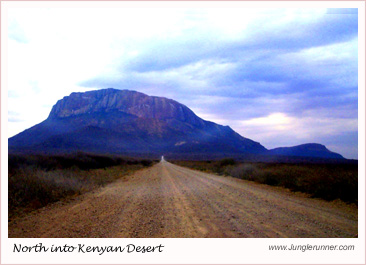 Potholes are a completely different matter, however. Some are shallow enough to take straight on at full speed, others are too deep and hence should be avoided. But since you generally can't determine how deep a pothole is until you are right upon it, a last minute jerk is required to avoid it. At full speed, and depending on the jerk, you may end up wobbling the car back and forth as you try and straighten up to your original course. As I generally don't like the wobbly feeling (I keep thinking the car will tip), I tend to hit potholes straight on no matter what our speed or how deep the hole. I keep telling myself that Jeff has bought the best shocks available, fully intending to replace them a couple of times before the trip is up. Regardless, Jeff still scowls at me every time I hit one, and gives me an encouraging "Good!" when I manage to miss them. I feel like a little kid learning to walk for the first time.
Passing is also a nightmare in our Land Rover Because the car is a left-hand drive, and every country we have passed through so far has used "British road rules", i.e. driving on the left side, it is almost impossible to see around big trucks to know when it is OK to pass. You generally get stuck behind them until the person in the passenger seat gives the A.O.K., or the truck is kind enough to signal you to pass. If neither happens, you have to keep jerking the Land Rover in and out of oncoming traffic until the coast is clear. I am getting better at passing, but it still makes my hair stand on end.
The passing rules on African roads are very important - especially because most of the roads are barely big enough for two cars, and in many places only big enough for one. The signals for passing are exactly the opposite from what I am used to. In Africa, if it is unsafe to pass, vehicles will put on their right blinker (normally the signal for "it's OK to pass" in the US). Then when it is safe to pass, the vehicle ahead of you will put on their left blinker. Once you have passed the vehicle, to say thanks to the driver you put on your hazard lights for a few seconds. Once I was taught these rules, passing became slightly less unnerving.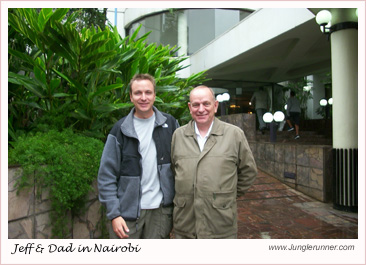 Construction signals more often than not throw me for a loop. The signal for stop is most definitely a red flag or sign held up at a 90 degree angle - this much is universal. But the signal for go is sometimes a waving green flag, sometimes a waving red flag (I consider this stop, but apparently in Africa this is go), sometimes no flag, and sometimes the flag waver is just mucking about. Every once in a while, we reach a police barricade that is sometimes open, sometimes not. Sometimes we are instructed to stop, and sometimes we are waved through, but like construction signals, these are not too clear.
In Malawi, I was instructed on the best way to avoid animals on the road. The problem with Malawi is that, unlike many of the other countries that I have driven in, there are hundreds of people walking and cycling in the road as well. Granted, people stick to the road all over Africa, but I have never seen so many people walking and cycling on both sides of the road that you are left with only the space of one car to drive down the middle. Add to that the problem of police checkpoints, potholes, speed bumps, animals crossing the road, and the need to pass cars every so often, and I feel that I am in a video game. I ask Jeff if I get points for each missed pothole and he laughs. I was instructed to use the horn more often to ward-off people and animals while I am passing, so I am using it relentlessly. And I have taken to playing techno music at full bore while I am driving to give myself that true video game experience.
I can't wait until we get to the Middle East where Jeff will be as clueless as we are on the proper use of horn and light signals. In the meantime, the lessons continue. And, I am happy to report, my score so far is only minus 10 - one bird strike in Namibia. That beats Jeff - a few birds, a dik dik... and a cow.