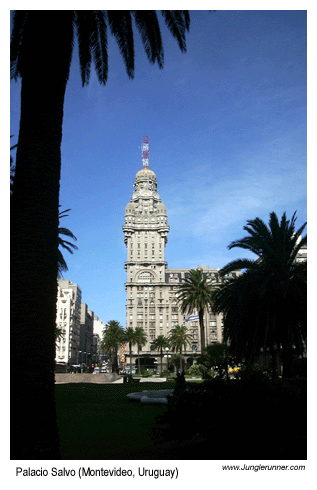 #24 - Uruguay
Jeff Willner - 13 January 2002
(Colonia, URUGUAY) – I had the hardest time remembering which of the little bitty countries in the middle of South America was Paraguay and which was Uruguay. Here is a handy way to tell them apart. "U"ruguay is in the middle of a U, with Brazil on one side, Argentina on the other, and the ocean on the third. Paraguay is the other bigger one, more than double the size, it is like a "Pair o" guays. Helpful? Never mind, my brain is twisted anyway.
Really, Uruguay got the best deal of the two. Paraguay is stuck in the middle of nowhere, land-locked, with one big river running down to the sea. Uruguay on the other hand has an excellent ocean port, awesome beaches, and its own history of gauchos ranching cattle on the plains. Though both have been ruled by tin-pot dictators over the years and never really got their economic houses in order, Uruguay has had the benefit of being right next door to Argentina's richest city and there is a thriving cross-river tourist trade to visit the beaches, Montevideo's old city, and the centuries-old port city of Colonia.
Since we had yet another weekend to waste waiting for the insurance to settle, we decided to hop across the river and check out Uruguay. With unspoiled, ocean beaches right across the river, and building costs a fraction of Argentina, Buenos Aires residents have flocked over in droves to build summer homes. Only three hours away by speed ferry, Punta del Este is the top of the heap, where the super rich Argentines go to play. Me and my backpack went to check out the scene and join up with Sally and Jody who had gone a couple days earlier.
Punta del Este's marina is full of yachts, plush condos line the water, and the streets are lined with boutiques. I felt a bit low class looking for a $10 per night hostel, but then again I am on a one year holiday. Take that you super rich. According to the map the hostel was only two blocks away but I got turned around and ended up walking for an hour. Finally back at the bus station I hailed a taxi and pointed to the address in my guidebook. He raised his eyebrows and said some incomprehensible things in Spanish. I said slowly, "I - have - walked - for - an - hour - and - can't - FIND - IT" He must have caught the edge of desperation in my tone because he pulled me in and drove around the corner and pointed to the hostel sign. I laughed and tried to pay. "Oh no! Enjoy your stay." he smiled and pulled away.
After a day at the beach I left Jody and Sally and caught the bus west to Montevideo, the capitol of Uruguay. Arriving on the weekend I was advised not to walk around the old city after 6pm. It was already 2pm. I dumped the bags and rushed down the main boulevard to Plaza Independencia, the start of the old city. Nice old buildings, pedestrian streets, excellent. But I was on my guard, keeping an eye out and crossing the street if I felt necessary. It was a bit disconcerting to sightsee that way. Finally I made it down to the tip of old city to the port market, an old cargo warehouse that has been converted into a giant eating mecca crammed with dozens of grill counters and eateries.
A friendly woman motioned me over and pushed me down on a stool. "What do you want to eat?" "Well I'm not that hungry, what about a sampler plate" I asked. "Perfect!" She was the owner and between correcting bills from the waitresses drilled questions at me about my travels. Bread, a carafe of house wine, and then the first of two plates arrived... a huge steak with salad. "This is a sampler?" I asked timidly. "Oh yes, sorry it is so small, the second plate is bigger." Sweet mother of pearl! I ate until I was close to black-out and stumbled outside. In my food coma I didn't have the mental capacity to worry about muggers or thieves. Needless to say the walk back through old city to my hotel was a lot more enjoyable. Then I took a three hour nap.
Continuing my lightning trip of Uruguay, the next morning I took another bus ride west to Colonia. Founded by the Portuguese in 1680 it was an important center for smuggling cheap British goods across the river into the Spanish colonies. Spain built the fortress of Montevideo to the east in order to stop the flow of illegal goods and Colonia's importance began to fade. But it remains a charming little fortress town with cobbled streets, restaurants and cafes.
Colonia is only a 1/2 hr ferry ride across from Buenos Aires and is a day trip well worth taking. I walked the city for a few hours and then sat on the pier watching the kids jump off the ten foot drop. I don't do enough of that uselessly joyful stuff anymore - do you? At six o'clock I hefted my backpack, followed the old overgrown railroad tracks down to the port and caught a ferry back across the wide muddy waters of the Rio de la Plata. When we pulled into the port in downtown Buenos Aires my heart jumped like I was coming home. Back to Hostal San Telmo. My Argentine home away from home.