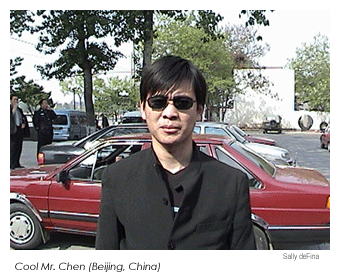 #11 - Meet Mr. Chen
Sally deFina - April 20, 2002
Meet Mr. Chen, or Allen as we call him. He is our guide for the next three weeks while we traverse China. "A Guide?!?", you ask. Yes, well, we haven't had a guide up until this point in the junglerunner trip, but we are obliged to have one for our drive through China by the Chinese government. You see, although foreign tourists may now travel China independently, driving your own car through China is a different matter. At first we were very apprehensive about having an unknown person in the car, but Allen is turning out to be invaluable (and likeable!).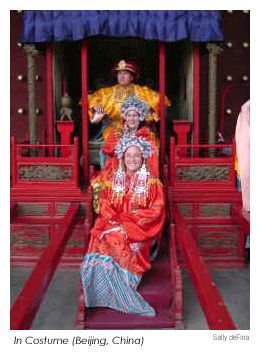 Allen is 27 years old, is married, and has a 2-year old little girl (about whom he delights in telling us). Originally a middle-school teacher in history, his chosen degree at University, he switched to tourism upon relocating to Beijing. We imagine there is probably much more money in tourism than in teaching given how much money the tourist attractions in China have been costing us so far (wow is China expensive - who would've thought!). Far from simply sitting in the car and making sure we don't get into trouble, Allen explains some of the sights we are seeing (if he has knowledge of the particular site), translates for us (few Chinese speak English outside of the main cities), makes sure we drive in the right direction (most street signs are written in indecipherable Chinese), gets us lost anyway (but then finds us again), makes sure we aren't ordering dog meat or intestines at restaurants (eeeeew!), and gets us discounts on hotels, food, and tourist attractions. He also patiently answers some of the "politically sensitive" questions we have about Falun Gong, Tianammen Square, the One-Child policy, state run banks, economics, you name it (we are rather inquisitive, as you can well imagine).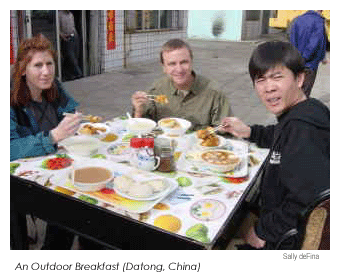 With Allen in the car, we are becoming very spoilt. It is nice to be able to get along so easily in a completely different culture and language. This is a new experience for us, since normally we have to mime our way through most everything when in non-English speaking countries. Right before we enter Tibet, we will have another guide taking Allen's place, so we will be spoiled until we reach Nepal. But since we really can't post anything about China until we leave it (for reasons we'll explain later), we will give you an update on the China portion of our trip in about 3 weeks. In the meantime...let me just say that we are enjoying the Northern Chinese food immensely and hope to go on diets when we hit (mainly) vegetarian India. Later!