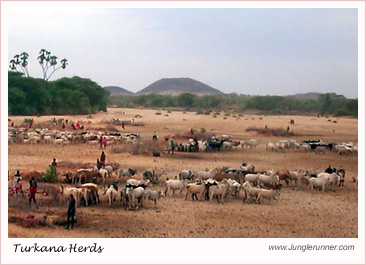 #7 - Bandit Country
Jeff Willner - 10 August 2001
(Addis Ababa, ETHIOPIA) Ė Do you remember the pictures of starving Ethiopian children on TV in the 80ís, skeletal refugees staring blankly at the camera, collapsed on the dusty ground? Ethiopia isnít making the disaster news these days, but still in the back of my mind I expected to see gaunt cattle and stick huts. The landscape we passed through in northern Kenya confirmed the expectation, a barren volcanic desert of rocks and sand. Nomadic Turkana tribesmen watched over small cattle herds, finding meager nourishment from dry riverbeds. So I was quite surprised when we crossed into Ethiopia. But first to the beginning of the story...
The long drive north from Nairobi proved to be the latest in a series of Land Rover infamies. After an overnight stay with an old friend in Nakuru (and a six hour wait to see a specialist for a mysterious bite that had swollen Jody's arm alarmingly) we headed north. Lunch at the Outspan Hotel in Nyeri was a bit of civilization before diving into the desert. We stopped at the last major gas station in the country, filling the main tank, auxiliary tank, and roof-mounted jerry cans to max out our 2,000km range.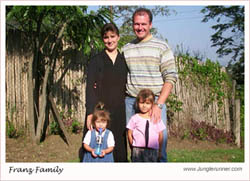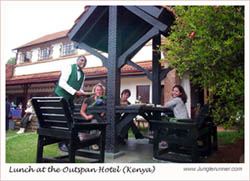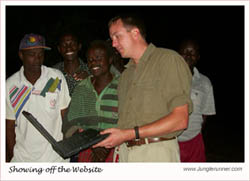 Armed military escorts were supposed to be mandatory in northern Kenya due to occasional Somali raiders. But at the military barrier we were told that the escort was optional. Stanley, an off-duty soldier was returning to his base up north and offered to ride with us for free. I think he enjoyed the ride, not something that all my passengers will admit, and Jody's incessant pestering to see his gun just made him laugh (the woman has a real gun thing - read on).

We camped at the military post, a collection of tin huts guarding a small village of cattle herders. There were so many cockroaches in the long-drop outhouse that the women insisted on going in pairs - one armed with flashlight and bug spray to do battle while the other took care of business. Our digital cameras have been great amusement on the road. People always want to have their picture taken, but when they can see the picture on the camera screen afterward they start shouting and yelling, and a crowd forms in no time and the posing begins. We are seldom able to get away without taking dozens of pictures and showing them off. I explained to the soldiers what we were doing, writing stories and posting them to the internet. "You see this website on my laptop? In a few days, your picture will be here!"

The truck had held up well on the rough gravel road. With only 450km to the border I even joked about clearing customs by noon. It was not to be. An hour into the drive, while taking photos of the Turkana herds, we were accosted by one of the warriors. The nomadic tribes are considered the 'red-necks' of Kenya, concerned only with their cattle, alcohol, and fightin'. Normally after taking photos you will be pestered for cash. This can be solved with smiles, waves, and firmly driving off. However, in this instance the herder was toting an AK-47, didn't know Swahili, and seemed particularly focused on getting money. We tried charm and a few pens but he kept a stubborn grip on Sally's arm in the front seat. Finally seeing the entire box of pens he grabbed at them, it was our chance, and we accelerated out of there.

Marsabit is the last decent sized town in Kenya and we arrived around 11am. Rounding a final corner into town I slowed for a herd of cows crossing to the left. Inexplicably, on seeing the truck the herder whacked the herd back to the right - already committed, I watched seemingly in slow motion as we slid on the gravel (feathering the brake to maintain some steering) into the middle of the herd. One tan cow looked up incredulously as the truck bore down. As Sally describes it, first there was a head in the windscreen, then four hooves. The cow got up, looking unhurt by the tumble - I think most of the damage was to my pride. We were required to go to the District Commissioner's office in Marsabit, and in the office of the colonel responsible for security, were informed that space or no space we had to take two escorts with us for the final 220km. So all three women squeezed into the back with Michael, while Joseph sat up front - his machine gun at the ready.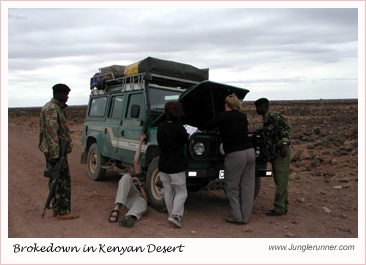 On the road up to Marsabit, corrugations in the gravel road were bearable if we accelerated to 80kph. But after leaving the town the road turned really ugly. Boulders and fist-sized stones had been worn into an axle-deep track. There was no smooth track, no perfect speed to lessen the pounding. It was simply a case of going 40kph and absorbing the punishment. Half an hour out of town the truck suddenly started cutting out, fleetingly at first, but then for longer and longer gaps. Finally it just died. Bad diesel? There was no dirt or water in the filter. Air filter was clean. Jody and Sally translated the manual (it's in Spanish) - "If there are serious problems, see an authorized dealer." Great. Fortunately we have the satellite phone. With the help of Paul Foley, long distance from Zambia, we were able to diagnose the problem (a hidden electrical fault) and a solution (run a direct circuit to the injector pump). Though the fix worked, other electrical systems cut on and off, also affected by the electrical fault - the gauges, windshield wipers, and ignition. To turn the truck off we had to stall it in 5th gear.

Happy to have escaped disaster in the desert, I groaned when the rear suspension suddenly went loose. A flat tire I figured. Not so. The tires were in fine shape, but peering behind them I spotted the problem - the right rear shock had literally exploded. It was hanging in two pieces. We nursed the truck into the next town and swapped out "the world's best shock absorber" for one of the generic spares. And finally, things went our way. The road turned nice again, Michael and Joseph helped us find a good campsite in Moyale (the border town), we pitched camp and finally relaxed with some camp cooked pasta and fine grind coffee.

Ethiopia
First impressions of Ethiopia confirmed it's socialist reputation, the border formalities were long and involved. Customs took over an hour to complete, a long double-sided declaration form in quintuplicate and additional currency declaration forms. Despite his friendly demeanor, the inspector searched the truck quite thoroughly, asking us to remove and unpack several cargo boxes. Their idea of a 'quick search' was nerve wracking - I'd hate to be subject to a thorough inspection.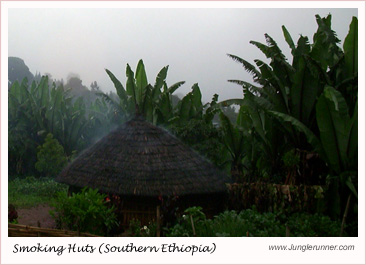 But heading into southern Ethiopia unwound my preconceived notions. The vegetation was immediately greener than northern Kenya. And 200km into the country the road ascended to a higher altitude, into wet drizzle, clouds, and absolutely lush greenery. There are no holes in the huts to let cooking smoke escape - instead the smoke vents directly through the roof. It was a cozy sight as we wound through the cold damp mist, clusters of huts oozing warmth.

Tourism has not yet returned to Ethiopia and this has plusses and minuses. There are none of the internet cafes or touristy restaurants that make life easy on the road. But this forces you to search out local restaurants and go through the awkward pantomime of relieving yourself to find a bathroom. Embarrassing sometimes, and definitely time consuming, but rewarding in the end because you have real contact with the people. For lunch we stopped at a small town bisected by a military checkpoint. The truck was an immediate source of interest. "Where can we find lunch. Food." mime hand to mouth. A man pointed to a series of three derelict straw huts.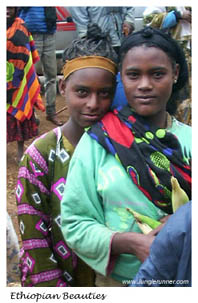 Mud benches and a straw littered floor didn't inspire confidence. And the bathroom was an outdoor affair, an open hole barely screened by ragged mats. But inside, herbs smoldered under a charcoal brazier, and the smell of ingera and tibs wot invaded our appetites. If you haven't tried real Ethiopian food, you're missing out. And if you have, take the best you've had, and imagine that flavor multiplied - fresh ingredients only hours old and the expertise of women who've cooked the dishes for generations. For $0.30 each we gorged ourselves till we could eat no more. No tourist infrastructure? No problem.

Coffee originated in Ethiopia and has been brewed here for thousands of years. The only place I could find was a straw roofed awning with some benches and a few battered thermoses of coffee. No matter, after going through the trouble to find the place, having been led by a couple of locals who understood my gestures, I figured it was only polite to buy a cup. A small glass tumbler was produced and a stream of hot black liquid sloshed inside. Sugar? Yes. I tasted. Wow - strong, not bitter, an absolutely perfect double espresso. Locals crowded into the shack trying out their bits of English. At $0.06 per glass I could afford to buy a couple of rounds. Sally, Gulin, and Jody managed to find me and we all gave our digital cameras a workout.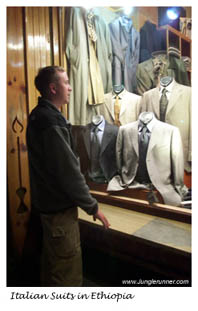 Smooth paved road from the border all the way to the capital city! What luxury. Unfortunately the locals don't have much practice looking both ways before they cross the road and we had a few heart-stopping moments. Gulin slalomed across the road and through a stack of hay bales to avoid a man who stepped right in front of the truck without looking. Later that day at dusk, a man watched us approach and then figuring he could beat us dashed right into our path - I stood on the brakes and we left six foot rubber tracks narrowly missing him. Despite pedestrian hazards, the trip up finished without incident. Addis Ababa traffic in the rain with no functioning windshield wipers is a challenge, especially with cows who like to doze in the center median of main roads. But we've managed to settle into a decent hotel. Ethiopia was occupied by the Italians during the second world war (Italy had an even longer presence in Eritria), and though the occupation is long over the influence remains. In the midst of crumbling sidewalks and filthy streets, pastry shops and stores crammed with fine Italian suits abound.

We'll be stuck here for about a week wrangling visas and vehicle permission for Sudan - in fact there's a question whether Jody (US citizen) will be allowed in at all. But in a city with great food, great coffee, and friendly faces, it will be an easy rest.