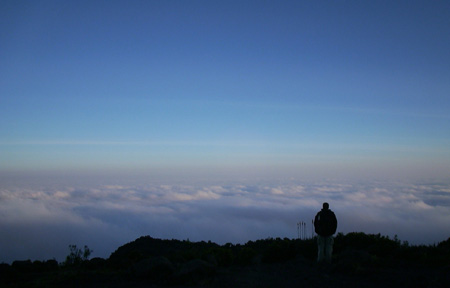 #1 - Recipe for Adventure
Jeff Willner - 22 June 2001
"I donít understand", the potential advertiser said to one of the members of our team, "Why exactly are you doing this trip - what is your concept?" Thatís a valid question. Why would four young professionals decide to leave jobs and loved ones to squeeze into a Land Rover and drive around the world. Weíre not really anything special, no professional explorers in the group, no seasoned aquanauts or ex navy SEALs. Just a group of soft, somewhat nervous amateurs with wide eyes. Ordinary people on an extraordinary adventure. Ultimately the tour boiled down to a really simple concept, weíre just curious about whatís out there.
As with most big ideas, the concept formed in an innocent way over coffee. I was on summer break from graduate school and mulling over my post-graduation plans, doing a little internal Q&A.
Q. How much time off do you think you could wrangle after graduation before you would have to start work?
A. One year.
Q. What countries would you really like to see?
A. All of them.
From a simple premise the trip was born. I wonít lie to you, it took a fair amount of planning. A one year trip through 44 different countries on five continents - the visa research alone took weeks. And having the economy pack up six months prior to the trip start was most inconvenient because potential sponsors suddenly found new uses for their money. But in the end, despite frustratingly scarce information and last minute panics, we set off to Africa to begin.
Hereís how we prepared: - The Vehicle; 1986 Land Rover 110, rugged, reliable, easy to maintain, with a suspension that soaks up the most terrible terrain - we shipped the truck by container to Namibia, Africa - The Alterations; taking a truck round the world requires some modifications (new diesel engine, roof rack, roof tent, 4 jerry can rig, 2 spare tires, AC, CD/stereo, 3 alarms, 2 internal fuel tanks, internal water tank, 3 hidden storage compartments, sleeping/storage deck, security meshed windows, double rear suspension, bull bar, spotlights, extra battery, new seats, insulation, soundproofing) - The Equipment; camping/cooking gear, full tool kit (40lbs of Craftsmanís finest), Iridium satellite phone (yes, Iridium is back), expedition medical kit, recovery tackle, laptops, digital cameras, video gear - The Documents; Carnet de Passage (essentially a passport for the vehicle secured by a bond), Vehicle Insurance, Expedition Insurance (including emergency medical extraction and Kidnap & Ransom), letters of recommendation from senior government types, a plethora of injections, and an extra large passport to accommodate all the visa stamps - The Clothes; ironically with all the gear and equipment on the truck, space is at a premium and my wardrobe for the year consists of 4 changes of clothes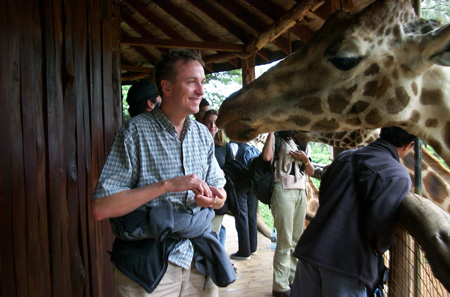 In Nairobi there is a giraffe sanctuary for the rare Rothchilds giraffe, these majestic animals will come right up and eat from your hand. In words of one of the tour members, "this is the closest thing to feeding a dinasaur that I can imagine".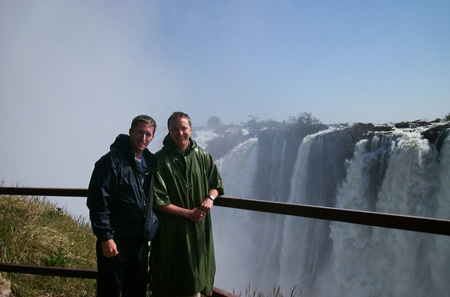 At the start of the Junglerunner trip in Victoria Falls with Rob Smoot
As sponsors faded like the logo on a cheap t-shirt, and my stock portfolio went from the high six figures to the low five figures, it became clear that to do the trip, the costs would have to be shared. I met Sally while on exchange at LBS in England. Jody and Gulin answered a posting on the Lonely Planet website, "Wanted, adventurous travelers for one year trip around the world - cost $30,000". You read that correctly, the whole team has not met yet, weíve only exchanged emails. Did I tell you the trip would be interesting?
So here I am in Victoria Falls at the start of the trip, waiting for the team to show up on the 23rd. Of course African laws dictate that things must begin to go wrong immediately and true to form the container in which the Land Rover is being shipped was inexplicably delayed rounding the Cape so it will arrive in Namibia one week late. Iím nervous about money since our budget is razor thin, anxious that the team will gel together, and concerned about even being able to get past Sudan (last I heard there is trouble getting vehicle clearance to drive through the country). Standard jitters I expect. No trip could be considered an epic if it was too easy.
Iím 33. Thirty three. And Iím about to drive around the world by Land Rover. The bank is baffled as to why I would want to add another $30,000 to my $100,000 school loan. My employer would really rather I didnít run off for a year. What am I doing? What IS the concept? To quote a famous man, "I took the road less traveled, and that has made all the difference." Weíre just ordinary people on an extraordinary adventure. I sure donít know if we will be able to pull this thing off - but weíre going to give it a try.
Excerpts from Sally DeFina and Jody Finver will be in the next journal. Gulin Akoz joins the team in mid-July.