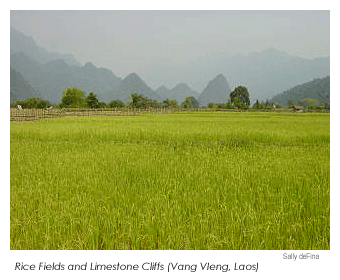 #10 - Vang Vieng, Backpackers Haven
Sally deFina - April 6, 2002
There is not much to do in Laos besides chill out. And there is no better place in Laos to do this than Vang Vieng. Vang Vieng is a tiny little town approximately 1/3 of the way between Vientianne and Luang Prabang (see Jeff's Journal about Laos), and it has been overrun with backpackers. All the activities in the town are geared towards backpackers. There is but one "resort" in the town for the rich folk which is secluded by itself close to the river that snakes along the west side of town. The main activities revolve around said river, and the numerous caves and Buddhist shrines in the area. If you love caving, this is the place for you. It is a great place to meet fellow budget travellers and to unwind for a couple of days.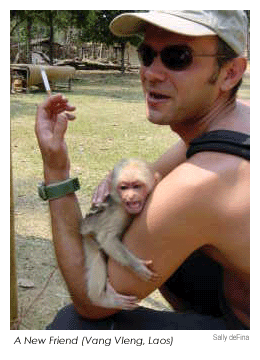 We arrived in Vang Vieng around 3pm, promptly put our laundry in for washing, watched an Indiana Jones movie while eating some delicious Lao food (many of the Vang Vieng restaurants have taken lessons from Thailand in how to lure in backpackers with free pirated western movies), booked a caving/tubing trip for the next day, and then wandered down to the river. By this time, it was quite dark, and all the backpackers were up by the bars close to their guesthouses, so there were only a few groups of locals down by the river. While wondering along, we were invited to join a group of very drunk local boys with an offering of a bottle of beer. The few words of English that they seemed to know included "beer Lao", so our conversation revolved around beer and we therefore found ourselves ordering more and more of the stuff. The boys ordered some sort of rice-egg-vegetable dish were shovelling it in with relish (we declined their invitation to eat) when one of the boys announced solemnly - "I am going to go and sing now". He promptly then got up, walked behind a fence, and started throwing up. Everyone else thought that this was the most hilarious thing, especially when he returned and asked for more "beer Lao". After a while of continued drinking, two of them passed out by the shore and half an hour later we made our exit. We left thinking to ourselves how wonderfully friendly Lao people were. (OK, so we were drunk, but in the morning, we still thought Lao people were friendly).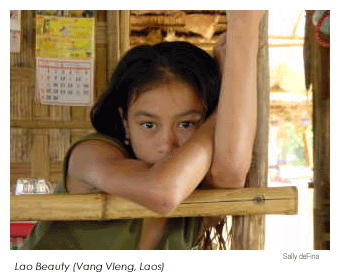 Coming from Vietnam, the people of Lao were quite refreshing. Only recently opened up to foreigners, the country was about 5 years behind Vietnam in the tourist industry. Although we liked some aspects of Vietnam, we felt that people were constantly trying to rip us off and people seemed to be much less friendly. We heard from other backpackers that Laos - friendly and welcoming - is currently like Vietnam used to be 5 or 6 years ago, before massive amounts of tourists spoiled it. Our first night in Laos confirmed this fact - although the tourist facilities and basic infrastructure was far behind that of Vietnam, the people were friendlier, more genuine, and giving.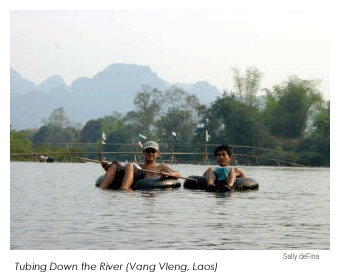 Our second day in Vang Vieng was spent visiting caves and on the river. Our first cave was a small one called Elephant cave because it had an elephant carved into the ceiling (as well as a reclining Buddha). Our second cave was quite a long hike into a limestone mountain. After about 1 hour of walking barefoot with our flashlights around stalagmites and stalactites, and occasionally bending through some pretty tricky sections, we managed to find an underground river where we went swimming by the light of candles. Our third cave was the most strenuous. We used inner tubes to float into a cave until we hit dry land, then proceeded by crawling on hands and knees (and sometimes sliding on our bellies) for about 2 hours. Along the way we encountered beautifully coloured stalagmites and stalactites, and two very large black spiders - one with a huge egg sack attached to her underbelly and dozens of tiny baby spiders running about. After such strenuous activity, we finished off the day with a relaxing 2-hour inner-tube ride back to Vang Vieng - drinking "beer Lao" along the way.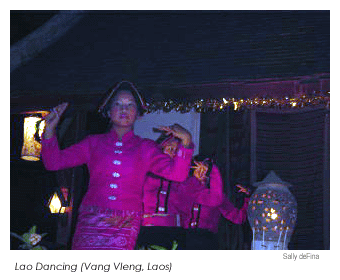 That evening, we relaxed by watching yet another Indiana Jones movie, and going to the backpacker bar to meet some fellow travellers. It was obvious to us that the bar we finally settled into was a major pickup joint for horney backpackers. Loud Americans, Australians, and Brits were playing drinking games at the various tables, and we heard the most outdated pickup lines ever.
If you are into very basic travel and accommodation, seeing some fabulous scenery, and meeting some extraordinarily friendly, smiley people (or if you are just looking for a roll in the hay with another backpacker or two), get to Laos quick before the tourism rush ruins the atmosphere of the place.