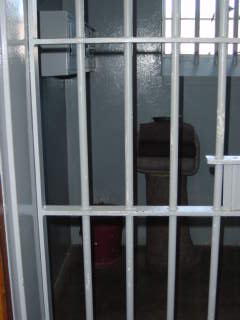 Nelson Mandela's cell on Robben Island in Cape Town, South Africa.
#1 - Robben Island
Sally DeFina - 5 July 2001
(Cape Town, SOUTH AFRICA) - Our guide was speaking at almost a whisper – so softly that I had to physically move to within 3 feet of him in order to hear. His eyes were lowered to the ground as he shyly told us about the tour of the prisons at Robben Island in Cape Town where he had been held for four years for the "crime" of belonging to the ANC. He was "lucky", he said. Other prisoners spent decades at Robben Island, the prison used for black political prisoners during the Apartheid era in South Africa. Nelson Mandela spent 18 of his 27 years behind bars at Robben Island, along with many other leaders of the struggle against Apartheid.
Our guide, Muth, asked us in a soft, dignified voice that if we had any questions at all, to please not be shy. "Were the political prisoners kept alongside criminals?" came a question from an American gentleman at my back. Muth's eyes opened a little and his voice rose a notch as he started explaining that in South Africa, the prisoners of Apartheid were all considered to have committed crimes against the government and therefore were not considered political prisoners. His voice still rising with emotion, he related how at first all the political prisoners were kept with hardened criminals as a way to break political prisoner's spirits. In the mid-1970's, however, the political prisoners were separated from the other criminals when it was determined that their ideas were "infecting" the prison. By the end of his speech about criminals, Muth was speaking quite loudly and was boldly looking directly into my eyes – and I saw the internal turmoil and fire that undoubtedly landed Muth at Robben Island in the fi rst place.
As we made our way around the prison, Muth stopped occasionally to shake his head sadly at something that he remembered from his days inside. In the dining area, he stopped and shared his thoughts with us: "we received bread and hot soup in the summer, and bread and cold drink in the winter - and it was unbelievably cold here in the winter, and unbelievably hot in the summer. They were trying to break our spirits. They could never have done it", he said in an incredulous voice.
"What did you do to land here?" I asked Muth after we were alone outside the prison. "A terrible, terrible thing" he said gravely as he shook his head and looked at me with intense seriousness. "I belonged to the ANC" he said and smiled sheepishly. "A terrible crime."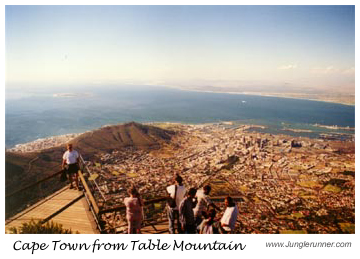 I read up on Apartheid over the next few days as we drove along the Garden Route, and was so appalled at treatment that black South Africans were forced to endure throughout history, that I was emotionally compelled to write about it. Although African blacks have been mistreated and enslaved since first coming into contact with Europeans, it was South Africa alone that attempted to continue this abuse into the 21st century by passing Apartheid laws in 1948 - Apartheid literally meaning the state of being apart. These laws included a law prohibiting interracial marriage and sex, a law requiring individuals to be characterized by race, and a law ensuring the physical separation of blacks in residential areas and public areas.
The most hated laws put into place were the Pass laws which forced blacks to carry identity cards at all times and prohibited blacks from visiting towns unless specific permission was granted. These laws ensured that blacks, about 70% of the population, remained in separate areas that made up only 7.5% of the land. Blacks were no longer free to roam about their own country and were arrested if found without their cards. Muth had joked with us that during Apartheid, if a black man was seen running into a burning building, it was to save his identity card and not for the women and children.
The struggle against these discriminatory laws continued from the moment they were passed until they were repealed in 1991. In the process, hundreds of people were killed or wounded in demonstrations and protest marches, and thousands arrested and tortured. In the years from 1985 (when the government declared a state of emergency) to 1988, it is estimated that approximately 30,000 people were detained without trial Other countries, disgusted at the South African government's blatant disregard for human rights, increased economic sanctions until the point that the South African Rand finally collapsed. By 1991, all discriminatory laws were finally repealed and all political prisoners finally released.
During free elections in 1994, the Apartheid era was finally declared over when Nelson Mandela was elected as president. Only 7 years after the official end of Apartheid, the effects are still quite visible to visitors, the most noticeable being the almost complete lack of blacks in many tourist areas of the country (including the Waterfront area of Cape Town and The Garden Route). Given the brutality of the Apartheid government, I suppose that the un-separation of races will take a couple of generations at least. In the meantime, South Africa is not hiding from its past, but rather openly encouraging debate about it. The opening of Robben Island to the public was one of the ways of accomplishing this. As Muth explained to us at the end of our tour, former prisoners have returned to Robben Island for exactly the same reason: "to keep the history of the prison and its criminal past alive for reconciliation, not for the sake of revenge".