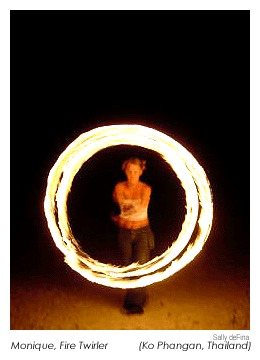 #7 - Ko Phangan
Sally deFina - March 21, 2002
Mike and I arrived on Haad Rin beach on Ko Phangan after a 36 hour marathon consisting of an overnight train, a couple of jumbo taxis, a minibus, an overnight boat, and a small hike along the beach burdened down with our backpacks. Ecstatic that we had finally reached our destination, we changed into our bathing suits right on the beach and ran laughing into the surf. We didn't even mind that the reception for our chosen hotel wouldn't open for another hour (at 7am).
You know that dream state that you find yourself in when you have had almost no sleep for a couple of days? Add to that the feeling of cool water against your skin, a warm breeze lightly lifting your hair, the early morning sunlight dancing off of the wavy water, and the gorgeous scenery of white beach, light blue water, dark green trees, and brown cliffs along the shore, and you have some idea of what I was feeling at that moment. I felt so supremely happy that I was tingling all over. Wallowing in our happiness, we sat where the waves were gently lapping the shore, and gleefully plastered wet sand on each other like little children.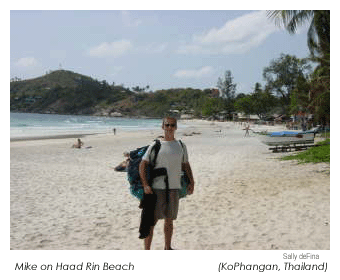 While playing on the shore, we were approached by two obviously very high Brits who had apparently mistaken our childishness for a like state of mind. They asked us casually if we had enjoyed the party the night before on Haad Rin beach. "No, we just arrived. How was it?" we asked. "Aaaah. Good. Very good" one of them, who we later learned was called Paul, answered with a sly smile. It was evident from the redness and largeness of Paul's eyes that not only had he been up all night, but that he had also ingested something to aid him in this task. He then proceeded to give us the lowdown on life on Ko Phangan.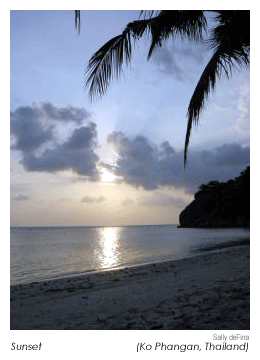 Basically, there was a techno party every few days or so, to celebrate various stages of the moon: there were full-moon parties (the most famous, drawing about 10,000 people to Haad Rin beach), no-moon parties, half-moon parties, and parties just for the heck of it. The parties were held on one of the various beaches on the island, lasted all night, and were usually followed by an after-party that lasted all day. The parties involved great trance music, fire twirlers, jugglers, fluorescent decorations lit by black lights, and copious amounts of drugs. During our stay on the island, we went to 3 parties in 6 days, and were offered ecstasy, LSD, hashish, magic mushrooms, and other various drugs that I have now forgotten the name of. The fact that taking drugs in Thailand can land you in jail for months without a trial, and that trafficking in drugs can present you with the death sentence if caught, seemed to have escaped everyone's mind. Either that, or the police were paid off to look the other way. Considering that many of these drugs were taken out in the open in full view of all who passed by, the most likely scenario was the second. Anyway, we met Monique (the fire-twirler in the picture above) on our second day who managed to stay up all night "high on life", as she put it, and so we hung out with her the rest of the week we were on the island.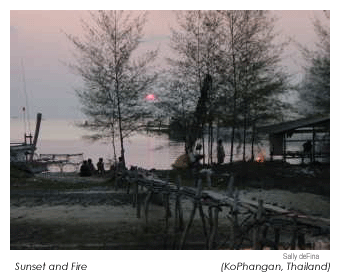 During the day on Ko Phangan, people usually emerged from their huts around noon, lounged around on the beach, got massages, played in the water, listened to chill-out music, watched free pirated movies in one of the Thai restaurants close by, went to after-parties (if there were any that day), watched the sunset, and/or went scuba diving. Overall a very relaxed location to hang out for a few days. Problem is, Ko Phangan is one of those places that you get stuck in because you get too lazy to move on. Paul had come for one week, and had stayed 3 months by the time we met him. We planned on staying for 4 days, but stayed for one week. But we did manage to scuba dive, take a boat tour around the island, and rent a scooter for a day to drive up to the northern beaches in addition to attending three parties. Overall, a good waste of a week.