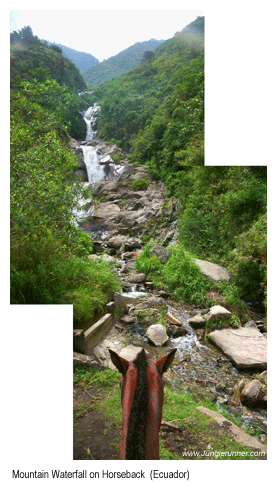 #29 - Ecuador
Jeff Willner - 24 February
(Quito, ECUADOR) . We are so fortunate. We are so darn lucky to be living in North America. I walked through the Houston airport in the grip of reverse culture shock, a dizzy stream of thoughts cascading in my brain. Carpet with no holes. Restaurants where every light bulb is working.
The baggage handlers had succeeded in ripping a six inch strip of canvas out of my duffel bag and I stuffed my clothing inside as I stood in line at the baggage complaints desk. "Sir, would it be ok if we replace your bag with these two brand new, fine quality, pieces of luggage." I eyed the luggage, amazed, "Of course. Thank you!" "Oh no, thank you for being so patient." As I left a couple of fiftysomethings from Palm Beach were giving the agent hell because their luggage was not off the carousel yet. I couldn't help but contrast the situation to what would have happened in the developing world... Baggage torn - you should have bought a heavier bag. Luggage not off the carousel - come back tomorrow.
It isn't Ecuador that sparked these thoughts, because the country is inexpensive, picturesque, and highly recommended. No. It was the combination of the last three months and the shock of coming home that brought me to a state of profound gratitude. With a minor war in Columbia blocking the way, the Junglerunner tour of South America through eight different countries came to an end in Ecuador. In two weeks we start SE Asia for the last leg of the expedition.
We flew from Peru into Guayaquil, Ecuador's largest city. It is recommended in many guides, but frankly we didn't find a single endearing corner in the town. Sally suggested heading west to the beach town of Playas to kill a couple of days until our Galapagos tour started. It seemed like a fine idea so we huddled in a local bus, featuring aisles packed with baggage and chickens, and everyone ducking down when the bus passed police checks. Playas was unexpectedly interesting because there were no other foreign tourists there. Just locals having a good time. All the other pale skinned yokels were further along the coast in the upscale resort town of Salinas. We were asked several times, 'Did you really want to come to Playas or did you make a mistake?'

The beach was packed, completely jammed with families enjoying the sun and sand. And in the evening, bands played from bandstands, the discos filled with impressionable teens, and the street vendors did a brisk trade in popcorn and ice cream. There was a little carnival across from our hotel and we couldn't resist riding the Ferris wheel at night. They let us stay on extra long because we were the last passengers for the night - and because I think they were secretly pleased at how loud Jody could scream.

Across the street from the carnival was a little bar with a cool theme. Every customer was given a percussion instrument to keep time with the blaring salsa music. Why it hasn't been tried in the States I do not know. Maybe because of the unholy racket we raised, or maybe because some people are rhythmically challenged. But I was a star with that gourd scratcher. Really.
After our Galapagos tour we flew to Quito. New town is a tight cluster of travel agencies, western style restaurants, laundromats, internet cafes, and souvenir shops. Everything is huddled into a four block radius and patrolled relentlessly by armed guards.

By contrast, Old town has no guards and isn't safe to walk at night, but during the day it is fascinating. Our cab took us to the edge of the historic section and rounding a corner this massive basilica loomed from nowhere. It was completely impressive. Stunning.

We went inside and listened to the evangelical music being piped into little speakers as the church service ended. It seemed incongruous to have synthesizer tunes piped into the soaring cavernous hall. Though I suppose that worship is worship, and form is less important than conviction.

We toured the downtown. One of Sally's pockets was razored open by a little old woman in the middle of the city market, though Sal caught her before she could steal anything. Still, the near theft and many warnings kept us on edge downtown. We toured some excellent museums near the central square, sat in on a Sunday Mass at the San Francisco Cathedral, and finally took the trolley back to New town.

Getting off the trolley I nudged Sally. 'Oh baby, looky there!' KFC. How my culinary standards have fallen. I am now a KFC addict and don't care who knows it. After a satisfying grease injection, we browsed the weekend market in the park, bought some stuff, and walked on to our hotel.

Later in the week, Sally and I had another close call. A mugger threatened us and we backed into a crowded avenue full of traffic. Drivers honked their horns and yelled out the window - the muggers lost their nerve and took off. Despite its challenges I have a real soft spot for Quito. It could be Shogun, the amazing sushi restaurant where I spent several very happy evenings. Or the fact that we had cable TV with English channels. I luxuriated in the Olympics for several full days. Saw Sarah Hughes win figure skating gold, and Canada take the gold in ice hockey. Yeah, Canada!

Sally left Quito to return to Australia and Jody left for a jungle tour. With a week to spend I opted to go south to the quaint spa town of Baqos. One morning of 'healthy rejuvenation' in the spa, a series of alternations between being steam broiled in a little wooden box with only the head sticking out a little hole and being doused with ice cold water, convinced me that I was healthy enough.

I rented a 250cc motocross bike and bombed east down the dirt road into the nearby Amazon jungle. Shared a Coke and a smile with the natives and blasted joyously back at 80kph.

About an hour out of Baqos I was stopped in the road by a construction crew. A monster dump truck was coming down the narrow mountain road, I needed to wait until it got to a wide section so I could get past. I looked around and saw these kids working away making wooden crates in a little factory and snapped a picture. "Ay, you're famous!", the men yelled to the little kid sitting on the wood. "The gringo took your picture." they laughed. But the kid eyed me thoughtfully. Maybe considering his royalty rights. More likely amused at the sight of a filthy, grinning, gringo who took off like a shot into the mud as soon as the flagman waved permission.

The next day I paid $20 for a four hour mountain tour of the surrounding region. The horses were strong but small and preferred to canter. Anyone who has ridden realizes the significance of cantering for four hours on an untoughened butt. I had bruises for days.

Despite the bruises, I left Baqos in high spirits. It was a lovely little town in which to spend a couple of days, and I bet it would be even nicer when not in rainy season.

The last necessity in Ecuador was to go north to the famous Otavalo Indian market on Saturday. With five sisters, a brother, six nephews and nieces, parents and in-laws, when I start shopping I have to shop in bulk. Otavalo promised to be a goldmine for inexpensive and good quality crafts. It was. Though not as great a deal as we had hoped. One vendor when asked if we could bargain with him on Sunday replied that he would be gone, to Quito. "So your painted boxes are $7 here, how much are they in Quito?" "Five bucks", he replied. Riiiight. We stopped buying and finished our purchases the next day back in Quito's new town.