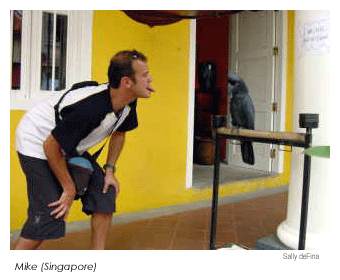 #6 - Mike Update
Sally deFina - March 14, 2002
Passing through Chicago last November, I was asked by a few people to post an update on "that guy" that I wrote about last July. Well, here is the scoop. Yes, we are still together, and no, we don't see each other very often. Since I last wrote about Mike, I have visited Australia three times, and Mike has come to meet me once in London. So, we see each other on average about two weeks every one and a half months or so. In that one and a half months that we are apart, I go through a strange cycle of numbness during the first two weeks, depression during the middle two weeks, followed by nervous expectation the last two weeks.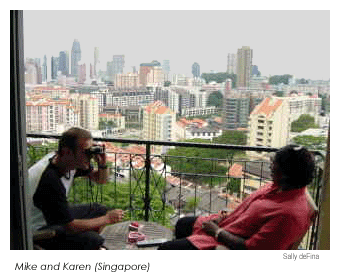 But for the next 6 weeks, the cycle will be broken. I called Mike from Peru in February and begged him to travel with me through Southeast Asia. Having nothing pressing to do in Sydney for the next couple of months, he agreed. So, Jeff, Jody, and I decided to split up in SE Asia and travel independently.
So far, Mike and I have been through Singapore, to visit one of Mike's close friends from Australia (Karen), and Kuala Lumpur, to visit one of my friends from University (Kartik). In Singapore, we did some sight-seeing, eating, shopping, and lounging around Karen's fabulous flat. Other than that, there isn't much to do in Singapore - it is quite a sterile place.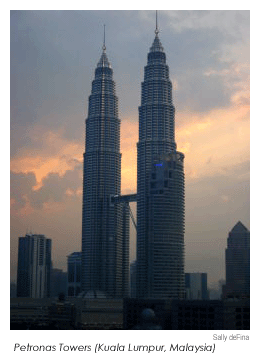 In Kuala Lumpur, we visited Petronas Towers, and played pool in the McKinsey offices (where Kartik works). We also went to the Islamic museum, where some fabulous Islamic objects of art are displayed. The Grand Prix was to occur in K.L. the week following our visit, so there were parties being held in many of the more famous bars while we were there. There were fire twirlers and car displays and lots of beer. Quite a good time to be in K.L.
During our time in Singapore and Malaysia, Mike and I took the opportunity to discover more about each other. We obviously know each other very well, having been together for over one year, but living apart and speaking to each other through long-distance phone calls and e-mail limits the amount of meaningful deep discussions we can have. We usually reserve those kinds of discussions until we are together, and this time was no exception. We are now at the stage in our relationship where we are kind of interviewing one another to be sure that nothing really sticky will come up in the future if we are to stay together. For example, Mike casually said to me, on the train from Singapore up to K.L., that he would at some point in his life want to do some volunteer work in a different country for a couple of years. "Not now, but after a few years of working", he explained. We discussed this whole issue for hours (time frames, what kind of work, how it would make sense at certain points in one's life, but not at others, etc.) and at the end of the discussion, Mike said to me awkwardly, "You know...I am just telling you this now...so you know....that this is a possibility....you know...maybe...in the future...". It was quite cute. And thankfully, I also have the desire to live and work in a different country. Whew!.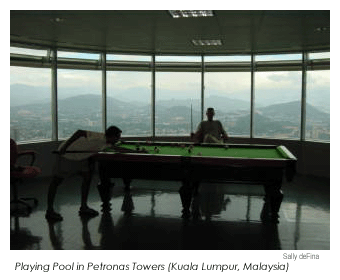 After the next 6 weeks are over, Mike and I will revert to the old 2 weeks on, 1 and 1/2 months off routine until the Junglerunner trip is over. Mike is currently applying for University in the United States, and so if he gets accepted, he will move to the US, and I will try to manage a job in the same city. If he does not get accepted, I will move to Australia for a while. After starting our relationship long-distance, it will be a nice change to be so close to one another, and in fact, we decided it is not worth continuing our relationship unless we try the "close-by" thingy for a while. Keep your fingers crossed for Mike to get into an American university, as I would much rather spend the next few years in the good old USA. I'll let you know how it goes.