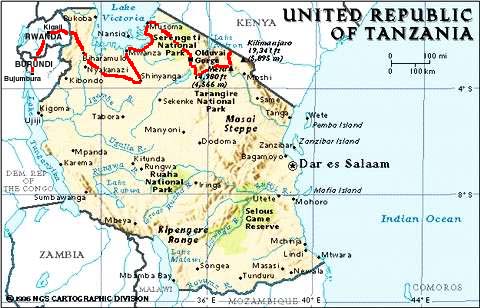 A Turn Into War
7 May, 1999 (2,480 km)
(Bujumbura, Burundi)
Time slipped out of gear and everything seemed to happen in slow motion. I stamped on the gas instantly, Kevin pitched down, the soldiers whirled and brought their guns level, the leader rocketed into a run drawing his pistol. I saw the leader's eyes lock mine for an instant and he aimed his pistol pivoting with our movement, I tensed for the shot…
Rapid Transit
A quick border transit, pothole slalom, and a final twenty minutes of spine wrenching madness on a track that had no business being called a road - and we arrived at Masai Camp in Arusha. The english graffiti in the bathroom stalls was profane, the swahili graffiti religious - interesting. If the words of the modern prophets are written on the walls then things don't look good for the first world. Stocked up on groceries, checked e-mail – and headed into the really interesting stuff.
I still blame Kevin for what happened next. Seriously. He had travelled with me for over a week and certainly had ideas about my driving. We had turned onto a horribly washed-out dirt road to get to the Ngorongoro crater travelling at a sedate 60kph and Kevin said, "You must really be enjoying driving at this speed over this road."
"Well" I said, "what I'm really keen to do is drive a rally car on this same road at about 120kph."
"There's no way that anyone could do 120kph on this road!"
Right there - do you see it? "…no way ANYONE could…" I'm sorry but it was a statement that had only one answer… "Really? Wanna see?" Kevin grinned and said, "Oh there's no way man."
To get the picture you have to envision the road. Mud ruts ground into the red clay, loose stones and bowling ball boulders in a continuous scree, twisting hills, hard edged washouts slashed across the surface, and standing puddles of axle deep water fueled by a constant drizzle. We should have been going thirty, at sixty kilometers per hour Stanley was doing a man's work, but 120 was as they said in Spaceballs - Ludicrous Speed. Of course if you have the driving gene, 120 is fun time. We accelerated to 120. I'll admit that I was a bit nervous. We literally tore that road up, shocks whacking bump stop maximums, steering dialed in seconds early, anticipate, anticipate, throwing the inertia of the truck at the corner apex, driving like leaping down a hill - just a controlled fall bouncing from spot to spot. Mind blowing.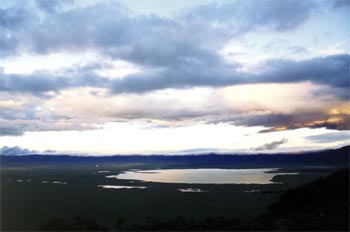 Looking into Ngorongoro crater at sunset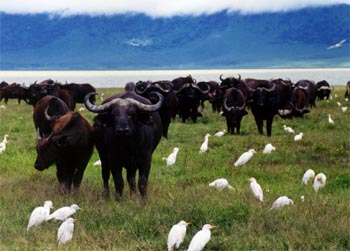 Buffalo herd in the Ngorongoro crater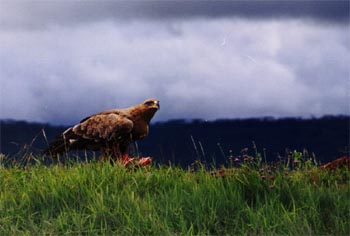 Golden eagle with kill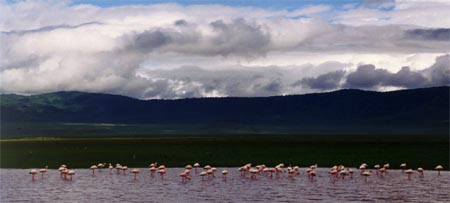 Flamingos in the crater lake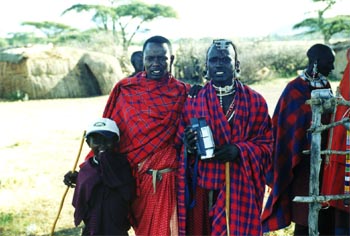 The Masai chief shot several minutes of video - mostly of his goats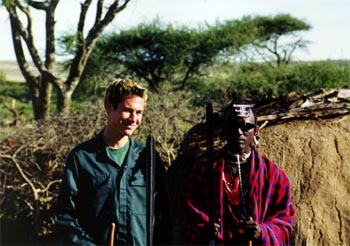 Kevin conducts a cultural exchange - spear traded for sunglasses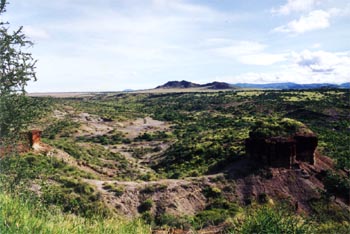 Olduvai Gorge - 'Lucy in the sky with diamonds'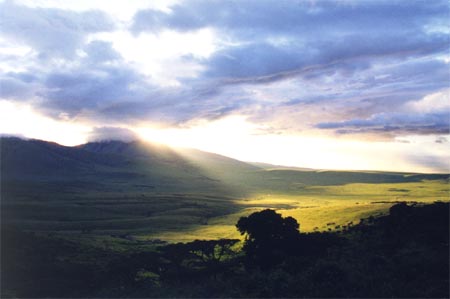 Serengeti - The world's premier park
Thirty minutes later we had donned rain ponchos and cranked up Ella Fitzgerald to serenade us as we jacked the truck up to replace the left rear tire with a fist sized blowout. It was another surreal African scene. Ella never sounded so good as she did on the road to Ngorongoro at dusk. And although you'd think I would be annoyed - well, I HAD gone 120kph at sustained speed, Kevin WAS impressed (and a little shell shocked), and I DID have two spares, so chalk another one up to experience.
We camped at Twiga camp that night just outside the National Park to be able to hit the park early and minimize the horrendous park fees. Ngorongoro and Serengetti are cash cows for the Tanzanian gov't and they also support the other National Parks in the country. "Ngorongoro crater is universally acclaimed as one of the natural wonders of the world. On the verdant crater floor, thousands of wild creatures live a fishbowl existence in a setting of almost sublime beauty. Spread over treeless pastures, the animals are displayed in glorious, unobstructed view. The crater has it all -mighty bull elephants, dour-faces buffalo, beleaguered rhinoceros, lions galore, even a flamingo thronged soda lake. Everything is enclosed within the velvety green walls of a perfect volcanic bowl. In this mile-high caldera, where the mountain air is as fresh as Creation, billowing cumulous skies dip close enough to touch the crater rim, sealing Ngorongoro in a misty world of its own." (Adventuring in East Africa)
Ninety dollars later the next day we were in. My bourgeois nature led us to the panoramic view of the Serena resort dining room, set into the cliff's edge a mile above the sprawling caldera floor. It was off-season and not very crowded so my Swahili got us the table where Mrs. Clinton and Chelsea had eaten a few months prior! Great food, great view - spectacular! We continued around the crater lip and then - after a guide mishap - drove down into the crater. Despite it being off season, and despite being cynically ripped off for another $10 "guide fee", we were still awed by the spectacle. Some of God's creation just defies mere explanation. After a few hours of ploughing through the animals we pointed Stanley upward and climbed a mile back out of the crater.
Camping with Masai
Feeling much poorer, a bit annoyed at the added on fees, and unwilling to pay an extra $20 for the barren official "campsite" - we decided to venture into the neighboring reserve and have a wild camp. Although I'd done this with spectacular success in Botswana, it is still a little daunting to be driving through a very wild game park in the rapidly darkening evening scouting for a place to set-up a flimsy tent. We reached a river near the Olduvai Gorge and suddenly saw a flashlight flicker. Dimly visible was a Masai boma – a camp with a thornbush outer wall about eight feet high. A Masai warrior came out and we asked if we could camp with them. No problem. So they pulled out the thornbush gate, we drove Stanley in, and in an hour we were sitting under the stars sharing a pot of tea with three moran (warriors).
The Masai are completely attached to their cattle. Tall and gaunt, wearing red cloths draped over their shoulders, they tend their cattle like children - often naming them and even singing to them. A moran always carries his spear and club - his weapons and his status. It's quite typical for a Masai moran to kill a lion with just a spear and club. In fact it's pretty much the only way to get any bragging rights. The men are fearless and operate on a hair trigger. Many of them have bent skulls from arguments that escalated into club bashing. They are a resilient and prolific tribe, stretching into all the East African countries. They're often derided for being country hicks, but nobody messes with a Masai at a bar.
We were in a boma that had converted to a tourist attraction, so Stanley was allowed inside the enclosure. Usually any space not used by a hut would be reserved for livestock. I slept a bit late in the morning - getting up at 7am - and Kevin was already up and had been on a game walk. He decided to buy a spear and was joking about being ready to go after his lion. The warriors thought this was a fine joke. I got the feeling that they tolerated us but aside from the tea, thought we were pretty much useless in all the things that count - cow herding, lion killing, and the ability to take a good club bashing over the head.
After a bit of souvenir purchasing and pictures all round, the chief insisted on accompanying us to the Olduvai Gorge. We saw the work of the Leakys and the famous excavations - bought more souvenirs - and hightailed it to the Serengeti gate to stay within our 24hr pass limit.
Turns out that we weren't supposed to camp outside the barren camp - and for the pleasure of staying with the Masai we would have to pay $40 each for a "special camp". Of course this rule was not written anywhere. After a $100 soaking the day prior and another $80 to come - my patience was too thin and I snapped. With flying gestures and rattling Swahili I explained that there was NO WAY that we would pay the fee. The warden was intractable. Off we went. Fourty minutes later the warden suggested that we take it up with head office. I suggested he call them on the radio.
As the guard placed the call the warden capitulated - admitting that the rule was not written down and compromising with a $20 fee. We agreed. Then suddenly head office came on-line and the warden yelled in to the guard not to say anything (since head office would very probably tell us to pay the $40 and get stuffed – it is Africa). The guard said, "Ahhhh, roger that head office hold for a second." Twisted around the corner, "What do I tell them now?? I got them on the radio!"
The warden paused, "Ummm, tell them that ahhhh, ummm the water is coming."
"The water is coming?"
"Yeah, you know, that water truck shipment is coming."
"They know that!"
"Well just say like you're reporting that it's here"
The guard clicked the radio back on and with all his mustered confidence, "Yes roger head office, the water shipment is now arriving."
"That's all??"
"Ohhh, ahhh definitely not, also the animals are moving down below and…." I didn't hear anymore. My wildly gesticulating argument in Swahili had attracted a crowd of Africans, and we all busted out laughing.
Serengeti - The World's Greatest Game Park
Serengeti demands another litany of adjectives. Its sheer size. The massive herds of thousands of animals. We actually interrupted the great annual wildebeest migration as we drove through with Stanley. A stream of beasts leapt across the road, pushed by a line of thousands stretched back kilometre after kilometre. Kevin had a coveted first chance at driving Stanley and he motored through the park with the touch of a grin on his face. After all, driving a kitted-out V8 Land Rover through the middle of the Serengeti with thousands of animals on all sides - it doesn't get much more stereotypical African Safari than that!
We popped out on the east shore of Lake Victoria and worked our way southwest toward Mwanza. The road was nicely paved and a pleasure to drive on after the last few days. No lunch, a long argument, and a short night in the Masai boma left me thin on reserves and looking forward to the nearest restaurant. Suddenly about sixty km out of town, the pavement was turned off like a tap. And worse, it was a fomerly paved road which meant that thin shards of pavement perched above the canyons of ruts ready to bottom out a spring. Dirt driving is fun if you're prepared for it, but being ambushed at the end of a long day about finished me. The road was so bad that no amount of skill, no weaving, no speed variation, no finesse could dampen the blows - and finally we just drove straight and slow, the dust pouring into the truck, the setting sun glaring of the filthy windshield, taking the beating numbly, seething at the corrupt politician that had skimmed the funds to finish the road.
The Middle of Nowhere
African guesthouses had remained off the list of possible accommodation, but by Mwanza we'd truly gotten off the tourist track and the choices were limited to $100 or $3 per night. Budget triumphed over bourgeois and I watched the roaches scatter when the lights went on. Handy tip: if the place you're staying doesn't provide a towel - use the top sheet. Handy tip 2: when taking cold showers, start with the arms and legs because you lose most of your heat through the head. I was proud though. Despite the filth it was certainly survivable - and I felt like a real traveler. Stanley got some needed TLC; new shock mounts, re-welded muffler mount, patched and balanced tires, repaired windshield washer.
Out of Mwanza to Shiringaya, out of the way but supposedly the best road. Not so. Within a few hours we'd pulverized two shock mounts and were back to metal on metal… and I was only driving 40-60kph. We stopped in a village and a shade tree mechanic crawled out from under a lorry carcass to assist. We needed new shock mounts - no such thing in town - but he managed to find a guy who sawed and carved some out of an old tire. Put them on, good as new. He wanted 2,000 shillings ($3) for his work but being the shrewd bargainer that I am I insisted I would pay no less than 3,000 ($4). I got a big smile.
We pressed on to the Rwanda border and arrived a bit late to cross. Learning from my night of terror at the Zambian border, we went to the police station to ask about camping. They laughed at us and took us to another guest house with a trustworthy host. Stanley was safely guarded and we slept well - but what impressed me was the warm water heated especially for our bucket bath in the morning. And the pride of our host when he pointed to a cheap plastic kettle on the cement step, "I know you mzungus brush your teeth so I have special clean water for you." This undeserved attention. The latent generosity of the people. Africa deserves better than it gets.
The Site of a Genocide
Entry to Rwanda was a breeze (no thanks to the $30 Letter of Introduction) and the roads took a decided turn for the better. Kigali spread out before us in a few hours and we twisted and turned our way up into the city center. Due to the recent bombing of the American embassy in Nairobi, the government had tightened security precautions by closing the two main streets bordering the building. Name a capitol city where a major artery can be walled off with barrels indefinitely by a foreign government- weird. It was hard not to drive through the streets without thinking about the Tutsi genocide only a few years ago. Hundreds of thousands of people were butchered with machetes simply because they were of a different tribe - and Kigoma was the epicentre of it all. Tribal loyalty is a lever that local politicians yank shamelessly. Africa really does deserve better than it gets.
The gorilla park was closed. The volcano park was off limits due to excessive mining - no, the little round explosive kind of mines. So another cheap guesthouse and we headed south. We had plenty of time to make Bujumbura, the capitol city of Burundi, but we were ambushed in Butare. Not literally, figuratively. We drove through this town and were pulled off the road by a fantastic piece of architecture. It turned out to be the national museum - a gift from Belgium. Lunch was required prior to a visit and we were ambushed again, this time by an innocuous restaurant in an old house. The chef was superb, the meal a delight, and the crepe flambe simply the best I'd ever had in my life. Who knew? The museum proved equally delightful. Complete exhibits, anthropological studies, a massive reconstruction of a royal hut, great souvenirs… Butare, that's spelled B-U-T-A-R-E. We were way behind schedule when we hit the border.
This border proved to be one of the most frustrating. Although there were only two people in front of us, it took 40 minutes to get to the front. When I did it was easy to see why. The clerk had the slowest handwriting I've ever seen. It was a delight to watch. It actually seemed to suspend time. Is it humanly possible to take a full minute to write a capital H and make it look good? Try it sometime. We barely made it across the border and we were informed that the main road was closed every night at 6pm due to civil unrest. The border town looked seedy so we decided to push on and find a nice guesthouse.
Straight into a Civil War
Although Rwanda had settled into relative peace, Burundi was still in a civil war. The president was an army man who'd stormed in during a coup and promoted himself to general. His regime had been in place for a few years, but the northern part of the country didn't like him and occasionally shot up innocent Toyotas to prove the point. We'd entered from the north. Bujumbura was in the south.
Traffic had been steady as we left the border, even as it began to get dark, and I had no qualms about pushing through the next town. We still couldn't find a safe looking place for Stanley. Little did we know that we'd just passed the last big town. Sure enough, within half an hour we were alone on the road - and it was good and dark. Our worthless map showed another big town ahead, so we pressed on. My throat got a bit dry and my heart started pounding a bit faster, but I prattled on to Kevin about this and that trying to stay casual about everything. After all, we should hit the big town soon and everything would be all right. Not so. We rounded a corner and stopped abruptly for a roadblock of nailed boards and barbed wire. It didn't look official and sure enough a soldier appeared out of a shack, casually pointed his AK-47 at Kevin and demanded 5,000 Burundi shillings ($10). We knew that there was supposed to be an official roadblock - but this didn't seem to be it, and there was certainly no big town around. I hummed and hawed and finally paid the bribe.
Out of nowhere a second soldier appeared. He trotted over to the truck and yelled quite loudly, "Negatif! Negatif!" The first soldier walked away with our money! What now? Neither spoke English, French, or Swahili - only Kirundi. Kevin poked his head out the window and yelled in French, "What's up? Hey, what are you doing?" A truck of drunken men rolled out of a side road and the attention of the second soldier was distracted. The first one went quickly and opened the barrier - we didn't hesitate and drove through quickly.
In minutes I realized our mistake. That was no informal shakedown barrier. We'd just bribed our way into no-mans-land. The official no traffic buffer zone between north and south. It was 9pm. Pitch black. The road curled violently around the mountain edges, up and down through passes, past ominous jungle. I turned to Kevin, "Listen, if anyone tries to stop us now I will not stop. We've crossed into no-mans-land. We have no idea what they will do to us. If we run into any problems, duck as low as you can and you should be safe from bullets." Kevin was no fool. We'd been traveling together awhile and he'd seen Africa - good and bad. He nodded. I sped up as fast as I dared, skidding around some corners. Anyone out there would see our blazing Hella headlights from a ways away, no sense in giving them time to get ready for us.
They hit us ten minutes later. We came around a bend and three guys walked into the road, hands up waving us to stop, AK-47s held ready. The decision was already made and I threw the dice. Time slipped out of gear and everything seemed to happen in slow motion. I stamped on the gas instantly, Kevin pitched down, the soldiers whirled and brought their guns level, the leader rocketed into a run drawing his pistol, I passed at what seemed like a snails pace calculating odds and trajectories like a supercomputer, "I have the right rear corner, the rear mounted spare tire, and the headrest between me and a head shot, I've got momentum for anything else except a gas tank shot…" I saw the leader's eyes lock mine for an instant and he aimed his pistol pivoting with our movement, I tensed for the shot… expecting it… and we squealed around the corner.
I don't know why he didn't shoot. We gave them very little time to re-act but they still had a chance for one shot. Sometimes being white helps, or maybe they just couldn't be sure what would happen. Maybe guardian angels and prayer. Our hearts pounded for ages and we just looked at each other and grinned. Ten minutes later we saw Bujumbura's golden glow beckoning like a lighthouse to a safe harbor, and we dove down the escarpment to safety. Or almost, there was one more barrier into town, but Swahili and charm took us right through. Bujumbura captured both our hearts that night and even though she wasn't the nicest or neatest capitol city, in the two days we stayed we loved her silly.
There's more to the story. A more dangerous border, an aborted ride into the Congo, and the worst road on the trip. But this e-mail is already too long so I'll save it for the next time.