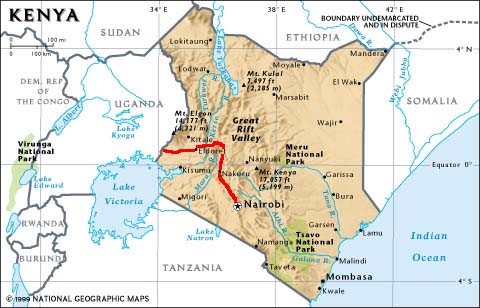 Ugandan Abandon
23 April, 1999
(Kampala, Uganda)
I think there is a recessive gene that controls driving. Maybe it mutated from the chariot driving gene, or the gene that compelled Vikings to carve cool looking heads on the front of their ships and challenge Vikings from the next village to a Greenland drag race. Fortunately for most people the gene doesn't cause any mischief. But ever since my brother beat me in the Volkswagen Bug Championship of Our Front Yard, I've felt the need to find the line. The line. That sweet poetry of speed and curve that defines the essence of every corner. Outside, inside, outside, and accelerate smoothly through. A sane person encountering Nairobi traffic clenches the wheel and sweats through the anarchy. But for we few, the gene fires off tiny reverberations of pure pleasure to the cerebral cortex – traffic anarchy, no rules – "thank my lucky stars, today I drive the line". Pity us.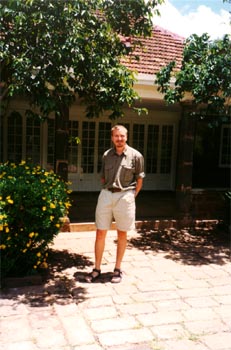 Karen Blixen's house of Out of Africa fame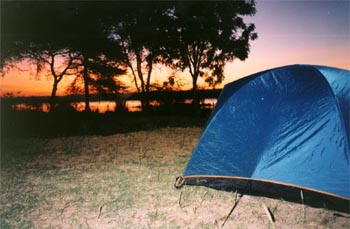 Breaking dawn at Lake Baringo
Equiping in Nairobi
John flew back to civilization leaving Alex and I to regroup and re-equip for the next stage, a dog leg into northern Kenya and Uganda. I checked the vehicle into CMC LandRover in Nairobi – whose name I mention specifically because they deserve the award for most spectacular sheer incompetence in sub-saharan Africa. New shock mounts and a winch cable re-attachment would take a few hours in North America – it took 2.5 days. We consoled ourselves with cheap breakfasts at the Nairobi Hard Rock Café, expensive dinners at Trattoria, and long talks about women. There was a silver lining though. Our tardy departure allowed us to meet Kevin Temple, a young, clean cut Canadian backpacker with good manners. He was interested in accompanying us to Uganda so we subjected him to rigorous questioning to ensure that he would be an appropriate travel companion.
"Will you pay for your share of the gas?"
"Yes"
"You're in."
We finally escaped the pervasive ineptitude of CMC Land Rover (once again, that's CMC Land Rover) late Wednesday afternoon, and headed north. First climbing to 2700m through the cool lushness of the Rift Valley escarpment, then plunging into the valley floor, past Lake Naivasha and Lake Nakuru to Lake Baringo – a shallow soda lake sprawling into the arid scrub. We'd read in the Lonely Planet that hippos occasionally wandered through the campsite but were still shocked to have one amble contentedly right past the Land Rover while we paid our camping fees.
Hippo Encounters
In case you didn't know, hippos are by far the most lethal of all the African animals. You wouldn't think so to look at one. Compared with the scaly evil of a crocodile or the lithe prowess of the big cats, the water cow seems like a big ol' inflatable water toy. But every year scores of people are disemboweled by the hippo's two, long tusk-like inner teeth. If you get between a hippo and the water, or if a boat seems to be a threat, they charge suddenly and CHOMP. Of course I'd relayed all this information in vivid colour to my two travel companions prior to arriving at the campsite. After all there's nothing finer than watching a greenhorn visibly pale at possible danger. But even I was pretty nervous driving into the site.
Sure enough. Near the end of dinner I heard the distinct sound of a hippo grazing (imagine the sound of three or five cows tearing grass up to chew). I casually mentioned to Alex and Kevin that there was a hippo "right over there to the left". Alex shone his flashlight through the dimly starlit night. "There's no hippo! There's just a tree and that big boulder." "Ahh Alex, the boulder IS the hippo." "Sweet Mother of Pearl" (or words to that effect).
I zipped up in my tent early while Alex and Kevin lingered over the campfire. Evidently another hippo circled around the campsite and grazed ominously close to the tents. It was so large and we were so obviously between it and the water that the guys decided to calmly lock themselves in the Land Rover - abandoning me to my slumbering fate. Obviously I've got to work on a better passenger screening process!
Dawn broke in a rosy blaze over the lake and brought with it a hundred birds of several dozen species. It was a nice way to start the day. We rooted up a few stale slices of bread and became the avian café - "Hundreds of satisfied customers". We cut across northern Kenya up into the highlands, through Eldoret and on to the Ugandan border. I talked Stanley (the name of the Land Rover) into yet another country with no Carnet de Passage. Hooray for fluent Swahili!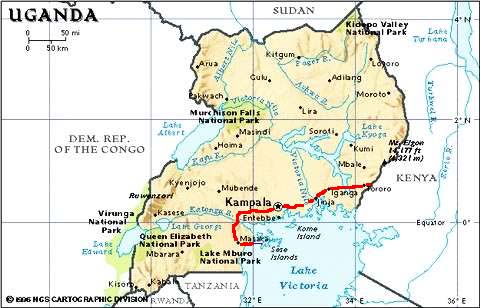 Ugandan Roads
The British High Commission has labeled the road from the Ugandan border to Jinja as The Most Dangerous Road in East Africa. It is a highly travelled artery to the capital, Kampala, and is crowded with lorrys, busses, cars, bicyclists, pedestrians, and matatus (mini-vans crammed with up to 20 passengers). All this traffic threads through battered pavement pocked with axle deep potholes and eroded edges. In some places the road is only 1.5 lanes wide. Trucks barge back and forth across both lanes with impunity, seeking the smoothest route. So driving is like Russian roulette - sooner or later you will either run out of space on the road or be run off the road. Naturally I was delighted.
Pressing forward at 120kph we dodged onto the shoulder to avoid swerving trucks, threaded between cyclists and oncoming traffic with inches to spare, abandoned our lane completely to drive through neighboring fields, and passed snail slow lorries around blind corners. Alex had a death grip on the dash and Kevin emitted periodic yelps from the rear seat. It's hard on passengers when you have a dominant driving gene.
Despite its chaotic roads, Uganda has been one of the bright lights in East Africa. The country is struggling to shed the bloody image earned while the infamous Idi Amin was in power. Civil wars and political assassinations marred several subsequent governments – but in 1986, Yowri Museveni led the hopelessly outnumbered National Resistance Army to a brilliant victory and captured the capital city of Kampala. He has proven to be a remarkably pragmatic leader and won a majority representation in two open elections. Until recently he was the darling of the IMF, however, recent allegations of creeping corruption and his active support of the rebels in Congo have scuffed some of his shine. The Bwindi park massacre has also been a major PR nightmare at a time when the country needs every dollar of tourism it can get. Only time will tell if the country can regain its positive momentum.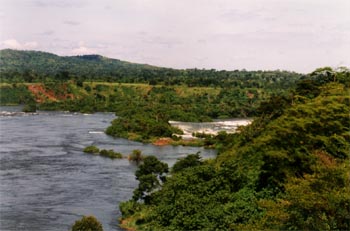 Bujagali Falls north of Jinja - the source of the White Nile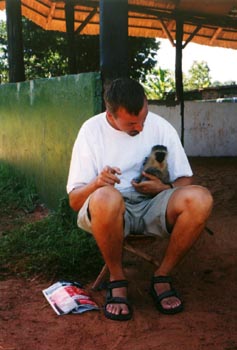 Baby monkeys love suger - then they shred the Economist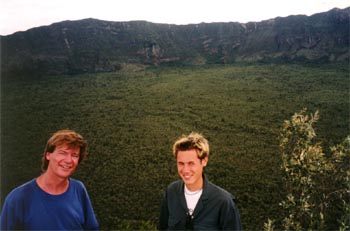 Alex and Kevin at the top of Mount Longonot
Uganda was known as the Pearl of Africa during the colonial era, and it was easy to see why as we drove west through the rolling hills of tea estates and verdant forest. Fertile soil and twice annual rains allow several crops each year. We wound through the hills to Jinja on the shore of Lake Victoria – the source of the White Nile. Our campsite just north of town was set into a terrace on the steep banks overlooking the Bujagali Falls. The crude showers have no doors and were built right on the lip of the bank, a hundred meters above the water. No doors and cold water – but probably the best shower view in the world with the White Nile foaming over the Bujagali rapids just below. We ate a four course camp dinner and then built a campfire under a carpet of stars. Philosophical discussions led to a reading of the first three chapters of Ecclesiasties. "Meaningless! Meaningless! Utterly meaningless! Everything is meaningless. What does man gain from all his labour at which he toils under the sun? Generations come and generations go, but the earth remains forever…" "A man can do nothing better than to eat and drink and find satisfaction in his work. This too, I see, is from the hand of God, for without him, who can eat of find enjoyment?" Africa does provoke introspection. It is so far outside the normal boundaries of experience.
Kampala
After reading at length about the Ugandan "economic turnaround miracle" I was disappointed in Kampala. Evidently a miracle is a much broader category than I thought. Even though Nairobi is decaying it still beats out its Ugandan counterpart. Kampala retains some of its colonial charm – broad thoroughfares with parks, monuments, and tree dotted curbs. But most of the shops have fractured into stalls with a dizzying array of crude signs. There are few window displays, leaving long stretches of faceless streetfront. Gas is $1 per litre, which keeps private vehicles to a minimum, but we passed an arena-sized lot with a swarm of hundreds of matatus. Traffic strains through the city against a few feeble lights.
John Hunwick is the Australian owner of Backpackers, the hostel where we set up camp. He doubles as the local police commissioner and had a soft spot for abused kids. Five year old Nikita bowled into the room as he was checking us in and he corralled her for a few seconds. "This is Nikita. She was sent to the city by her mum to live with her aunt so that she could go to school. But the aunt decided that this little sweetie should do chores for half days to earn her keep. Problem is, the aunt has quite a temper. A few weeks ago Nikita spilled some porridge and to teach her a lesson the aunt burned her cheeks and back with some hot coals. You can see the scars right there. I was told about it and got her out of there. It's been a few weeks, the burns are healing nicely, and she's just starting to show her personality. She's quite a little scamp." Nikita wiggled away and buzzed about a bit before zooming into the next room. "It's interesting really", continued John. "You should see the aunt. Oh she's a looker, a gorgeous professional African woman, but a heckofa temper. I don't know how long I'll be able to keep Nikita out of there, but I'll keep trying!"
We spent a few days in Kampala, working on journals, shooting pool, and watching hours of WWF on satellite TV (its huge in Africa). John turned out to be an interesting guy. When the Rwandan genocide engulfed the country he sold his beach house in Australia raising $60,000 to finance his own personal rescue missions. On one trip they went to a mission school and found 6 surviving kids amongst the bodies of 4,000. The school was on a narrow peninsula and the Hutu militia simply formed a line across it and waded in with machetes. "I get CNN on satellite here and after a week of mass killings there was still absolutely nothing on the world news. I got so mad I wrote the rudest letter of my life – the next day the CNN correspondent from Nairobi flew here and I took him to see the slaughter myself." (Sadly that's not an isolated news accident. Right now there are over 1 million recently displaced refugees in Angola from the re-started civil war – surpassing the number of Kosovar Albanian refugees – yet in the three days we watched CNN, there wasn't a single minute of footage.)
The Bwindi massacre had dampened our enthusiasm to see the mountain gorillas, and there had been isolated terrorist killings in northwest Uganda by other radical extremists. With Alex's time running out we decided to play it safe and visit the "tranquil beauty" of the Sese islands. It turned out to be a long day even by African standards.
An Island Retreat that was no Treat
Laundry that had been left for washing the day prior had to be retrieved from the rinse tub due to the washer woman's procrastination. It hung sopping inside the truck, leaking into our gear. Four wrong turns left little time for lunch as we pushed to make the 4pm ferry… only to find it parked – no runs on Sunday.
We forged ahead leaving the truck at the local police station, hiring a dugout canoe to take us across Lake Victoria, and finally renting a pick-up truck at a ridiculous price (no bus on Sunday) to take us the three hours to the camp. Tired, dispirited, and much lighter in the wallet, we bounced into the gathering dusk – headlights boring into the jungle tunnel. A wounded lorry loomed out of the gloom like a ghost and we passed it with an inch to spare. The damp air was almost too cold. Then, suddenly, we surfaced on the island's mountain spine and the overwhelming African stars rushed in like a warm comforter. A thousand fireflies sparkled like rhinestones and fishing boat lamps shone like a string of glowing pearls far in the bay below. It was a typically African moment and it warmed us through the damp dark arrival to crude huts. I fell asleep content amidst the scent of mildewed thatch.
Despite the superlatives in Lonely Plant, Hornbill campsite turned out to be a real disappointment. Breakfast dawned with scant food and we had to make do with chapati rolls of raw cabbage and onion. It rained till 2pm and we sat doing crossword puzzles, tinged with vague indigestion. As soon as the rain broke we walked around the beach to the other "resort" for some food. Their menu stretched to two items; fish, chips. But, they also had an old game of Monopoly. It was the single most enjoyable Monopoly game I've ever played. We yelled, pounded the table, muttered insults, and laughed so hard we cried – much to the enjoyment of the staff. They brought candles so we could keep playing when it got dark. Unbelievably the three of us played a single game for five hours – and finally had to call it in a draw (Alex claims victory based on a higher aggregate value of property and cash – typical lawyer). We walked back to our camp in the shimmer of a quarter moon.
There were seven tourists on the island and all seven of us decided to beat a retreat by the second day. We stood in the pre-dawn rain to catch the rickety island bus and after a short (free) ferry ride reclaimed the trusty Stanley. The other four mzungus (white people) asked if they might get a ride back to Kampala with us, so we crammed Bonnie and Jonathan into the back with Alex and Kevin, Julie and Josie the two French-Canadian girls double teamed the front passenger seat. A real mzungu matatu!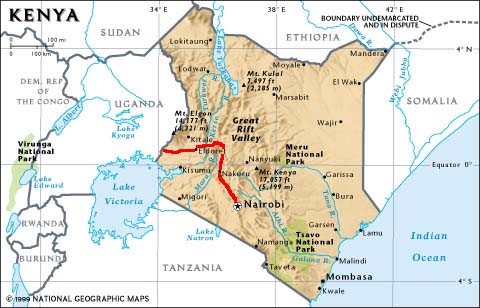 Despite its moments of unexpected delight, Uganda seemed to have limited appeal, so we headed back toward Kenya. Another night at Jinja, a knuckle biting transit to the border, and back into the Rift Valley. We spent Alex's last night at Fisherman's camp on the shore of Lake Naivasha. Towering acacia trees, acres of luxuriant lawn, and more grazing hippos made it a memorable evening. We rewound the tape in the video camera and spent over an hour re-living the experiences of the past five weeks.
Longonot is an extinct volcano with a massive crater that towers several thousand meters above the valley floor. We rose leisurely on Thursday morning and prepared to assault the summit. As a student at Rift Valley Academy boarding school I would wake up each morning and see the mountain from my window. It was a fixture of my high school years, and I'd saved it as a last experience for Alex's final day. I'd climbed it with some friends and jogged around the crater rim in a mere 45 minutes – back in my high school days. This time I gasped up to the crater rim. We clambered around the edge to the peak, 3000m altitude, and had a picnic lunch in the afternoon sun. The forested crater floor stretched several kilometres in diameter far below. Jets of steam streamed from isolated vents in the old volcanic walls. Continued around the rim, about 10km, and then forced my cream puff body back down the steep mountain flank.
Tired but elated, we wound up Lower Rd to the Nairobi highway to take Alex to his winged transport. I was sorry to see him go, and he was sorry to leave. Travel is sweet sorrow that way. You meet so many interesting people, share incredible experiences, and then in the blink of an eye you part again. We said goodbye at the KLM counter and I'd swear that Alex's eyes were watery – lawyer or no lawyer. Kevin had decided to stay on and travel back south with me for awhile, so I'd left a friend but made another.
Out of Cash
There's no sense in denying it since its perfectly obvious to anyone who spends any length of time with me - I'm an adrenaline junkie. Not the kind who wears ragged jeans and sports a lizard tattoo, a dude who makes a lifestyle of skateboarding or skydiving or blading. More of an "experiencer", jumping into new situations simply for the feel of it. Maybe "explorer" sums it up better. Certainly I've done my share of bungee jumping, rock climbing, skydiving, blading, whitewater, etc - but usually only once or twice. Once it's been done, it's done. Mine is the perfect personality for an accomplisher. An opportunity presents itself and while most people stop to weigh the available resources against the expected demands, I rush in - usually to find myself hedged in by formidable challenges. But that's where I'm at my best, under pressure. It's an insidious personality flaw if you manage to consistently cheat the odds. And it's not really fair if you're responsible for others. But when teamed with a similar free spirit the results can be interesting. And Kevin turned out to be nitro to my glycerin.
We wandered from Upper Hill campsite into downtown Nairobi on Friday. We'd dropped Alex off the night before and decided to kill a day in civilization before resuming the trip. Three hours of web browsing, a proper cup of coffee at the Hilton, and a movie at a real theatre restored our sense of residual decadence. The next day I dragged Kevin north to Nakuru to visit Chris Franz - one of my oldest friends. Chris and I had gone to boarding school and university together, and qualified for our aircraft mechanic license at the same time. I had gone into business and he had become a pastor and then a missionary. Funny how a university degree seems to fade quickly into irrelevance.
It was a great weekend. Lots of catching up, a real bed to sleep in, and on Sunday we were guests of honor at the African church where Chris was preaching. I'd had years of childhood experience but Kevin was a bit surprised when we were ushered to our special seats at the front. It's hard to adjust to being a spectacle - especially when you are an innocuous Canadian. The singing was spectacular, the sermon gripping, and at the end the pastor asked all three of us to stand at the door and greet each person as they left. A thousand people filed by and we shook hands with aching smiles, "God bless you. Thank you. Thanks. God bless. Yes. Many thanks. Bye. Thank you. Bless you…" We were awed by the responsibility and later confessed to feeling a bit unworthy of the honor.
Africa is like that. You arrive and are instantly a member of the super-rich – your anonymity betrayed by the color of your skin. People make assumptions. You are loved as a giver of gifts, misled by scammers, reviled for a history you didn't condone, envied by the thwarted ambitious, and unwittingly you mock their means with casual purchases. It's easy to develop a subconscious arrogance because unquestionably you are more knowledgeable and richer. That prick of discomfort at the church was comforting in a way - to know that it was unearned respect - it wasn't automatically due.
We left the warmth of Chris' hospitality on Monday afternoon and I made a mental note to get back more often. Back to the rush and bustle of Nairobi. Back to the cloying embrace of CMC LandRover. Back to financial uncertainty. In typical Willnerian fashion I'd recklessly purchased enough gear and gadgets for a small army - and spent into as many adventures as I could. By late April I was stranded in Nairobi with no money and no way home. Dad had been left in charge of my bank account, which I'd plundered from foreign ATMs, and he was sending e-mails of modulated panic asking how on earth I intended to finish the trip. I really hadn't paid much attention. I'd put my beloved Mercedes up for sale a few months prior and spent as though I'd have more money shortly - it hadn't sold and I was broke.
So I sold my satellite phone. The day after I got to Nairobi, Kevin and I went out to the airport and systematically trolled the mission and charter outfits till we found a hot lead. The manager of the pilots club had been driving his Range Rover in Tsavo game park the month previous and had been attacked by an elephant. Two tires were punctured, the rear spring broken, and a hole was gored through the right rear quarter panel. Fortunately there was another vehicle around, otherwise he would have been in a sticky situation. He decided there and then that he had to buy some "insurance" for peace of mind. And a few weeks later I walked into his office with a sparkling new Iridium satellite phone. Taking stock of the situation I decided that peace of mind was worth $3800 (my original investment plus a modest profit) and he paid cash without a quibble.
I believe you can begin to see my dilemma. I plunge into adventure, get hemmed in by a challenge like "no money", and find a trap door to dodge free. It obviously works for me. So when Kevin and I hatched the plan to pass ourselves off as journalists to interview the rebel generals in Congo and file the story with Reuters - it seemed perfectly feasible. We dropped by the Canadian High Commission to file an itinerary - so they could find out where we went missing in case of accident. The Canadian woman, who didn't know which coast Vancouver was on (true), convinced us that we needed a Letter of Introduction to get into Rwanda (not true) for which we had to pay $30. It made me proud to be half American. We had to struggle for another few days to get out of CMC LandRover's web of incompetence (their unofficial motto should be, "High quality ineptitude doesn't just happen, it takes hard work!") Finally on Thursday we headed south on our greatest adventure yet.
This journal is ridiculously late, but shortly after returning to Nairobi, Kevin and I re-entered the semi-civilization of mid-Africa where Internet access is sparse and expensive. I'd expected a quick transit back to southern Africa. What we got was the most incredible set of adventures yet! More to come soon.