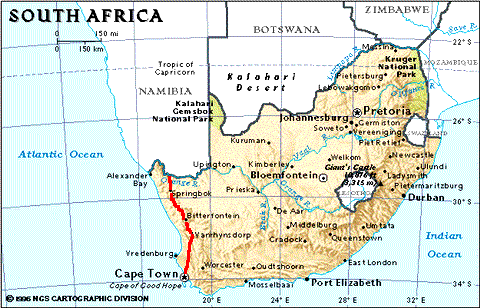 Namibian Sand
3 March, 1999 (4,700 km)
(Maun, Botswana)
The drive north into Namibia is long and sandy. Known as the Skeleton coast, it has terrified sailors for centuries - if you get shipwrecked here you die.
Marooned in Maun. Well. Not really, more like a little hiccup at the edge of the vast Okavango Delta. With only a few minutes allowed at the tiny computer shop in this frontier town - this journal may be a bit more sparse than its predecessors, but here goes...
Leaving Cape Town
We rode the cable car to the top of Table Mountain in Swiss-made, revolving, 62 passenger style. The wind whipped across the flat shelf of the mountain top and the afternoon sun glinted on the ocean, lighting the U shaped curve of Cape town around Lions Head in a golden glow. With camera, video, and cell phone, I felt like a true tourist. We trotted around the paved path, and then like a true adventurer I struck off on my own. Clambouring around the flank of the mountain, the unobscured view of Camps Bay spread before me and the dark blue of False Bay cradled in the mountain's southern point. After a few wildflower shots, I regained the main path - only to discover to my horror that the rented cell phone had dropped from my pocket. I hastily retraced my steps and then quartered through the mountain's south face, the blasted sharp spiky weeds cutting tiny gashes on my legs. Typical. I had left the path to blaze my own trail - which meant that I couldn't retrace my own trail. Two hours of searching yielded nothing... and AMEX insurance doesn't cover "mysterious loss". I tried calling the cell phone number but it just rang and rang - a poor orphan of technology lost in Africa's ancient folds.
We had met Carola, a German tourist, in Jeffrey's Bay (she had told us about the bungee jump) and ended up meeting several times on the way to Cape Town. Her friend returned to Germany, so she offered to split fuel costs and ride with us to Vic Falls. She's proven invaluable at pronouncing Namibian names. Evidently there is a strong German influence on the country - a carryover from pre-war colonial times. Our first day out of Cape Town was spent in a Zulu grass hut in Springbok - mosquitoes with unrestricted access braved repellent, and the campsite was hosting the "Friday night dance all night for locals only" get-together. Sleep was sporadic.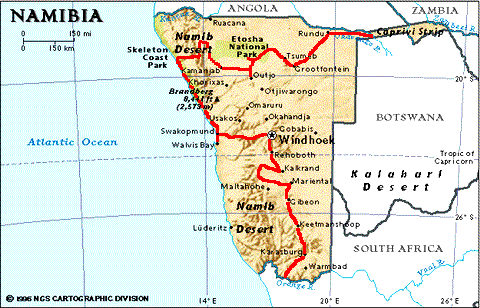 Namibia
The border crossing into Namibia was painless - although slightly embarrassing:
Customs Woman - "What is een the back of thee trruck?"
Me - "Camping gear."
Customs Woman - "Whai?"
Me - "Umm, well, for sleeping outside at night."
Customs Woman - "Whai?"
Me - *thinking that this must be a trick question* "Well sometimes hotels can be a little pricey so we stay at campgrounds."
Customs Woman - *raises an eyebrow as if addressing a dull third grader* "Do you have wine... wine."
Me - *sheepishly* "Ahh no, no wine to declare."
"Namibia, wedged between the Kalahari and the chilly South Atlantic, is a country of vast potential and promise. Rich in natural resources and spectacular beauty, it has also inherited a solid modern infrastructure and a mixed diversity of cultures and national origins: Herero, San, Khoikhoi, Owambo, Afrikaner, German, Asian and others.
Its attractions, which until recently have been largely ignored by tourism, are unparalleled in Africa and include fine bush walking opportunities, rugged seascapes, appealing African and European cities and villages, and nearly unlimited elbow room." (Lonely Planet, Africa - The South)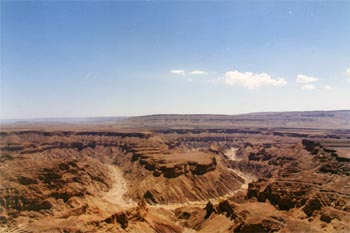 Fish River Canyon in southern Namibia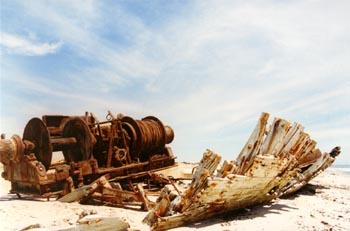 One of several wrecks on the Skeleton Coast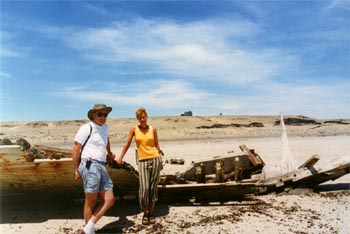 Andy and Carola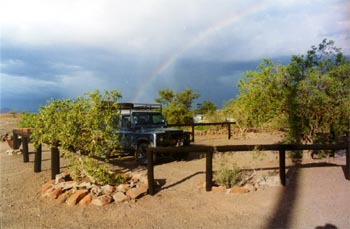 Palm Weg - a cool oasis after a scorching day on the Skeleton Coast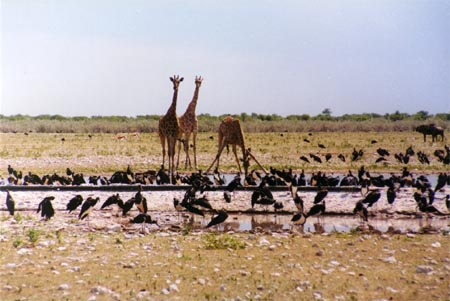 Etosha park - drinking is a long involved process for a giraffe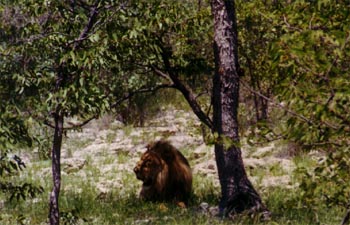 Our first lion sighting - Etosha park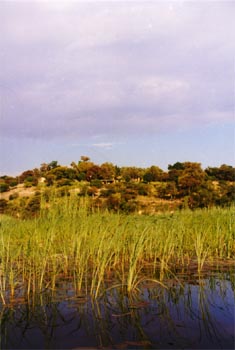 The resort in Rundu above the Kavango river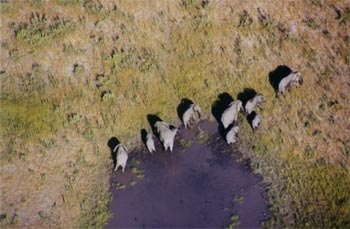 Elephants in the Okavango Delta - from a chartered Cessna 172
Namibia's roads were a shock to my African sensibilities, neatly paved or recently graded gravel - we seldom slowed for potholes or bumps, even in the rugged interior. Leaving the paved highway we blazed through rocky scrub for several hours to see the Fish River Canyon. A "spectacular natural wonder" - the promontory view echoes the rugged vastness of the Grand Canyon in size and scope. Lunch in the hot desolation was scavenged from the plastic food bin; sardines, creamed corn from the can, and stale bread with anchovette paste... a meal only a starving man could love.
Pressing on through the night to Windhoek (pronounced Vint-ook or Carola will roll her eyes at you) we were surprised to smell the cool green of vegetation. Sure enough, the next morning we saw neat avenues and boulevards bordered by a green forested ridge. Namibia's German influence is evident in its capital city, a small downtown core punctuated by Lutheran churches and carefully ordered parks. There's not much to do, but the country is stable and prosperous thanks to its huge diamond fields. We stayed two nights at a backpacker's hostel - my first. Not bad if you don't mind bunking with half a dozen others in a room. Sunday service was at a German Lutheran church. Neat. Ordered. All in German. It was nice to be in church though.
Sandboarding
Our route through Namibia took us west to the coast. The gritty port of Walvis Bay, great salt mountains from the evaporation pans. Swakopmund, the German inspired resort town with Bavarian architecture "more German than Germany". We took a day to go sand boarding - hurtling down gigantic sand dunes on polished particle boards up to 60kph. I proudly carried the badge of "best wipe-out" - flying off a sand ridge going too fast... flipping up... ploughing a furrow with my head... and finally cart wheeling over. Over a week later I'm still finding sand in my shorts.
Skeleton Coast
From Swakopmund north - up the Skeleton coast, so named because any sailor who washed ashore had no hope of survival. Miles and miles of sandy track, cut through desolation. The only vegetation is a black lichen that grown stubbornly on the dunes and rock - surviving from the morning dew. There is no precipitation. The cold Benguela current sweeping up from the Antarctic frustrates the sky.
There are fish though - and seals. We stopped at Cape Cross to see the seal population - hundreds of thousands of seals, bawling pups, anxious mothers, fat stud males, cavorting, flirting, fighting, swimming, basking, keeping an eye on the tourists keeping an eye on them. Quite a smell too.
I expected a vast stretch of dunes as we entered the Skeleton Coast park, we found instead primarily rocky desolation. The air was cool - conditioned by the cold ocean. Hours and hours of driving. We decided not to camp - I mean how much desert do you have to see before you see enough. Turning east again we entered Namibia's barren North-Western zone. The temperature climbed steadily as we left the moderating coast. Immediately upon exiting the desert preserve we began seeing wildlife. Delicate springbok and regal oryx picked at spots of vegetation, incredibly surviving in the harsh scrub.
We arrived at the Palm Weg camp hot and dusty with low expectations - it was to be the beginning of a Namibian affection. Palm Weg's dusty campsite was connected by a narrow flagstone path to a palm sheltered oasis of grass, flowering shrubs, pool, and cold drinks. Wow! We slid into the pool with groans of pleasure! Moments like that will stand out on this trip – luxury in the middle of deprivation.
The next few days followed this pattern as we wound through the North-West. North to Opuwo, tea at an old German fort, then promptly south to Outjo. Met at the Setengi camp entrance by Walter (Chaka to his friends) with iced juice enquiring pleasantly if we would like to camp. Cool drinks by the pool, grilled game meat with continental cuisine, fire on the veranda, spectacular sunset and lightning display in the distance. Namibia captured a place in my heart. The country is so wide open, so available, inexpensive, rugged, with an easy waxing of civilization.
Etosha Game Park
From Outjo to Etosha - one of the worlds foremost game parks. The Etosha park borders the gigantic Etosha pan - a vast expanse of open sand/mud that floods each year with the rains attracting migratory birds and drawing a large game population. The Ministry of Environment and Tourism lodges are quite very nice. We spent two days driving through the park from lodge to lodge viewing; lions, elephant, giraffe, rhino, springbok, oryx, kudu, eland, zebra, jackal, and different birds too numerous to mention. At night after great buffet dinners we sat at the lit waterholes watching the animals come in to drink. I cannot do justice to the park except to say - watch a documentary.
Leaving Etosha we travelled east to Rundu, right on the Angola border. Paddled in rented canoes through the flooded Kavango river, the water source for the Okavango Delta, and stayed in a nice family lodge with an English matron - TV with one channel and "breakfast is in the fridge dears" (never, never eat curry flavoured bacon). From Rundu we turned south across the border to into Botswana, and continued several hundred kilometres around the bottom of the Okavango Delta.
Botswana
Maun is a dusty frontier town with one good lunch place and one good restaurant for dinner, and is notable as the airport from which the rich tourists are flown north into the heart of the Delta. In high season the airport ramp is packed with hundreds of little Cessnas, buzzing furiously in line ready to launch. Yesterday we chartered a Cessna 172 to check out the southern part of the Delta but it was bone dry. A few elephant herds but not much else. Botswana has deliberately not spent money on improving the infrastructure in its parks in order to keep the rabble to a minimum, but the Land Rover is our ticket in. So unlike the majority of visitors to the Delta, we will head into the middle of the swamp on our own - our first real 4x4 action. The paved roads have been nice, certainly not what I expected after my childhood experiences in Zaire, but I'm excited about getting into some good dirt driving
I'm being kicked off the computer. Talk to you again in a week or three.
Cheers,
Jeff
PS Happy Birthday to me.