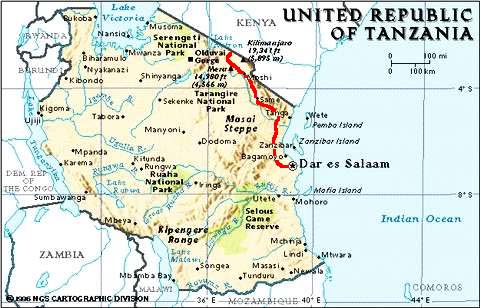 Kwaheri Kilimanjaro
12 April, 1999 (2,010 km)
(Nairobi, Kenya)
Kilimanjaro Day Five - tea and digestible cookies are delivered to the hut at midnight - time for the final ascent in the black hours of the morning. We've had no real sleep for two days, almost everything is wet, we are bone tired - everyone in the bunkhouse is quietly frightened of the mountain.
They say that the mind cannot remember pain. When memories are re-played in the imagination only images and emotions resurface, not the actual sensations of the moment. They say that's why women can approach childbirth again - because they can't remember the actual pain. They say that's why people climb mountains again. But I'm getting ahead of the story...
I convinced two friends to join me for a couple weeks in Kenya and Tanzania. John and Alex stepped off the plane into the blanket of humid heat in Dar Es Salaam, Tanzania. Even at 11:30pm the heat was liquid. Night clothed the city's squalor and had swept the streets clean of traffic for our arrival - so it was not too jarring. I had booked rooms at the Lutheran guesthouse for the night and we were settled in quickly. My ceiling fan ratcheted violently on its mooring delivering more racket than relief. Three cold showers through the night could do little to relieve the heat. The next morning we toured the city in the sun's glare and they were catapulted into the Third World. After a few hours of subjecting them to downtown Dar, we headed through the teeming hawkers to the dock. Thirty five dollars bought air conditioned reclining seats with complimentary beverages on the jet boat ferry to Zanzibar. From squalor to the byzantine wonder of historic Stone Town in two hours.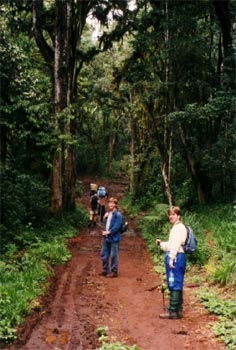 Day 1 - Kilimanjaro's lower slopes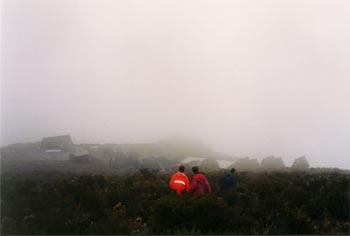 Climbing in the perpetual rain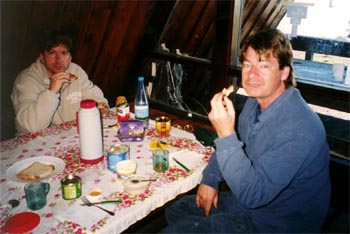 Wet and miserable at dinner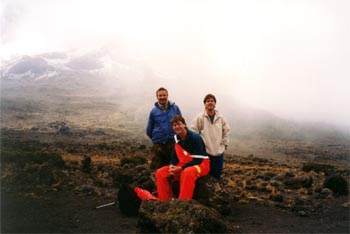 Acclimatization - up to 4,300m and back to adjust to the altitude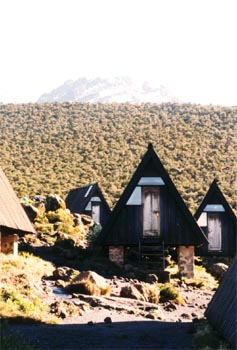 Our hut at Horombo - mid-point camp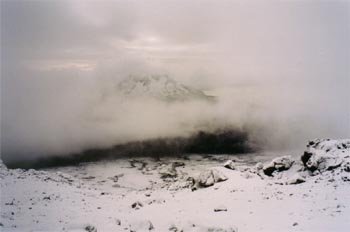 Kilimanjaro at 5000m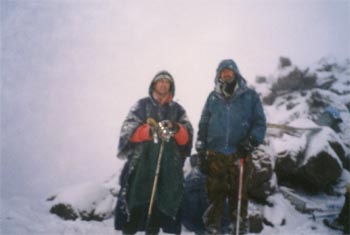 Finally at Gillman's Peak - no view and out of energy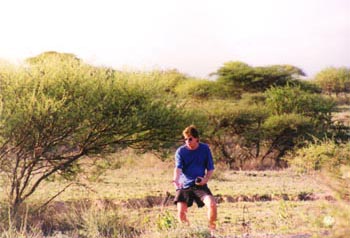 Alex - hosing around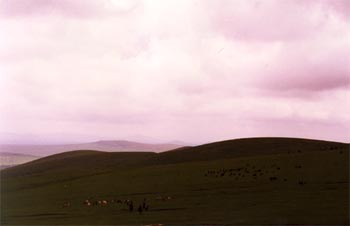 The sweeping green hills of Arusha
Back to Zanzibar
We plowed through the dock gates leaving a bow wave of taxi drivers and hustlers. The Dhow Palace hotel is a converted Arab house in the heart of Stone Town, and boasts 20' ceilings with four poster beds in expansive rooms - with A/C. John and Alex were impressed. Zanzibar was a great antidote to Dar, and my scouting trips the previous week allowed us to go from delight to delight. Freshly caught seafood grilled on the pier by vendors bathed in spheres of paraffin light. Schools of fish huddled by pier pilings circled by sleek predators. Beach bungalows on the breathtaking north shore town of Nungwi. Snorkelling on the reefs. Sunset over the warm liquid ocean.
One of the highlights of the trip was our spice tour. Our guide Juma gave a perfunctory tour of ruined palaces. But he came into his own as we walked through the plantations. Cloves, ginger, curry, coconut, coffee, pepper, lychee, mango, guava, lime, lemon, cardumon, papaya, cinnamon, nutmeg, iodine, cocoa, avocado... each tree or plant was identified, fruit was plucked and Juma carefully cut slices for us to taste with his battered Swiss Army knife. He pointed out several plants used for local cures - this one for cuts, the leaves of that one for high blood pressure in pregnant women, and the roots of this one for impotence. "You boil these roots with two goat testicles and drink the juice. Then for three days you will look for women all the time because you are ready to kill".
Off to Kilimanjaro
We left Zanzibar on Sunday, bumping down the rutted road from Nungwi to the Zanzibar port. A German adventurer sat beside me on the mini-bus and dispensed advice about our upcoming Kili ascent. Evidently he had climbed the mountain a few times - and was the first one to paraglide off the top! Kilimanjaro loomed in our consciousness in sharp contrast to the Zanzibar's languid pace. The jet boat back to Dar, lunch at the Sheraton, hit the road...
It's almost 1000km to Moshi, the jumping off point for Kili, and by nightfall we were still several hours out of town. Seeking to get into the "real" Africa, we stopped for petrol and wandered through the blaring storefronts and crackling braziers of a typical African truck stop. The crowd followed our progress in the dark air, John and Alex were a bit wide-eyed. We got something to drink and wound back to a tea stall for chai, mandazis, and samosas. Nice people, tasty food - back in the truck the guys were psyched. Finally, at midnight we reached Moshi and the bare cots of the YMCA.
On the advice of the German adventurer we decided to visit game parks in the Moshi/Arusha area for a few days in order to give our bodies additional time to acclimatize. It took three hours of haggling in dusty offices and wading through mobs of touts before we settled on a Kili guide agency. Intending to head to Ngorongoro, I made a wrong turn and we drove almost to the Kenya border (imagine our surprise). So a day wasted we went back to Arusha. The next day we managed to find the Arusha game park and hiked down a stream for a few hours (there is a peculiar feeling hiking in a game park, when you look around and realize that there are a lot of animals out there – some with bad intentions!) The last evening was spent throwing up in an unfinished plastic walled room at a dingy hotel in Arusha. Not an auspicious prequel to the mountain, and the stomach bug would stay with me.
Wednesday dawned, our ordeal was before us. We gave a dozen tapes and CDs to a young missionary couple from upcountry Tanzania who were spending a weekend in the "big city" of Arusha. Off to Equatorial to pick up our guide, an hour drive to Moshi for supplies, and then 40min up the winding, speed bump riddled road to Marangu - the entry gate for Kili. Our $530 fee included an experienced guide and six porters (for the three of us) to lug the food, supplies, and firewood up the mountain. We set off at 1pm with light day packs on the three hour hike to Mandara, taking care to climb very slowly.
Lower Slopes
Our greatest fear was altitude sickness. As you ascend the body begins to retain water, the face gets puffy, headaches, and at it's worst the lungs flood or the brain is pressed to death. Altitude sickness is serious business at Kilimanjaro's altitude - almost 20,000 feet – and more people die on the mountain every year than in the entire Swiss Alps. To combat the altitude we had stayed in Arusha and Moshi for two days (altitude 2,000m) and had extended our climb to six days to allow an extra day of acclimatization. The second great hurdle would be the thinning atmosphere. If a person living a sea level were flown to the top of Kili - they would be unconscious within minutes. As the atmosphere thins, the blood compensates by doubling the number of platelets to carry oxygen to the muscles. This process takes some time, so as a precaution we determined to climb very slowly. By staying "within ourselves" and never becoming tired, we would hoard our reserve energy for the final climb.
We climbed for three hours through a misty tunnel of moss covered trees to reach first camp at Mandara. The A-frame huts were a charming surprise, complete with thick mattress bunks and solar powered lights. Supper was hot, and there was lots of it. My stomach was still in turmoil and I was taking Pepto Bismol tablets to keep things under control. We seemed reasonably situated, but mountain's bulk continued to loom over us and our sleep was anxious.
Day two dawned and the challenge of climbing in the rainy season became apparent. Clouds gave way to rain and my rented rain gear proved hopelessly inadequate (my Kili ascent gear and backpack had been stolen in Cape Town). The forest canopy gave way to chest-high scrub, and finally to scattered shrubs and lichen. We pressed on deliberately, heads down with the cold stealing into our joints, and ended the five hour hike at Horombo hut (3,700m). My pulse has climbed to 90-100, even at rest. Despite the cold there was no fire in the large A-frame dining room, so we huddled in our gear and played solitaire. Mice ruled the dining room, roving under the two rows of plank tables in search of crumbs, leaving a trail of yelps and cries from newly arrived climbers. I'd washed most of my climbing clothes just prior to setting off - intending to dry them on the mountain... instead they mildewed in the relentless drizzle and rain. Only two days into the trip and my stock of dry clothes was down to socks and underwear. I call Mom and Dad on the Iridium satellite phone to assure them I was ok.
Fighting the Altitude
Day Three - acclimatization. The morning dawned sunny and we soaked up 20min of heat before the clouds rolled back in. Joshua, our guide, led us up to Zebra point (4,000m) and on to Mawenzie junction (4,300m). We rested briefly and then hoofed it back to Horombo and lunch. Alex developed a headache and picked at some rice during dinner. My stomach continued to bother me and only Pepto was keeping the food down (I was to find out later that I had dysentery!) John remained healthy as a horse and plowed through several plates of food. Feeling desperate for solid sleep on the last night before the summit attempt I made an incredibly stupid mistake - I took a Nyquil caplet. Any medication is ill-advised at altitude, and the effect of the Nyquil was completely opposite of what I'd hoped. Although desperately tired I was completely charged with energy - jerking and fidgeting uncontrollably in my sleeping bag. I tried doing push-ups to drain some of the energy a pounding pulse in my ears, wondering vaguely if I would blow-out my heart. My thrashings kept John up all night - fantasizing (as he told me later) about beating me with a Louisville Slugger. Unbeknownst to John and I, Alex was in the grip of a relentless headache and took about a dozen Advil trying to find relief. Finally around 3am I pulled on my wet boots and jacket and wandered through the moonlit campsite. Kili's frozen peak twinkled in the crisp full moon and I wondered dazedly if this mountain wass worth the effort.
Day Four - We straggle out of the hut. Alex's appearance is shocking. His whole face has puffed out - his eyes almost swollen shut. He has lost the altitude lottery - physically fit (in better condition than John or I) and highly motivated - but uncontrollably susceptible to altitude. His disappointment is palpable but the ordeal of the previous night is raw in his mind and deters him from pushing his luck higher on the mountain. He must go down. I wonder if I would suffer the disappointment or push ahead recklessly if I was in his position. We part soberly and push on with our guide. Another brief glimpse of morning sun propels us up the steep hike to the Kibo lava field, but then the clouds roll in again. I have the last of my dry clothes on (we'd given some of our damp clothes to the porters to dry by the fire but they'd come back hopelessly smoke damaged) and have doubled up on the windbreakers but the rain seeps inside insidiously. The lava field is a Martian landscape of red rocks and gravel that seems to stretch on endlessly. Lunch is a cold boiled egg peeled with wet shaking fingers and a soggy sandwich in the pouring rain. The last pitch to Kibo hut is relentlessly steep. Six inch steps, bent forward, swing leg/straighten, swing leg/straighten - still taking care not to go too fast and get winded.
Kibo hut (4,700m) is higher than the Everest base camp and too high to sleep. We trail Joshua into a barren cement block bunkhouse crammed with twelve bunks and two tables. There is barely enough room to squeeze through. We are the last in, the other bunks support comatose climbers in sleeping bags or wet dripping outerwear. There are no lights, a bare tin roof, and the water drains off the cement floor directly out a hole in the wall. I'm so cold I cannot bring myself to strip completely before climbing into my bag - a mistake - the wet shirt slowly saps my remaining heat. Dinner. John lends me his last dry shirt. My stomach forces me to the outhouse stalls - scrap wood walls, a cement slab floor with a hole in middle. I cannot stomach any food and I know this will be a problem on the climb. Seeking heat I go to the cooking shack but the fire is an economical stack of twigs - enough to warm one boot. Back to the bunkhouse and a fitful few hours till midnight.
Final Ascent
Day Five - tea and digestible cookies arrive at midnight - time to go. We've had no real sleep for two days, almost everything is wet, we are bone tired - everyone in the bunkhouse is quietly frightened of the mountain. I force down eight cookies and sweet tea hoping for climbing energy. The full moon glints off the pelting ice and my outer shell freezes solid. This is a blessing because it insulates the layers and I warm up rapidly. Joshua sets a very slow pace. One hour into the ascent we pass the older Dutch dad - he is going back, his wife decided to stay at Kibo. Halfway still strong. The brain locks into one line of a song lyric and plays is maddeningly over and over again. We reach the scree - a thousand vertical feet of loose lava gravel that looks like Oreo cookie crumbs. The cold helps us by freezing the top layer and we are able to zigzag slowly up, occasionally breaking through the crust and slipping back. Each step is only inches apart, step/breathe, step/breathe - you consciously tell the brain to accept several more hours of this low grade pain. The Dutch son, our age, passes us going back down. He's vomited a few times and there's just too much mountain left. Zigzag back and forth, outer shell pants keep falling down - too much ice on the legs. My water is inside my shirt to keep from freezing solid in the -10C cold. Moustache and beard are frozen solid with ice. BUT, no headache, no vomit - everything is looking good!
Then 1/2 hour from the top I run out of energy. Climbing with dysentery led to smaller and smaller meals, and in the end there is simply nothing to burn. I try to keep climbing but I have no strength. Stopping in the snow I bend double over my hiking pole taking whooping breaths. John and Joshua are puzzled because we had been making good progress. He tells me we are almost there and I determine to keep going. Now I am climbing only on determination, two breaths for every step, straining to squeeze oxygen out of the thin air. I budget my strength for the crest now visible and arrive with nothing left – and Joshua begins climbing vertically another 20m - we are not yet at the top! I almost sob, I cannot move but I cannot turn away 20m from the summit. Gasping at the effort I painfully crawl to the top of Kilimanjaro - Gillman's Peak (5,700m) - to nothing! After six hours of climbing the clouds have rolled in and there is no sunrise, no view.
Down from the Summit
The German chap arrives laboriously, his buddy threw up five times and finally went back to Kibo. We take some snaps and rest for 10 min - but there is no rest at this altitude and we must go right down. Adrenaline takes me down the vertical but the scree saps me again. We descent by digging each heel into the loose gravel and sliding/stepping in giant strides down the face. It is an exhausting process. John's knees which have been plaguing him occasionally now flare up. He made an excellent ascent but the descent is hammering his joints. We make a feeble couple, staggering down the mountain after our patient guide. Several times I fall into the snow and fall asleep instantly. Finally about 1km from Kibo I sit on a boulder and dream of Italian countryside. John is 500m ahead and becomes alarmed, yelling at me to wake up. I wave him off twice and finally lurch up and stiff-leg stagger to the huts, falling into my bag to sleep.
We had to go down to Mandara to meet Alex - but I couldn't move. Said, the head porter, came in twice and finally told us we had to go. I poured tablespoons of glucose into my tea and managed to hold down some soup. Finally at 10:30am we got going. John's knees set the pace through the Kibo lava field, but we managed to make good time until the boulder ridden lower half. John hobbled like an arthritic. My glucose and soup digested and gone - I staggered after him - leaning on my pole to take huge whooping breaths. Said, worried at our progress, told us that we would overnight at Horombo only half way down the mountain (the site of the infamous Nyquil night). The rain pelted us again and our feet began paying the price of three days in wet boots. An hour out of camp I peeled back one big toe nail. Weak and miserable we stumbled into Horombo to be met by our smiling guide Joshua. At 41 he is an icon of fitness. He had led us up to Kibo the day before, then with no sleep led us to the summit and back to Kibo, then instructing Said to look after us had descended almost to the bottom of the mountain to Mandara to inform Alex of our progress - and then re-ascended to Horombo in time to meet us. It was a remarkable achievement – almost the equivalent of a full ascent/descent in 1 1/2 days!
We sip soup at camp and climb into our bags at 3pm. No more Pepto forces me into wet clothes to the outhouse. Reluctantly to dinner. I choked down a few mouthfuls to keep Joshua happy - two more trips to the outhouse. Bed again at 8pm. Serial dreams spin out in the thin air.
Day Six - Up at 6am for more glucose and a beautiful clear dawn. I can't help but be envious of the group on the summit and the view they must have. We start down to Mandara with loosening muscles and a bright sun marvelling at the change in the mountain. This could be an enjoyable climb in the dry season. Alex met us 20min out of the camp and we swapped stories. He was disappointed at being denied the summit, but vowed to try again. A quick tea and we continue to the lower gate. The mountain punished me to the end - one hour from the bottom I peeled back the other big toe nail - so I hobbled off the trail in pain wondering at the desire that pushes me to such adventures.
I have a video clip of our porters and guide proudly rattling off their names on the bottom. We received our summit certificates and gave the gang a generous tip. Smiles and handshakes all around. We left for a nice hotel and a gentle denouement - the guys went home for a night of rest and another group to lead up the mountain. What a fabulous bunch. Dinner that night at the Hotel Impala - $75 worth of steak, CNN, hot showers, and laundered clothes.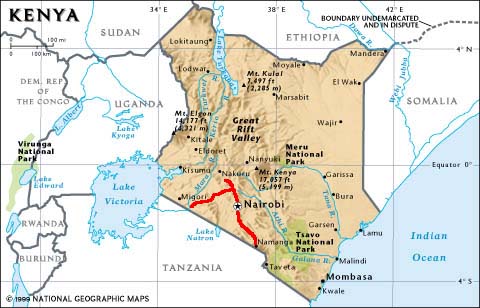 Into Kenya's Game Parks
We left Kilimanjaro and Tanzania for the warmer climes of Kenya.
Talked the truck across the border with no Carnet de Passage and plunged into Nairobi traffic. I immediately relaxed in the swirling bedlam of automotive confusion. Finding out that I'd learned to drive in this confusion John shook his head, "Ahh, that explains your driving in Canada". We checked into a campsite, read accumulated e-mail, and soaked up Nairobi's version of civilization.
I'd promised lots of animals to the guys, so we headed out to sample two of Kenya's dozens of game parks. Driving from Nairobi on Upper Rd. to Kijabe was a blast from the past. I made a slight detour through the campus of my high school and felt the hollow jolt as reality impacted sentiment. You can go back, but you can't really go back. Our dirt road short-cut was a true off-road experience and we arrived on Lower Rd. shaken but cheerful.
Hell's Gate park is named for it's narrow cleft valley bordered by steep cliffs leading to an active thermal vent. Giraffe, warthog, Thomson's gazelle, and a dozen nameless birds dodged the truck as we ambled through. I curled up on a cement slab in the sun to ease my stomach cramps while John and Alex tramped down the path to the vent.
They were concerned when they returned and we finally diagnosed my dysentery. Fortunately medication was at hand and relief a few hours away. Zigzagging up a sharp hill we made camp on a bluff overlooking the grass carpeted valley floor. Supper, sunset, an extended campfire, the starry sky, and great conversation marked a memorable evening.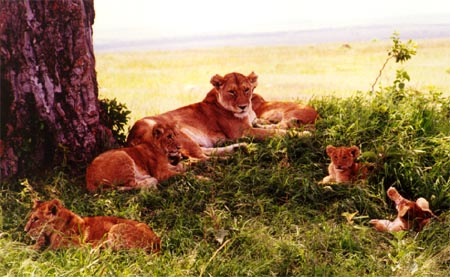 We rescued a tourist van stuck in the mud in the middle of this pride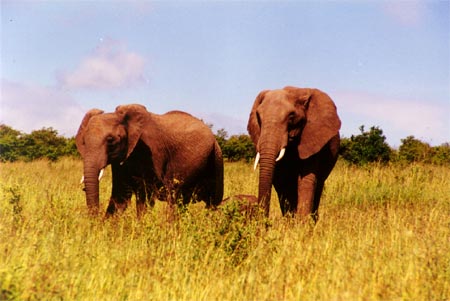 We watched breathlessly while the herd grazed slowly past the truck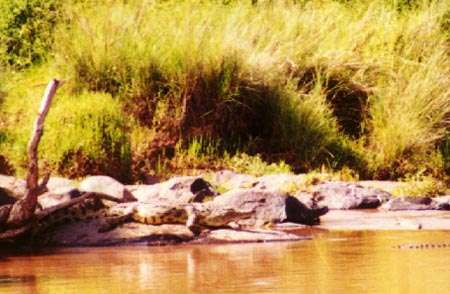 These crocs can go months between kills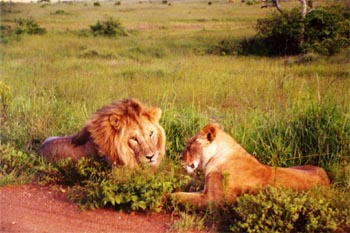 Six vehicles waited until this pair sauntered off the road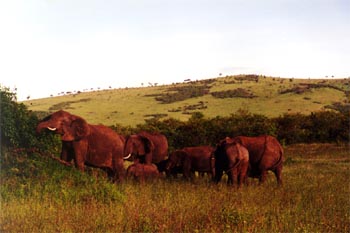 A few of the hundreds of elephants we saw in the park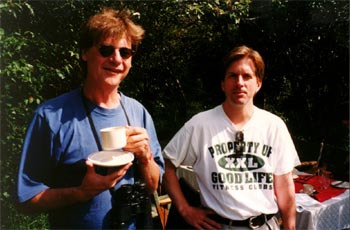 John and Alex taking breakfast on the river in Masai Mara
Finally Kenya's top game attraction - Masai Mara. Most of the drive was on a "superb sealed road" but the last 36km deteriorated into a rutted dirt lane. I've always thought my driving was excellent - if a little fast - but Alex's death grip is still embedded in the front dash and John emitted tiny noises of terror from time to time. By common consent I slowed down in the park. It would seem almost impossible that there would be animals near the meager roads that thread through the vast plains of the park, but almost immediately after entering we drove through a herd of about 30 elephants. The animals seem inured to the vans bouncing back and forth - which allowed several close encounters. A huge bull elephant munched contentedly a few meters away from the truck. Water buffalo, zebra, hippo, numerous antelope, cheetah, and lots of "nameless birds". Rounding a corner we stopped abruptly for a lion and lioness sunning themselves on the road. After about 10 minutes they lazily rose, enjoyed some "afternoon delight", and plopped down on the road's verge to eye us from close range as we passed.
Another night under the African sky and we set out across the park.
Rescuing Tourists from Lions
Almost immediately we came across three vans parked about 3m from a pride of 16 lions. Cubs rolled around in the grass playing with leafy twigs while the mothers arrogantly eyed the interloping tourists. The lion surveyed the scene regally about 20m away. One of the vans attempted a wide turn back onto the road and suddenly bogged down in mud - spinning his wheels till he was properly mired. Imagine the tableau; a van full of agitated English senior citizens, an embarrassed driver, and two other vans totally ill-equipped to assist, passengers busily videoing this new predicament... all watched with amusement by 16 lions. There seemed nothing for it but to help out so we drove into the mud and I got out to hook up a tow line - needless to say it was a nervous exercise and I waited for the African driver to pace around for awhile before I got out. Alex bravely ventured out for a photo. John decided to video the extrication from within Stanley. With low gear and differential lock we were still stymied. So the senior citizens were unloaded! What a sight. They huddled together with the other drivers for support while we wrested the van out of the muck. Alex assisted a few as they tottered back to the extricated van.
We'd decided that John's last night would be in style, so we checked into the Serena lodge. A huge buffet, pool, personal huts, table linens and service. Luxury in the wild. A sleep-in breakfast, check-out, and a final game drive. Down at the river we came across some monster crocodiles and a river side breakfast buffet complete with chef and linen draped tables. We enjoyed some juice, cheese and crackers.
Rogue Elephant
Following a faint road we angled into a less travelled part of the park - and came across a lone bull elephant. Earlier the previous day I had parked the truck as a whole herd of elephant grazed past us only a few meters away. But a lone bull is a different story, and sure enough he started moving at us, flapping his ears, stamping and writhing his trunk. Not good. I cut off the road and we bounced across the plain about 100m... and right into a swamp. Low gear and diff lock couldn't compensate for our highway tires, the viscous mud packed the tread and we spun helplessly.
The elephant was a short distance away screened by a tiny grove of trees. With no alternative I climbed out and unwound the winch cable - listening and looking intently for the rogue bull. The cable was 10m short of the closest tree! I untied the rope holding down the 2nd spare to lengthen the winch cable - started the winch - and snapped the cable off!! Suddenly the trees in the thicket cracked and swished like the scene in Jurassic Park - I whipped around anxiously but whatever it was decided not to leave the cover of the thicket. Plan 2 - we got out the shovel and dug the wheels out. After an hour of effort we managed to pop out - only to get stuck again. Finally with John and Alex pushing in the mucky filth and spinning wheels we made it to solid ground. Returning to the lodge we managed to clean off and questioned the game drivers about the elephant. Evidently he is well known and avoided!
We made the long drive back to Nairobi with plenty to think about; Zanzibar spices, Kilimanjaro deprivation, and Masai Mara exploits. A brief dinner at the Carnivore in Nairobi and it was time for John to climb on his plane. As always, time seemed to have stretched out – a week is like a month - packed with a kaleidoscope of memories. Alex stays on for another ten days as we head into Uganda. Bombs in Kampala and rampaging rebels in the countryside... who knows what stories the weeks will yield.