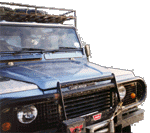 About the Team
Though this trip was conceived as a two-man journey, an African adventure with my old college roommate Andy, it turned into a solo act within six weeks. We both changed a lot in the ten years since graduation and ended up splitting after six weeks. I had just left the computer company that I co-founded after a long hard struggle with the venture capital wolves and was emotionally beaten down. On the portions of the trip that I did alone, there were times I was so lonely that I verged on suicidal. And so I was fortunate to have had two sets of friends fly in to do part of the trip with me - and to have met a few other great friends on the road (see below).
Expedition Team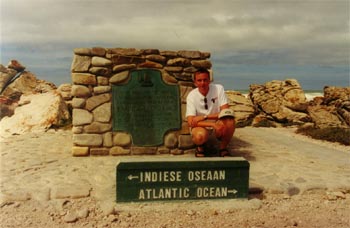 Jeff at Cape Agulas, the southern tip of Africa and the separator between the Indian and Atlantic oceans
Jeff Willner
Expedition Leader
This was not so much an expedition, as a return to my roots. My parents lived in Kenya for two years when I was very young, and in Zaire for five years from 1980 to 1985. Formative times for a kid starting at age 10 and ending at 15. Motorcycling into the jungle, overnight fishing on the lake with the Greek purse seiners, experimenting with gasoline and 220V electricity. It was an amazing and wild upbringing in a family of seven kids.
On returning to the States, I'd eagerly drop my experiences in conversation. But it was impossible to really convey. And over time, that part of my life was pushed more and more to the background. Fifteen years later, I had built a computer company to seventy employees with offices in Canada and the US - but I was still restless. I left the company with my partner who would later sell it, applied to Wharton for an MBA, and decided to fit in a long trip back to Africa.
And so with a vague idea of what I would do, and how I would do it, I went back to Africa. In retrospect, I was very very lucky on this trip. To do it again I'd put in a lot more planning, budgeting, and preparation. But I had no expectations, and frankly was so mentally exhausted that I likely wouldn't have done the trip had I realized the challenges. At the end of the day, I think adventure requires a bit of fearlessness. Charge in where angels fear to go - but be prepared to live with the consequences.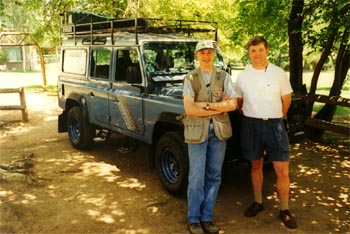 Jeff and Andy packed up and ready to embark (Johanesburg, South Africa)
Andy Wolford
Johannesburg to Victoria Falls
I called up Andy out of blue one day, not having spoken to him in five years, and said - "Hey man, I'm going to drive through Africa for six months, would you like to come?" Ok.
Andy was my college roommate, the guy who always effortlessly got 99s on his exams and bankrolled my spending money. He had a rich aunt, I was from a poor family of seven kids. So I loved the idea of paying his way to travel with me. Plus, he is a gifted mechanic and has two brothers living in South Africa. It was perfect. And in fact, he was instrumental in selecting the Land Rover we wanted to buy, and getting it registered in our name in South Africa.
But time can be cruel, and so it was that we found ourselves traveling with strangers. We got as far as Victoria Falls before deciding to pack it in. He went back south while I continued north alone in the truck. We flew home on KLM and swapped stories, he described doing flood relief in Mozambique and I described driving through a mine field in Burundi.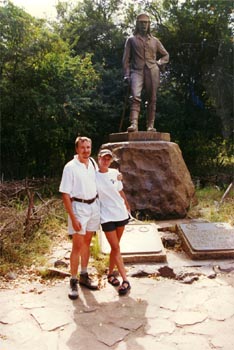 Jeff and Carola (Victoria Falls, Zimbabwe)
Carola Bazle
Cape Town to Victoria Falls
I first met Carola in a campground along the Garden Route, she was traveling with a girlfriend from Germany. Later she called us in Cape Town, her friend had returned home and did we have room in the truck for one more because she would like to travel north. Of course we had room.
Cute, stoic, and a hard core traveler, she was great to have along. And I was crushed when she had to return to Germany at Victoria Falls. Both she and Andy left on the same day and I never felt more alone - facing a solo drive into Zambia and Tanzania, the "untamed" part of Africa.
She left behind a box full of food and goodies - her AWA (Africa Wins Again) box, just in case I ran into trouble. And it sure came in handy when I ran out of money. That's the kind of person she is.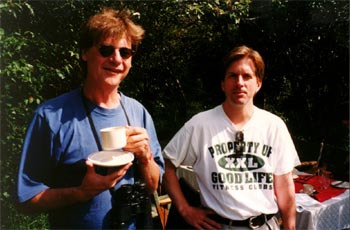 Alex Semple (left) and John Hiscock (right). Lawyers in Africa. Insert joke here. Relaxing after breakfast by the Mara river. (Masai Mara, Kenya)
Alex Semple
Zanzibar, Kilimanjaro, Kampala, Nairobi
Alex is a veteran traveler, a 60+ countries visited, trek Nepal with sandals, suffer through gastrointestinal distress in an Indian hostel alone, hitchhike through the Middle East, kind of guy. His focus for coming was two-fold; 1. climb Kilimanjaro, and 2. forget his fiance who had broken up with him one week before their marriage date. Severe altitude sickness forced him off Kili, and I'm not sure goal 2 was achieved either. But as with any adventure the trip wove its own magic. He was the cornerstone partner of the trip and an adventure mentor.
He extended his trip and traveled with me for four weeks. One of my fondest memories was from Uganda when we were stranded on an island at a ramshackle camp of thatch huts in the pouring rain. We found a Monopoly game and played one game for eight hours - he won by less than $50.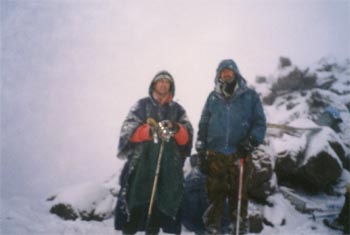 John and Jeff on Gilman's peak (Kilimanjaro, Tanzania)
John Hiscock
Zanzibar, Kilimanjaro, Nairobi
John and Alex came over together, and John had few goals for the trip. Just wanted to see Africa and take it easy. Ironically, he was unphased by bad food or alitude sickness and strolled to the top of Kilimanjaro while the rest of us eked it out. Unfortunately he had to leave after two weeks (his commitment to his clients is far too strong).
Best memory was when we camped amidst the animals in Hell's Gate park in Kenya, cooked up a good pasta on the campfire and shared several bottles of wine. We talked till the wee hours of the morning and I'm pretty sure we solved the problem of world hunger... but I can't remember the second half of the night.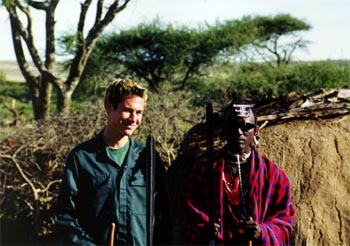 Kevin makes a cultural exchange, sunglasses for spear (Serengeti, Tanzania)
Kevin Temple
Nairobi, Kampala, Serengeti, Rwanda, Burundi, Tanzania, Victoria Falls
Alex and I met Kevin at a hostel in Nairobi and invited him to join us on the drive to Uganda and back after subjecting him to a rigorous screening process... "Will you pay a share of gas cost?". "Yes". "You're in!"
Originally intending to travel with me for two weeks, Kevin stuck around for almost two months. If Alex was my mentor, Kevin was the mentee... though he'll swear the reverse. We managed to camp with the Masai in the Serengeti, eerily examine Rwanda shortly after the genocide, run roadblocks and landmine fields in Burundi in the middle of a civil war, and drive down the "worst road in Africa" down western Tanzania.
Kevin was nitro to my glycerin. We were truly the dynamic duo - though many of the memories of that time still make my legs quiver. I'd love to travel with him again - but after reading the journals, I doubt my wife would permit it.
One of my favorite memories of Kevin was in Nairobi when I was trying to sell my satellite phone to raise some more travel cash. In a stained t-shirt and sandals, he sat down in the exclusive bar of the Nairobi Flying Club and started playing jazz on the piano. Conversation stopped. When he was done, he went from a nuisance to a celebrity with a standing return invitation and a salary offer.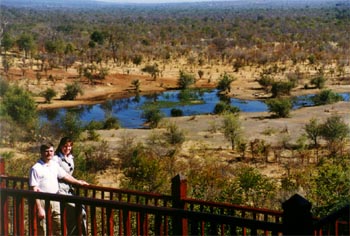 Tim and Amy at Victoria Falls Safari Lodge (Victoria Falls, Zimbabwe)
Tim and Amy Mechem
Lilongwe, Lusaka, Victoria Falls, Sossusvlei, Cape Town
Tim and I go way back to the boarding school in Kenya in the early 80's. Both of us were missionary kids in Africa and both went to the same university. We were both third-culture kids in the first world and relied on each other to figure out how to survive back "home" in the US. Watching 4 movies a day, after seeing a rotation of the same 3 films at our african boarding school for years. Trying to understand why other people didn't take 3 scoops of sugar in their tea. And hardest of all, trying to figure out American women. Tim did a lot better at that than I - and then along came Amy. Beautiful, smart, charming - they were soon married and set about the business of being young urban professionals.
Seven years later both had become work-shackled non-travelers. It took a powerful amount of convincing, but they were persuaded to join me for the last portion of the trip. Fortunately, once they decided they were in - they were really in.
Early in the trip when I realized that a Land Rover would cost more than my budget, I called them from Johannesburg and they wired an extra $5,000 to help buy the truck. Amy's extensive packing lists and planning guides are a basis of the travel tips section of this website. And when they arrived, they did some of the most hard core camping and traveling of the trip. Of everyone who joined me, they were the financial and emotional life savers - and the trip wouldn't have been possible or as life changing without them.
My favorite memory was a pancake breakfast on the shore of Lake Malawi at a lodge Tim remembered from his childhood. I've been back several times since then - it's a favorite destination to this day.