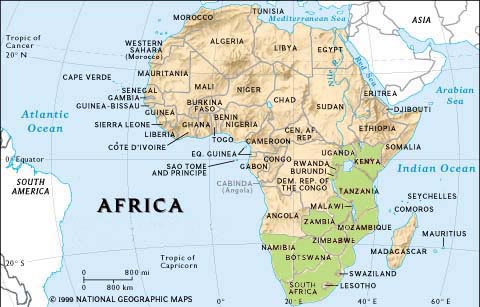 The Beginning
18 January, 1999
(London, Ontario)
"Boys," Dad said, "that kid has killed – and he's looking for a reason to do it again." That memory and others swirl around in my head as I prepare for the trip.
It had happened in 1984 when our family was living in Kalemie, Zaire. I remember we had just crossed the Lukuga river and were almost to the abandoned petrol station when a soldier darted out from the right side of the road and leveled an AK-47 at the car. The city was baking in the December dry season and the town was brittle with tension. Two weeks earlier the rebels had attacked the airport on the north side of town and more government troops had been trucked in from south Shaba and other Zaire provinces. Since the new soldiers didn't have any established scams, they were making things hard on the locals.
There are certain rules that are followed in a roadblock, procedures that make life easier on everyone. The soldiers don't get paid so they have to get money for food. Locals acquire certain reputations as targets. Indian shopkeepers are middle of the road, they'll pay but not very much. Foreign aid workers from first world countries are easy pickings because they usually don't know how to bargain hard and are conditioned to "go along". But being a poor missionary, Dad had refused to pay any bribes over the years and as a result was seldom hassled. Unofficially we all knew the rules – the soldiers could stop us and claim that we'd violated some traffic ordinance, threaten to impound the car and lock us in jail, and then ask for a bribe – we in turn would wait, protest our innocence, and respectfully insist that we had no money until they let us go. Calm, professional – we all knew the parts.
But this guy broke the code – he levered a round into the chamber and aimed the muzzle at Dad's head. A machine gun to the head just wasn't done. My brother and I jerked up in the passenger seats and started taking things in at light speed. The youngster wore a standard issue uniform, a wrinkled collection of khaki and olive green, ratty web belt, and scuffed boots. But he held his gun like a tool with no concern or bravado. "Where are you going? What are you doing?" he demanded. He was no more than a teenager but he had cold eyes. I'd never seen Dad waffle before, but he was nervous.
My brother glanced right to a brush shelter. There was another soldier relaxing in the shade. Will grinned and yelled, "Hey Ndugu, aren't you the one who wants to marry my sister?" More experienced soldiers usually make the young ones do the busy work, and the older soldier was a local. My brother and I knew him from our card games at Colonel's house. "Oh yeah", he shouted back, "but you want too many cows for the dowry!" He grinned and waved us on carelessly. The first soldier hesitated, then lowered the gun slowly. Dad mumbled something and pushed a few small notes into his hand before driving off. "Why did you do that Dad?!" Will and I were exasperated, after all we were home free we shouldn't have paid anything. "Boys," Dad said, "that kid has killed – and he's looking for a reason to do it again."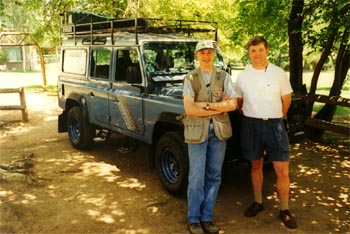 Fresh faced at the start of the trip - Jeff and Andy (Johannesburg)
Trip Objectives
My parents had been missionaries in Zaire for five years, but we packed up shortly after the rebel attack and headed home. That was fifteen years ago. I'd eagerly planned this six month trip, a break between leaving work and starting grad school. But that memory and others swirl around in my head as I get ready to fly to Johannesburg, South Africa. Preparation is essential, but in Africa there's still a fine line between safety and disaster. I'm taking a mountain of gear, and an Iridium satellite phone. In addition, my buddy Andy Wolford is coming along for the trip – an old friend who also grew up in Africa and has experience as a mechanic.
The plan for the six months is pretty aggressive:
- Buy a Land Rover in Johannesburg and drive about 20,000 kilometres, zigzagging from Southern Africa to East Africa and back, through 14 countries
- See how the people and the land have changed in the past 15 years
- As an entrepreneur - determine if economic investment in East Africa makes sense yet
I hope you stay tuned as I fire e-mails back from what promises to be a trip of extremes. I'll send another message soon... from the other side.
Taking a deep breath,
jeff