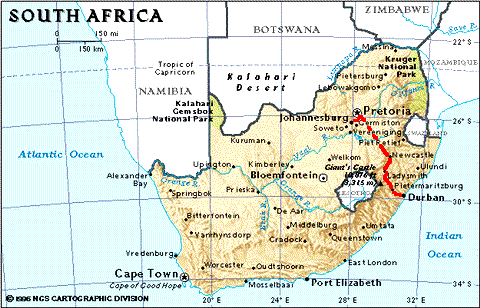 Southern Arrival
30 January, 1999
(Johannesburg, South Africa)
Expecting a culture shock beyond the Boeing door - I was surprised at the modern infrastructure. Highways, malls, and rush-hour traffic form a modern theater with a skyscraper backdrop.
South Africa, the southern gateway to the region and the whole vast continent, is an exciting, beautiful and complex nation. Geographically, its extremes are the arid semi-desert of the Karoo, the snow-capped peaks of the Drakensberg, the lush sub-tropical coast of KwaZulu/Natal, and the fertile temperate valleys of the Western Cape. With 11 official languages, it's obvious that its people are diverse, and since the amazingly peaceful transition to majority rule in 1994 that diversity is now respected. (Lonely Planet - Africa, the South)
Johannesburg is South Africa's largest city and is next-door to Pretoria, the nation's capital. Jo'burg's sole reason for existence is the world's richest reef of gold that lies under the highveld. Miner's have followed the gold from the surface into the ground, and one of the deepest mines in the world is located here - 3 miles straight down. The city is a large, sprawling conglomeration of capitalism and tribalism, with the intensity of Manhattan and the crime of the Bronx. Horror stories of car jackings and assault abound. My seatmate on the flight in had an aunt who was killed during a robbery. The white middle class is rapidly re-locating to the northern suburbs.
Expecting a culture shock beyond the Boeing door - I was surprised at the modern infrastructure. Highways, malls, and rush-hour traffic form a modern theater with a skyscraper backdrop. However, South Africa's struggling duality appears in the large shanty towns and crowds of intersection hawkers. Many people absolutely refuse to venture downtown to the historic center of town, where rampant crime holds sway. The five year transitional government deliberately eased it's police action to distance itself from the former regime. With the second democratic election scheduled shortly, most people hope the new government will "get tough on crime" to restore some sense of safety.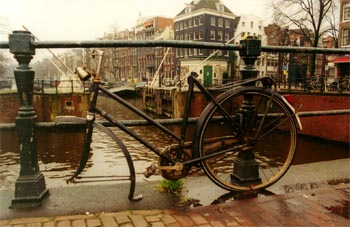 Impressions of Amsterdam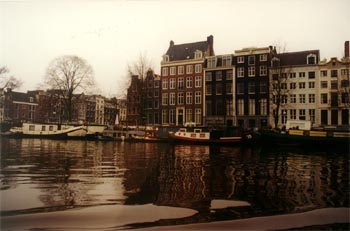 Amsterdam canal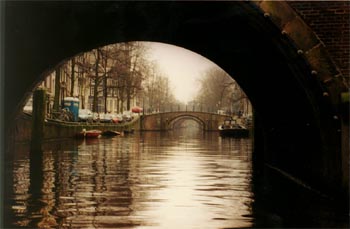 The Seven Bridges in Amsterdam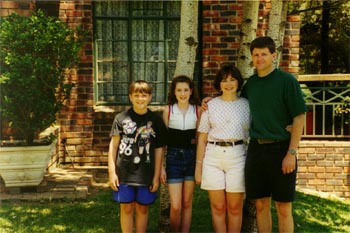 Our hosts in Johannesburg - Tom and Donna Wolford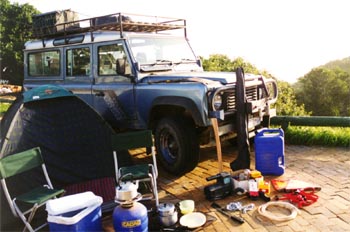 Land Rover 110 with some of the gear for the trip
My impressions of Johannesburg are unexpected. Many consumables are inexpensive. Dinner for two with dessert and coffee at a medium quality Italian restaurant - $8. Excellent fish and chips - $2.50. Rent for a large five bedroom on 1 acre of manicured grounds - $500/mth. A full set of starter golf clubs - $100. The temperature fluctuates between seasons but usually stays below 30 degrees C and above 10 degrees C. Evenings are cool, great for sleeping, and the temperature warms up substantially during the day. In the northern suburbs life is good for those with moderate income. Violent crime has been vastly reduced by dozens of private security firms. Most houses employ at least two domestic staff; housecleaner and gardener.
As much as one could form a moral protest to the inexpensive labour - there is an entire continent of less fortunate people who press toward the dream of becoming moderately paid in South Africa.
Africa is a continent of moral ambiguity, and those who have lived here delight in dropping the uninitiated into Catch-22 situations. Apartheid represented the pinnacle of this dilemma. Undoubtedly it resulted in the showpiece nation of the continent. Yet it was a corrupted regime. Will this country follow the tragic downward spiral that claimed every other African nation since Independence? Most hope not.
After a week of running around, we have found our expedition vehicle. It is a Land Rover 110 with a stock V8 engine that has been bored out by Rovertech. The purchase has proceeded with typical Africa speed - that is to say, it has taken three times as long as expected. We are continuing with equipment purchases and should have the vehicle modifications done by mid next week. Special equipment includes; winch, special shocks, long range gas tank, roof rack, hi-lift jack, gas jerry cans, water tank, purifier, two spare tires, compressor, compressed gas tank, tent, stove, axe, shovel, machete, full tool chest, patch kits, and selected engine spares (filters, water pump, etc). A specially welded secure holder will allow us to put four jerry cans of petrol on the roof - extending our range by another 80 litres to a total of 200 litres (1,300 km) - an important feature since entire sections of the trip will be through unsettled areas. We're equipped to accommodate four people in comfort.
And a special thanks to Tim & Amy who invested $5,000US into the truck (they will join the safari in Malawi later in April).
For those tracking our progress (you know who you are), we've already visited Durban, another of South Africa's major cities, located about 800kms away on the east coast. Excellent seafood. Eat at the King's Battery beside the harbour entrance if you can. Great quality and highly entertaining. Ocean freighters pass within a few meters – in and out of southern Africa's busiest port.
Next week we'll kick off the expedition properly as we head south to Port Elizabeth and then turn west along the Garden Route. We'll camp on the seashore and drive through some of the most picturesque harbours in the country on our way to Capetown.
I'd like to sign off as an intrepid explorer, but in all honesty I feel more like a slightly spoiled member of the bourgeoisie. I expect that's for the best - a gradual transition from the cuisine of London and New York.
All the best,
jeff