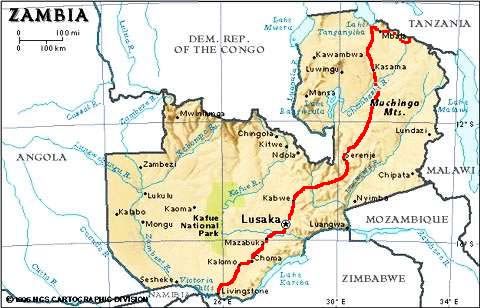 Into the Margins
23 March, 1999 (2,494 km)
(Dar Es Salaam, Tanzania)
Sleeping inside a Land Rover in the middle of the jungle can be unsafe. Doing it next to a town of unemployed desperados is a stupid risk...
Commercialism is insistent, creeping into the cracks of indecision, sophisticated. To survive in the First World we develop mechanisms to deal with the overwhelming quantity of choices. If you want something on your bread you have to pick; jam, preserves, nut spreads, Marmite, margarine, peanut butter, cream cheese, butter – and then refine your choice; which brand, what size, low fat, low cal, squeezable, plastic, glass. Think about it, when you pick Jif peanut butter you've chosen from over a hundred different options, and if the store is out of Jif you can make do with Skippy or Kraft. But on the ragged edge of civilization, all the options are stripped away – suddenly you are outside comfort zone… into the margin. I'd been coddled by the southern Africa countries of my trip and shot into the guts of the real Third World unprepared. The next three weeks were a struggle just to keep going, to find food, shelter, petrol – the margin between comfort and ruin.
Zambia
The road into the heart of Zambia to the capital, Lusaka, was deceptive. As I sped through the savannah and rolling scrub the pavement dissolved into pothole clusters. In order to stretch their funds (or conceal skimmed amounts) the road builders had laid a thin skin of tarmac onto a pressed clay bed. In the panoply of potholes this combination is the most respected by its peers. The clay washes out in the rain while the thin pavement preserves the obtuse edge and delivers a pounding jolt. The ragged patches allow some virtuosity in driving, skirting edges and dividing grouped triplets with half a tire on the edge. But when whole sections of road are continuously potholed you must either drive at 10kph or 100kph - predictably I chose the latter. Shaken but not stirred, I arrived at Eureka Camp in Lusaka.
Zambia curls around the south-eastern tip of Congo and is bordered by Angola to the west, Zimbabwe and Mozambique to the south, and Malawi to the east. It's a relatively large country of 752,615 sq km with a population of about 10 million - an unusually low density for a developing country. Colonized as Northern Rhodesia during the mad scramble at the beginning of the century, it received far less infrastructure than Zimbabwe (Rhodesia) to the south - although the copper mines in the northwest attracted special attention. It followed a depressingly predictable course after independence - the copper mines were nationalized, export income was siphoned, corruption flourished and the infrastructure crumbled.
Amazingly in 1990 the ruling party with its resident Big Man lost in the elections. Even more amazingly, he stepped down gracefully. The newly elected president Chiluba embarked on a campaign to restore the country's fortunes - but had to accept some bitter medicine in the process. Domestic spending was slashed to halt inflation and the standard of living of the populace got worse not better. After almost ten years in power, Chiluba seems to have turned the corner. The mines were recently sold to a foreign consortium that promises to invest the requisite millions to make them profitable again. A market economy has been restored and the IMF and World Bank have tangibly applauded Chiluba with a package of loans that will hopefully increase the local standard of living.
I was stopped a dozen times at checkpoints on the road, and each time was pleasantly surprised at the efficiency and lack of bribe requests. In our conversations Richard had mentioned that Chiluba recently appointed a Minister of Revenue from New Zealand and replaced almost every senior manager with western replacements. Within one month the amount of collected revenue tripled, testament to the crippling effects of institutional corruption. Zambia is back on its way up – although the jury is still out as to whether Chiluba will subject himself to free and fair elections.
Rough Reality
After breakfast at the Eureka Camp I packed laboriously and headed into Lusaka proper. A crowd was gathering around a broken man lying on the road's verge, pressing against the expat driver who gestured wildly. Oh man, that's trouble. Andy had pounded into me a few of the harsh African realities that I'd gotten soft on; never stop if you hit someone because mobs tend to kill the driver, and if you run into trouble you don't get the police because they will just shake you down. Harsh stuff. Impressions of the city are a jumble of contradictions and extremes, peeling three story shop fronts line the main boulevard punctuated by occasional faded towers, relics from the colonial era. Decayed signs for toothpaste, "Because your smile should be for life!" Cairo Rd. is the main drag in town and is described by the Lonely Plant, "People get mugged regularly here, and pickpockets prowl the markets and bus stations… if you think you've been targeted, go into a shop or bank and wait until the danger has passed." I didn't get out of the truck.
There was a long way to go and a highway newly paved with foreign aid, but the truck had developed a high-speed vibration and couldn't get past 100kph. A long expensive stop to balance all four wheels made no difference, and by early afternoon the road had degenerated into a bone crunching ordeal. I beat through the heat of the day - the A/C quit working. Night finally dropped its cool blanket. I siphoned the last of my petrol from the roof jerry cans and gave my granola to a hungry guy who had stopped to watch. Beating into the moonless night watching the gas gauge fall I started feeling pretty vulnerable. Finally I reached Mpiki and a 24hr BP gas station, thank goodness for capitalism. Gas stations are the leading economic indicators in African, the first signs of a stirring economy are the shiny BP or Shell stations in the middle of mud hut towns.
The first Swahili I'd heard on the trip, a safe brightly lit oasis and gas for my three tanks – I was so happy that I filled everything. Belatedly I realized that I didn't have enough Kwacha. "No we've never taken credit cards. No, traveller's cheques aren't accepted in the country. No. No. Cash only." No banks, no ATMs, no moneychangers, I'd been told to travel with lots of US cash but southern Africa had lulled me. I'd dived into real Africa from the vestiges of civilization and this was to be my induction into Survival.
Noel Sikaumbwe, night attendant, pondered my problem. Yes he would accept 20 litres back if I siphoned them out of a jerry can. That left me owing 5,000 kwacha - $2.50. No solution could be found. I tried selling some of my food to passing motorists. Noel sympathised. Finally he offered to pay the remainder, a touching gesture since 5,000 kwacha represented a week of his salary. Would I like to park the truck and sleep at the station? I would.
The New African Class
Noel and I talked about life and politics over coffee. So many things stay the same – Zambia improves/Kenya spirals downward, foreign aid comes in/politicians pocket it, stability/war, famine/greed - but the people are progressing. The great body politic is becoming self-aware. Compared to my childhood in Zaire when many of the adults still spoke of "thundersticks" and held the white man in awe, I was impressed by this man who had never left his region, never even visited the capital city only a day's drive away - yet spoke fluent English courtesy of a government school and dreamed of owning a small house with a garden so his wife could grow vegetables. He was the voice of an emerging middle class.
Noel cautioned me as I bedded down in the Land Rover, "When the soldiers come, tell them you have talked to the owner." At 2am there was shouting from the night patrol outside, "Hey, hey you, wake up, what are you doing?! Get out of the truck. You're driving where? All this way! Oh you are from Canada. Well drive safe." Mackson the night guard was an inscrutable presence throughout the night.
In the morning Noel and Mackson let me sleep in till 5:30, then we shared tea. Mackson approached me gravely and asked if I had a clean piece of paper - he had saved the tea bags and would take them home to his wife. I gave him the package of 25. He looked quite astonished and recovered to thank me solemnly. I gave Noel a can of Milo, a box of cookies, and a box of granola bars – hopefully he would be able to sell them for more than 5,000 kwatcha. We left friends.
Another six hours of bumping to arrive at Mpulungu, the end of the road - literally. The road goes through the tiny port and ends at Lake Tanganika, the lake of my youth. Seeing it again jogged years of memories and I couldn't wait to take the boat to Kalemie - my old home town. I was directed to the only campsite in town and met Aseef, the camp owner. The boat wasn't coming till Friday, five days away. No he didn't take travellers cheques but he could find a local merchant who could exchange some for me. If I was going to Kalemie I should talk with that woman there – she had just fled the fighting with her family. Fighting?! I approached the woman and in halting Swahili asked about Kalemie. "Oh you must not go, there is much trouble. Yes there is fighting - many people have died."
Change of Plans
I am thick-headed and stubborn at times - I had bulldozed my way as close as I could to Kalemie determined to visit. But confronted with; no boat for five days, no travellers cheques, and "many people have died", I decided the prudent thing to do would be to head for Dar Es Salaam. I gave the woman a package of tea bags in thanks, cashed a travellers cheque with the merchant at a heavy discount, and attacked the 200km track that separated me from the border. I wanted to cross into Tanzania that night in order to change some money. Picking up two refugees from a stranded pick-up taxi, I headed onto the worst section of road I'd seen all trip. Hilled stretches were completely cut up with gullies - some sections looked impassable but Stanley soaked them all up. A small crowd had gathered around a puddle - a 40 foot long puddle. Having recently passed a grinding pick-up I figured it must be passable, low gear, diff lock, drive through slowly keeping the revs high, water climbing the doors, the exhaust gurgling, and then we were out. I grinned and nodded to the gallery - they burst into delighted applause - my passengers laughed.
I'd pushed hard to arrive in Nakonde before 6pm in order to get across the border - the town had a reputation as a wild border crossing with plenty of scams, crooks, thieves, and killers. We made the town by 5:20 and tiredly but triumphantly I dropped my passengers and went to the gate - closed - come back tomorrow. No kwacha. Dangerous town. What to do? Noel had said that Zambia had no history of internal violence, "We are a peaceful people." I decided to head back into the country and make a jungle camp - preferring natural dangers to manmade. 20km out I turned into the bush.
Jungle Camping
The kids found me within minutes. In Africa you have to adjust to a few disconcerting social norms. It is polite to stare - directly and searchingly for a long period of time. There is frequent platonic touching during conversations and your personal space is about half of what you are used to (it's interesting to watch an African talk with an unsuspecting tourist - he'll advance to a comfortable distance, they'll back away to a comfortable distance, he'll advance, back away...). Knowing this I went on setting up a bush camp with my small audience watching attentively. With the kettle on I told them to run home and fetch their mugs. I had another three course meal (can of veg, can of spaghetti, can of fruit) surrounded by six little ragamuffins sipping heavily sweetened Milo and eating shortbread cookies.
Sleeping inside a Land Rover in the middle of the jungle can be unsafe. Doing it next to a town of unemployed desperados is a stupid risk, one that I had plenty of time to think about as I scrunched sleepless in my metal and glass cocoon. I dreaded a sudden face at the window in my peripheral vision. Midway through the moonless night I thought I heard footsteps and felt numb with fear gripping my pepper spray and American Tourister alarm. Blood pumped through my ears. Fatigue finally overcame fear and I slept fitfully.
Francis, one of the ragamuffins, showed up the next morning and helped me consume my breakfast. As I re-tied the roof-mounted jerry cans the soldiers arrived brandishing assault rifles and I was hustled to the station. What was I doing? After my explanation I was given a thorough lecture by the captain, "Next time you come to the station and camp in the yard." No attempt at a bribe. Thoroughly impressed I gave them $5 for "tea". Word spread quickly about my exploits, "The mzungu was afraid to sleep in town so he slept in the bush!" The other thing about Africa is that people are unafraid to laugh at you - in front of you. Surrounded by twenty laughing cops I had to join in - I returned to the border in style with an official escort of three soldiers.
My departure from Zambia was painless, quick, efficient. Despite the potholes and the nights in the truck I had fond memories of Zambia. I entered Tanzania. I entered a paradox. Immigration required $50US cash for a visa - and no they didn't take travellers cheques. I was stumped. The clerk generously gave me a seven day pass and told me to pay at headquarters in Dar when I got more money - in retrospect it would have been kinder if he had reached over the counter, slapped me, and sent me 200km back into Zambia to the nearest bank. I moved over to Customs, was ignored for 15min, filled out a form in quadruplicate, signed and stamped by another clerk, in to see the "boss"... "So tell me, how is the Microsoft case proceeding." I thought I was finished - had to pay road tax, another form – another shack, another clerk copied information from my papers to a ledger - another shack, another clerk copied information from my papers to yet another ledger - back to Customs to drop off the duplicates… and I could go. At 2 hours, it was my longest tangle with African bureaucracy - it was only a warm up...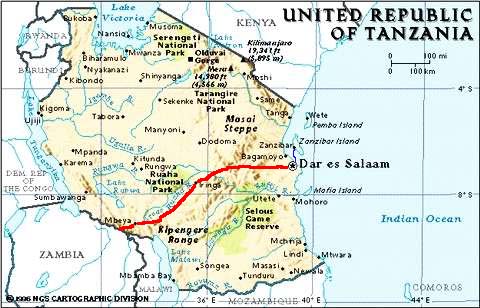 Struggling through Tanzania
The Tanzanian main road turned out to be a pleasure, newly paved by a foreign donor. I blazed through the cold highlands to Mbeya, the regional capital, and again at the bank... "No travellers cheques accepted"! Fortunately an Indian merchant with a sister in Calgary converted some money, I filled up with petrol, ate my first local food, and hit the road. Originally planning to spend several days in the south, I felt too tired to continue the struggle to survive and decided to drive directly to Dar Es Salaam into the embrace of "civilization".
One thousand kilometres cutting across the waist of Africa with little sleep and precious few reserves of strength. Long stretch to Iringa through mud hut towns with metal roofs touching, decrepit mini-bus taxis hooting into crowds penned by tea shacks, darting traffic. Cool afternoon air, belligerent bursts of rain, elephant grass higher than the windshield, black tea at an Agip gas station kiosk looking mournfully at the "very soon to be working" cappuccino machine.
Darkness. I descend an escarpment suddenly, corkscrewing down, slaughtering thousands of flying vermin, the air turned tepid then musky. Stanley's Hella high beams cut holes through the jungle tunnel. Two lionesses feasting on an antelope road kill spun around in the headlights and slunk off the road. I blinked, the whole scene was surreal.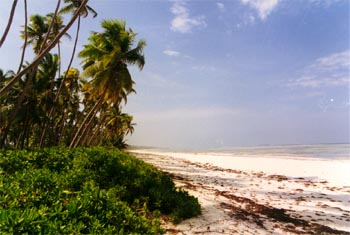 Zanzibar's east shore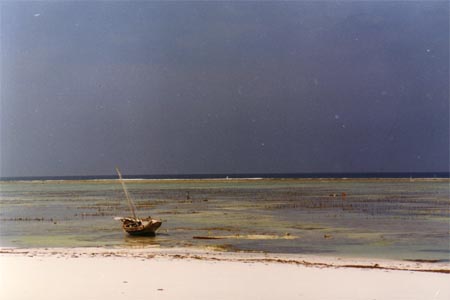 Fishing dhow on the northern shore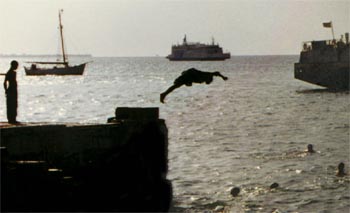 Playing in Zanzibar's main harbour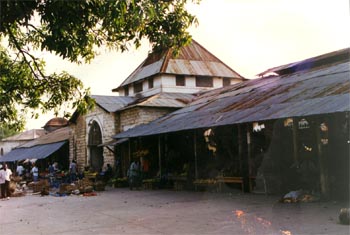 The old slave market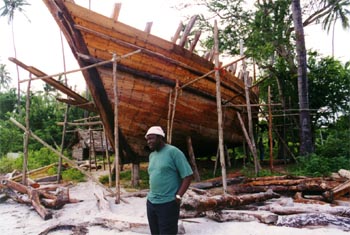 Traditional Zanzibar boat building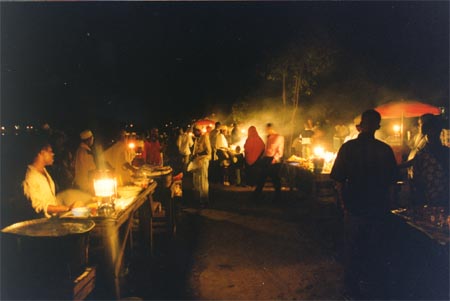 Dinner at Zanzibar harbour, freshly grilled fish, lobster, and shrimp - a feast for $5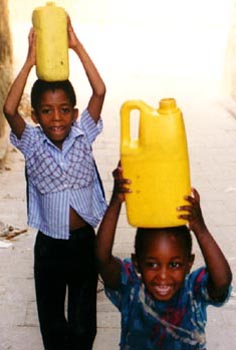 Old fashioned plumbing in Zanzibar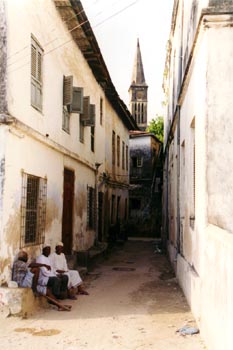 Elders sip black coffee in the back alleys
Tea in a scrap board trucker stop in Morogoro. Speeding ticket?! from a speed trap - the old twisty corner 50km temporary village slowdown ambush. Don't mind paying for "tea" but a $10 ticket burns me! 50 clicks out of Dar the road turns nasty, and I'm beaten up for the last hour. Arrived 1am, tired, hungry, lost – there are precious few street signs in Dar. An attendant at a BP station offered to guide me to a hotel and confided during the ride that it was his first time to ride in a Land Rover. Paid $60 for one night in a "Business Hotel" – filthy room, the shower head shot directly onto the bathroom floor, remnants of the last tenant's dinner. I was so tired I had to watch ½ an hour of World Match Play darts in order to sleep.
Desolation in the Capital
Dar Es Salaam is the embodiment of the International Monentary Fund's (IMF) fiscal directives. Crowded, bustling, and stripped of consumables. I walked around the battered downtown – stores with one product; batteries, soap, used auto parts - there simply isn't anything else to sell. The streets are filthy, rotten wood doors and shutters on peeling three and four story shops. Arabic street fronts are interrupted by squat grey government blocs.
Tanzania is a very large country, 945,087 sq km, with a population over 30 million. The country is a paradox in many ways. It was one of the purest attempts at African socialism, the president Nyerere believed deeply in an agricultural economy and made several attempts at it - unfortunately the country inherited the bureaucracy and corruption that comes along with socialist central planning. Tanzania can claim the credit for ridding Uganda of the infamous Idi Amin. After Amin invaded their northern border the cash strapped country scraped together an expeditionary force and routed "Africa's best equipped, best trained army at the time", marching right into the capital Kampala. Unfortunately they received no foreign assistance and this $500million adventure further decimated the government's coffers. With the fall of communism, aid donors were no longer prepared to bail out the economy in the face of widespread corruption "which just about matched the amount of aid that was flowing into the country". Multi-party elections were held, ministers were replaced, corruption began to be addressed.
Having complied with the "free elections" and "freedom of the press", Tanzania is now suffering through "controlled domestic spending". To put this in perspective - it spends over 50% of it's annual budget on foreign debt interest! There is over 80% unemployment in the major cities. Sitting near the epicentre of the AIDS pandemic with a highly infected population - it has less than $100 budgeted annually per person for health, which is not even enough for an AIDS test - never mind treatment. There are no bank machines in Dar. There are no supermarkets. I bought my own oil for an oil change at the Land Rover dealer. The city huddles around the flickers of foreign expenditures scattered here and there.
Far from the "civilization" that I had anticipated, Dar prolonged my labours in the margin. One travel agency in town will issue travellers cheques - and one other exchange bureau will exchange them for shillings - which can be converted into US dollars – which can then be taken to Immigration to pay for the visa. But what should have been a 10 minute process consumed two days! Mind numbing lines, heedless clerks, endless duplication of paperwork - I was taxed to my limit. My comrade in suffering was Samuel - a quiet Somali refugee who was applying for a visa for his sister and had been queued quietly in the suffocating hall for two weeks.... waiting. We joked, he told me which clerks were best, and lent me his pen when I forgot the cardinal rule of African bureaucracy - always bring a pen! I gratefully accepted my stamped passport after the second day of sitting and sweating, and waved to Samuel as I made my escape.
Gem of Africa - Zanzibar
After three airless nights baking in the stagnant heat I escaped to Zanzibar. I was adopted at the dock by Sam, a scruffy hustler with a beat up bike, who promised that he knew every deal on the island. By this time I was really dragging and in no mood to bargain, so I let him lead me around and together we tramped through town trying to find a hotel. Finally throwing my fiscal restraint to the wind I splurged on a $50 room with A/C - a luxury after three nights in a hot airless guest house in Dar. For the next two days I slept, ate, walked a little, and slept some more. Living in the margins takes a lot of energy - and I'd used mine up. Recovered by the third day, I rented a motorcycle and toured the island, driving down the long sandy beaches and through spice plantations. After dinner at various "nice" restaurants I stumbled onto the epicurean delight of the island – the waterside bazaar. When darkness falls the food vendors light their paraffin lamps, fire up their charcoal grills, and hawk their wares. I feasted on fresh lobster, shrimp, samosas, and something called Zanzibar pizza?! finishing with a fresh dripping 1/4 pineapple. Only a few dollars.
On one of my last nights after a nice meal, the rain suddenly rolled in. Cool wind and then gusts of water pressing down, stripping the heat from the sky. The ancient House of Wonders shuddered beside the gleaming Arab fort, screened by palm trees. Dhows bobbed on their liquid tethers and the tide nipped at the edges of the pier. Vendors galped and laughed, berating assistants to hold large plastic sheets over their wobbly kitchens. Tourists ducked into their pools of light and departed with softly steaming morsels. And then the clouds passed away and the night sky showed off a million diamond drops glittering on the windows and laughing children. Lovers walked by wrapped in their sentiments. Sitting at the edge of the ocean I felt that I'd regained the center of things.
Late tonight I pick up John Hiscock and Alex Semple - my partners for a further exploration of Zanzibar, ascent of Kilimanjaro, and discovery of Serengeti and Ngorongoro. My solo tour is over for now - probably a good thing, I'm afraid I will talk their ears off after so much silence.
I hope this finds you well.