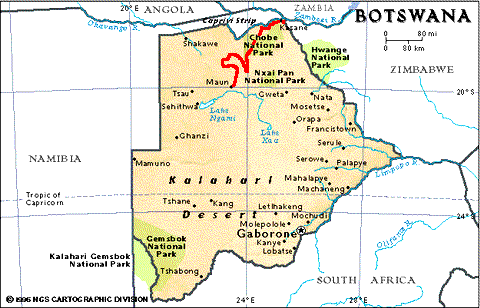 Africa Wins Again
12 March, 1999 (590 km)
(Victoria Falls, Zimbabwe)
With few options we decided to camp for the night. Andy was full of bravado, he planned to sleep outside for the night… until we heard the cough of a lion close by – he promptly opted for the roof.
There is an expression that I learned shortly after arriving here – AWA (Africa Wins Again). It seems to gain credibility according to latitude. The further north you travel in Africa the more times you find yourself shaking your head muttering, "AWA". We exercised the phrase early…
We had planned to leave Maun around noon, as soon as the Land Rover shop finished installing bonnet (that's hood for you Americans) insulation and heat shielding - our attempt to give the A/C a fighting chance. Unfortunately the three hour job stretched to nine hours - what with tea breaks and all - and we re-camped for another night. Once again we awoke bright and early, this time off to the swamp of the Okavango Delta. Botswana has a low impact policy for its game parks. The roads are not improved and the prices are very high which has the effect of keeping the tourist traffic low. With Stanley (the Land Rover now has a name) we were members of a select elite who could transit the park and avoid the ludicrous prices of the fly-in lodges.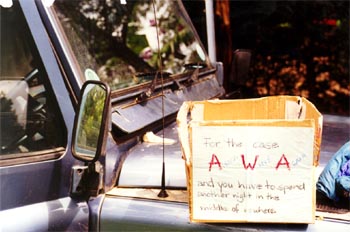 Carola's AWA box - packed with emergency supplies 'just in case'

Into the Okavango Delta
After a few hours of gravel and dirt driving we arrived at the park gate. "Three to camp for one night please."
"Where is your reservation?"
"Ummm, is the park full?"
"No, but you must have a reservation."
"Can we make one with you?"
"No you must do it in Maun."
"We just left there two hours ago and no one told us to get a reservation. Is there any way we can get a permit from you?"
"No."
"OK, we'll just drive through the park. May we have a transit pass?"
"Are you going to fake a breakdown and then camp?"
*raised eyebrow* "Ahhh, nooo. We'll stay at a lodge north of the park."
"Because if you camp I will find you and take you to the station and you will pay dearly."
*muttered under the breath* AWA.
Warmed by Botswanan "hospitality", we entered the unspoiled, legendary beauty of the Okavango Delta. The vast expanse of water... Where was the water? Evidently the rains had been light and the swamp wouldn't flood for another month or so. We spent the day bumping around the Moremi Reserve track, negotiating rickety log bridges, plunging through muffler deep washouts, axle grabbing sand expanses, and the heat... But hey, we had air conditioning, good music on the stereo, there were some hippo, the curry noodles for lunch were not bad – we weren't in such a bad mood by the time we reached the north gate. A few kilometers away waited a fine lodge with warm western hospitality...
Two hours later we still had not found the lodge - compass, two maps, asking directions, not withstanding. Did I mention the Botswanan policy of non-improvement… no signs either! Finally more directions, found the lodge. A bemused owner walked out to greet our mud splattered Land Rover. They were closed for the season but would be happy to provide lodging. The rate? Only $333US per person per night. AWA.
Bush Camping
We'd been told of a tiny landing strip into which the well heeled tourists few. After some perambulations we found it, and the little apron cut into the bush at the end. With few options we decided to camp for the night. Andy was full of bravado, he planned to sleep outside for the night… until we heard the cough of a lion close by – he promptly opted for the roof. Carola was wasting no time and went directly to work gathering firewood to keep the animals at bay. By sundown she had enough cooking wood for an entire village. I calmly directed operations and was an invaluable source of courage and inspiration to my fellow junglerunners.... in my dreams. Actually, I looked at the mass of wildlife that surrounded us and then broke out the pepper spray (for urban protection). Andy and Carola just looked at me.
"This is for protection!!"
"Umm Jeff, what are we supposed to do with this... season the animals?"
"No! Spray it in their eyes if they attack."
"Honestly Jeff, I don't think I'll be able to hit a lion in the eye with pepper spray."
"No I'll stun him with the spotlight, and then you get him with the pepper spray, and Carola can honk the horn."
*mild disbelief from my fellow campers*
Yep, courage and inspiration... that's me.
Against all odds though, that night turned out to be one of the best of the trip. Andy figured out a way to pitch our tent on the roof rack and made a bed for Carola inside. Carola whipped up a really nice spaghetti sauce. The sunset was spectacular, the wild sky was littered with stars, and then the platter sized full moon rose and tinted everything with silver. We sat by a roaring fire, sipped coffee, and checked for glowing eyes with the searchlight from time to time. We were at our most self sufficient, and we did ok!
Morning dawned and we realized that we had pitched camp a few hundred meters from a waterhole!! Never a good idea. Within a few hundred meters there were lions, elephant, hippo, jackals, and plenty more out there. In the middle of our breakfast, a Land Cruiser full of pampered tourists viewing the water hole glided by. I'm not sure who was more surprised. Our sense of total isolation was snapped, and we packed up quickly before anyone came to ask questions.
Blasting through Chobe National Park
For our next feat of navigation we needed to drive about 20km east to the entrance of Chobe Game Park. No signs, no marked maps – we were left with compass and guesstimation. Two hours later it became evident that we had guessed wrong. We found a logging crew and asked directions – we were 70km too far south. Back up another dirt track, detouring around trees, dodging stumps and washouts – average speed about 30km. In the middle of the transit we came across a massive bull elephant; probably 30 or 40 years old, 5 foot tusks, 12 or 14 feet high, several tons of pachyderm completely dominating the road as he casually munched on a stripling. This was not the type of elephant you beep the horn at – he was as indifferent to us as the buzzing flies, and that was bad. His confidence oozed and ours ebbed. We waited for ten minutes and finally tried to go around. When we moved he stopped and watched us like a playground bully. We stopped. Finally he sauntered off a little way, and we bush barged a wide path back to the road.
At last we reached the Chobe park entrance, we were the only vehicle to transit for the day. No wonder, the next six hours were a sapping test of stamina and concentration. The road alternated from washouts to deep sand and back to gravel washboard. There were animals, but our 140km detour in the morning and lack of a camping reservation meant that we had to transit the park by the end of the day… and we were running out of time. Savuti is the campsite at the halfway mark of the park road and during high season there is "so much game gathered around the waterholes as to defy the imagination". We prioritized attention on the road.
"How is the next bit of road?" we asked the warden.
"There is some sand, and then there is some gravel, and then some tar paving."
"What is it like?"
"Watch out for the bumps. You will need a 4x4. You will make it. But I prefer the half you have just passed through."
He was prophetic. The next half was a Stygian quest. The first 70km consisted of unrelenting, deep, soft, sand. And worse, the large supply trucks created rolling bumps – since we had to carry speed in order not to bog down, we were rattled around the cabin and thrown from side to side through the corners. I came up to a Land Cruiser pick-up grinding along, needing to pass I got too close… suddenly he stopped and I ground into his left rear corner with a jolt. Minor damage, but sensing an opportunity he began to threaten to call the police. Although this type of negotiation is expected in Africa, his attitude was surly and menacing – very unusual in my experience. After some discussion we settled on 300 Pula – or $75.
A word here on Botswana. Shortly after independence this desolated country found it was sitting on the worlds largest diamond reef. Contracting the work to De Beers, the resulting royalties have comprised the majority of the nation's GNP. The people are largely from a single tribe, and very law abiding. This has resulted in unusual stability and prosperity since independence – something uncommon in sub-Sahara Africa. Unfortunately, this encouraging national anomaly was completely undermined by the people with whom we came in contact. Sullen and completely inhospitable – Botswana was the first country where I felt like I was an imposition while eating at a restaurant. We remarked on this later to other travelers and our feelings were confirmed. If Malawi is the warm heart of Africa, Botswana is the spleen.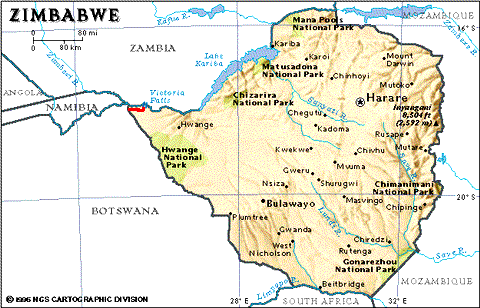 Finally through Chobe – we made the deadline – and I was exhausted. Andy took over driving and I fell asleep immediately. We arrived at Kasenge on the Chobe river, near the border of Zimbabwe, and decided to treat ourselves. The Chobe Safari Lodge had charming little rondavels and one of the nicest verandah views I have ever seen. Dinner was eagerly anticipated. We lined up at the buffet and our plates were half full when one of the servers asked Andy, "Where is your yellow copy?!!" Somewhat puzzled he turned to me.
"I've given the girl our VISA", I said, "I'm not sure what you mean by yellow copy."
"You must have a yellow copy!"
"Weellll, we have paid… can we get our food and then bring you a yellow copy?"
"NO. You must have a yellow copy!"
"Should we put the food back?"
Fortunately at this point our server wandered back with my card and the now legendary "yellow copy", and our food was saved. AWA. We all couldn't wait to get to Zimbabwe.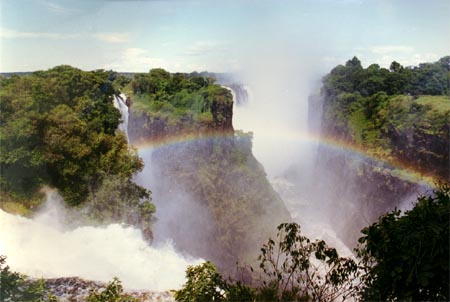 Victoria Falls - looking north over the 1km breadth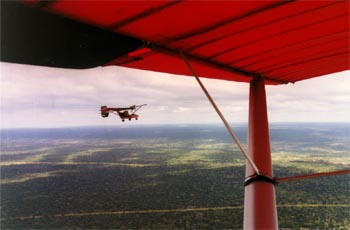 Ultralight flight over the falls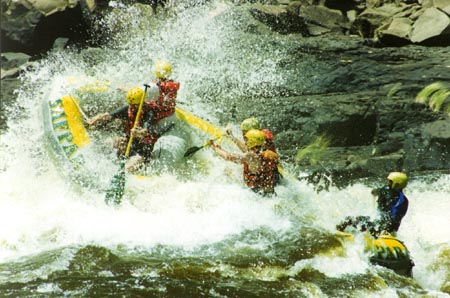 Rafting the lower Zambezi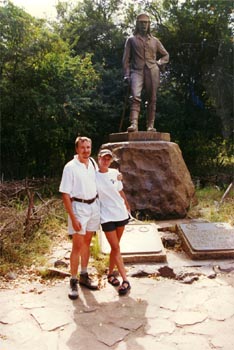 David Livingstone's statue at Victoria Falls
Victoria Falls
A quick journey to Victoria Falls the next day. Having grown up in Niagara Falls, I was prepared not to be impressed. I was blown away. The scale of the falls is breathtaking, and the path along the gorge cliffs that parallel the face of the falls allow you to literally stand right in front of the falls. The spray was so intense that we were completely soaked, right down to the underwear. What a spectacle!
Recent massive devaluations of the Zimbabwe dollar prompted by the IMF have made the city an incredible value. A five course dinner at the resort lodge that included; smoked salmon, ostrich, crocodile, warthog (and not just grilled game meat – this was artfully prepared cuisine with wonderful presentation and full service) was about $20. Since Vic Falls was our last time together as a group, we stayed for a few days and signed up for a full complement of activities. Ultralight flights over the falls, white water rafting down the Zambezi's Class 5 rapids, elephant back game viewing, golf on a course that featured animal spectators including 40 impala around the 7th green. It was an oasis of relaxation.
With Kenya's descent into corruption and upheaval, Victoria Falls should become the premier destination in Africa. Visitors can see the falls, drive a few hours into nearby world class game reserves, choose from a long list of adrenaline sports including bungee jumping, sky diving, or boogie boarding the river rapids. The people are friendly and lively, and the local crafts are an extraordinary value (I purchased several carvings for $5 that would cost several hundred in the States). And several new luxury hotels will spin off even more restaurants and amenities. Victoria Falls is not Africa unspoiled - but for the stout-hearted the wilderness is only a short drive away.
Finally Wednesday arrived and there were sad farewells. Andy returned to Johannesburg to work for the three months before we fly back. Carola got on the bus for Windhoek on her way back to Cape Town and then Germany. It has been a wonderful three weeks from Cape Town to Vic Falls – and I will miss them both. But I'm looking forward to the next solo leg of my trip, leaving civilized Africa and entering the continent of my youth. Warm hospitality, endemic corruption, endless delays, crumbling infrastructure, and unexpected glimpses of beauty.
Leaving Victoria Falls I crossed the border into Livingstone, the Zambian town beside the falls. In the last two days I've encountered more contradictions and head shaking "AWA"s than in the previous three weeks – and so far I love it. Crossing the border I was informed that I had to have Zambian liability insurance because my South African insurance wasn't good enough. The man in the little hut filled out a form in quintuplicate complete with stamps and announced that I must pay 570 Zimbabwe dollars ($14). I told him that unfortunately I had not expected to pay insurance and I only had 500 Zim dollars… what should I do?? After some muttering and prevarication, he re-wrote a new insurance form in quintuplicate and deliberately made a "mistake" on the amount. "See what you have done, you have made me make a mistake on this form." I thanked him and paid the 500 Zim dollars.
As I turned to go I saw him slip the money in his shirt pocket and lock in on the next tourist, "Hey, you must have insurance…" AWA. People don't get paid, so they find ways of making their own money. It's like an unseen tax with it's own arcane rules, and respect is the lubricant the makes the process roll smoothly.
I had to stop in Livingstone in order to get a leaking differential seal replaced on Stanley (the Land Rover). It should be done by noon and I'll be on my way to Lusaka, the capitol of Zambia. This is the real Africa, and the satellite phone is a comforting presence as I plunge into the unknown.