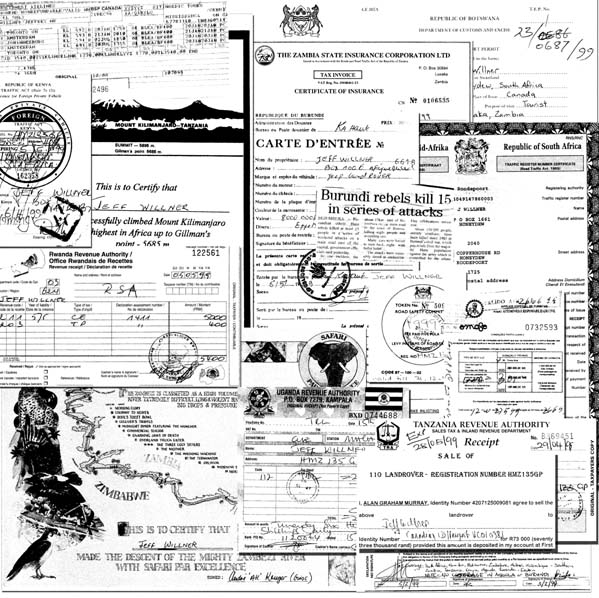 Vehicle Documents
A road trip in your home country won't require additional paperwork, but if you are taking the vehicle overseas you will need a few key documents;
- Carnet de Passages
- Vehicle Registration
- International Drivers License
- Vehicle Insurance
- Renter/Homeowner or Expedition Insurance
If you plan to have other people driving the vehicle when it crosses a border, you will also need to have a;
- Permission Letter
Carnet de Passages
In order to get the vehicle through customs in many countries around the world you must have a Carnet de Passages. This is like a passport for the vehicle. It is required because some countries have very high import duties that must be paid on imported vehicles (ex. Egypt 400%). The Carnet is essentially a guarantee that the vehicle will only be used to transit the county, and will not be sold once inside. Using the Carnet is an alternative to leaving cash security deposits with foreign governments. It allows free movement and unencumbered access between foreign countries. Use of the Carnet is restricted to the countries listed on the back cover. It is valid for one year from date of issue.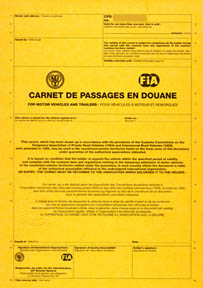 To get a carnet you must submit an application to the Automobile Associations in your home country. You must pay a non-refundable fee of $130. They will also require that you provide a financial guarantee equal to the highest duty and taxes payable in a country on your itinerary. For example, if your Land Rover is worth $10,000 and you intend to transit Egypt, you must submit a $40,000 deposit to the AA just to get a Carnet! These duties and taxes can be levied against a vehicle when it is temporarily imported into a country under cover of a Carnet de passages, but is not removed or exported. This financial protection is provided to AA by the holder of the Carnet in the form of an irrevocable letter of credit, a certified cheque or a money order. This financial guarantee is held by AA in a non-interest bearing account until such time as the used Carnet is returned to AA.
It is possible in some countries to purchase Indemnity insurance instead of putting up the deposit security. For my around the world trip I purchased this in the UK (contact the RAC for current options). For my South America expedition, the team arranged to pay the deposit and received it back at the end of the trip.
The Carnet, when properly discharged, will have an entry and exit stamp for every foreign country visited. The Certificate of Location located at the back of the Carnet must be endorsed by your home country customs, upon your return, proving to the AA that the vehicle is back on home soil. When the properly discharged Carnet is received, AA will release the financial guarantee and balance of the cash deposit.
There are many steps involved in the process of issuing a Carnet and it can take up to a month to finalize, but the AA will help and guide you through the process.
Contact: Your local Automobile Association (in the UK contact RAC) for more details.
Vehicle Registration
You must bring your vehicle registration from your home country, and the name on the Carnet should be the same as the one on the registration (to reduce the number of questions by border crossing guards).
International Driver's License
Thinking of touring a foreign country by vehicle? You will need an international driver's permit, available at CAA. RAC OR A.A. CAA has been granted issuing rights by the Provinces and Territories of Canada to issue Canadian International Driving Permits (IDP). Application forms are available at all CAA Offices.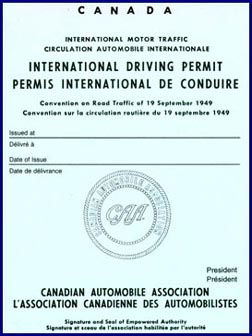 The 1949 IDP is a special licence for tourists, authorized by a UN treaty among nations of the world, for the purpose of allowing motorists to drive vehicles in international traffic without further tests or applications. It is proof that the holder possesses a valid driver's licence issued by a competent authority in their country of residence.
If you wish to apply for an International Driver's Permit, you will need:
- A copy of your valid Canadian's Drivers Licence. (An IDP cannot be issued for provisional or learner's licences, and licenses under suspension.)
- Two passport size photos that are recent and identical
- Fee payment of $10.00
- A completed and signed CAA IDP application form (no other form is acceptable)
Restrictions:
- You must be 18 years of age or older to apply.
- The IDP is valid for a maximum of one year from the date of purchase and/or issue, providing your Canadian licence is valid for the duration of your trip. Your valid Canadian driver's licence must accompany the IDP at all times.
- IDP's issued by CAA are only valid outside North America
- The IDP cannot be issued for any category of vehicle which is not at present covered by the Canadian Driving Licence.
- An IDP cannot be post dated, extended or renewed. It is valid for one year from date of issue. Each time a new IDP is required, the applicant must complete a new application form, produce a valid Canadian drivers licence, provide 2 new photographs and the pay the fee.
- An IDP is valid in all the countries that signed the 1949 Convention on Road Traffic.
Vehicle Insurance
Check your insurance policy to see where you have coverage. It's likely that once you get out of your home country or home region you'll have to buy a separate policy. Even if you buy an old beater and would rather not waste the insurance money - you'll still have to show proof of coverage when you cross the border in most countries. Many African countries will try to get you to buy a local "insurance" policy when you cross the border. In many cases this is an official scam, you won't be able to submit a claim even if you run into trouble, and the only way to possibly get out of paying is to show a listing of coverage by country on your policy.
Finding vehicle insurance can be a challenge. I've used two different vendors;
- Insurance Exchange, www.insuranceexchangeonline.com (Kim Michaels, kim@insuranceexchangeonline.com)
- Alexander Forbes, www.afiaws.com (Tel 020 74881388)
Homeowner/Renters or Expedition Insurance
From bitter experience, I've found that the contents of your vehicle are not covered on your vehicle insurance or on your credit card insurance. If something is stolen inside the truck, you can only make a claim on your homeowners/renters insurance or expedition/travel insurance. This includes clothing, camera, camping equipment - anything not bolted to the truck.
I purchased a particularly expensive digital camera with my American Express card just to have the theft protection for the year. It was stolen from the truck in Iguazu Falls two weeks after I bought it so I was feeling pretty smart for buying it on the AMEX. However, I made the mistake of telling the credit card insurance folks that the camera was stolen from inside the truck. Big problem. If the camera had been outside the truck - it would be covered. But because it was inside the truck, they were not going to cover it. Fortunately we had expedition insurance in addition to the vehicle and credit card coverage.
On my Africa '99 expedition a thief broke the truck window and stole my Kilimanjaro climbing clothing and gear. Since I didn't have traveler or expedition insurance, I was not able to replace the gear on the road. I was able to get reimbursement from my renters insurance when I got home - but it was definitely inconvenient (I had to climb Kili in rainy season with jeans and a windbreaker).
So - check on your various insurance coverages, and decide whether you need to supplement your protection with expedition or traveler insurance.
Letter of Permission
If someone else will be driving the vehicle across a border (a person who is not on the vehicle registration and/or Carnet), they will need to have a letter of permission. At some border crossings they will require this letter to be stamped and certified by a notary public - so its a good idea to get multiple copies, make sure they are signed and notarized.
Here is a sample letter...
<date>
To Whom It May Concern:
I certify that <driver> has full permission to operate the Land Rover registered in my name <owner>, using the Carnet de Passage in the name of <owner>. He will be driving the vehicle through Eduador, Peru, Bolivia, Chile, Argentina, Uruguay, Paraguay, Brazil, and Venezuela.
Vehicle details: 1985, Defender, Green
License: <license>
VIN: <vin>
Sincerely,
<owner>