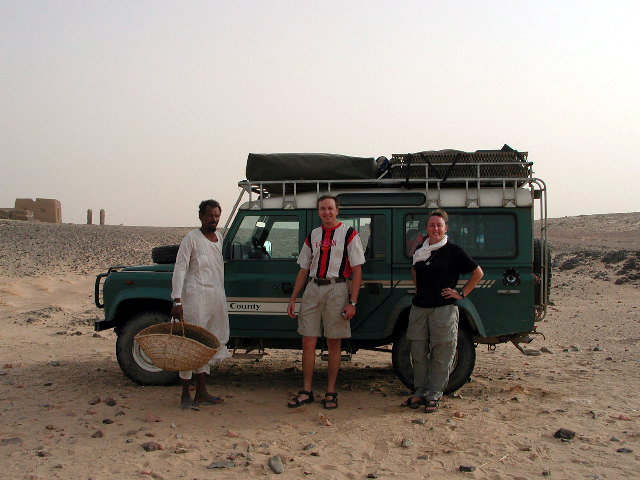 Top Drives: Africa
Jeff Willner
Last Updated: 30 March 2005
Africa is the spiritual home of the Land Rover. There is no combination of challenging roads, weather, and bureaucracy that will test you more. You can start easy, a tour of South Africa with paved roads and all the amenities of home. Then extend into the north to Namibia, Botswana, Zimbabwe, Zambia, and Mozambique. More spectacular sights with slightly more challenge. And finally tackle one of the most epic and illustrious drives possible - Cape Town to Cairo.
I cannot emphasize how spectacular the sights are, how diverse, and how memorable. As you can see below, there are plenty of drives to pick from. I've broken down the drives into Southern, East, and North Africa - in order from least to most technically challenging.
Unfortunately I have not yet had the chance to drive West Africa and I know there are some good sights there. And on the scale of sheer, spectacularly, epic challenge - there is nothing that can touch the challenge of the roads of the Congo. But civil war has left this country closed off and I cannot recommend it.
Southern Africa
| | |
| --- | --- |
| | *** Cape Town & Garden Route - Incredibly picturesque. Cape Town, Cape Point, Stellenbosh, Cango Caves, Garden Route, and back to Cape Town. |
| | ***** Cape Town to Victoria Falls - Cape Town north is a long dusty drive, but the world's largest sand dunes in Sossussvlei are stunning. Across the desert to Swakopmund on the ocean shore for sandboarding and seafood. Up the Skeleton Coast and across into Etosha with it's great public camp grounds with lit watering holes - scotch and a cigar at dusk while watching elephants drink is an out of body experience. Into Botswana to the great Okavango Delta. Rough camp. Into Chobe game park. And finally pop out in the north at Victoria Falls for whitewater rafting, sunset cruises, and a little taste of luxury with some fine dining beside the falls. |
East Africa
| | |
| --- | --- |
| | ***** Masai Mara and Serengeti - This is the granddady of them all. The circuit through the worlds finest game parks, and the largest concentration of wildlife in the world. |
| | **** Nairobi to Uganda |
| | *** Burundi, Rwanda, East Tanzania |
North Africa
| | |
| --- | --- |
| | ***** Ethiopia - |
| | **** Sudan and Egypt - |