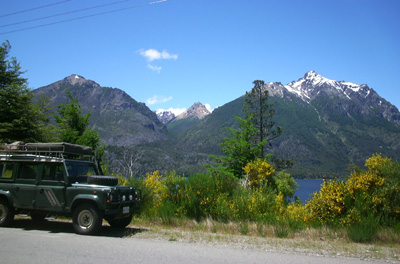 Top Drives: Rest of the World
Jeff Willner
Last Updated: 30 March 2005
Asia
This is still country that needs a 4x4, a place where when you stop you attract a crowd of dozens who just want to look at the truck. People pass you cigarettes and give you a big smile, "Good, good, Land Rover." Africa is the home of the Defender, but Asia is a close second.
I'd strongly recommend Ankor Wat in Cambodia, Luang Prabang in Laos, and Hanoi/Halong Bay in Vietnam. I have a suspicion that Bangkok to Hanoi would be an incredible drive - but my Land Rover was being rebuilt during this section of my expedition so I used public transport.
| | |
| --- | --- |
| | ***** Tibet - Very tough to get in, you'll have to go through a Chinese travel agency and pay to have a guide with you... but this is the best, most incredible drive outside of Africa. From Everest base camp to the monasteries of Lhasa, you'll battle terrible dirt roads and even worse food. In short - this is a real drive. |
| | **** Beijing to Xian - In addition to the usual tourist sights in Beijing and Xian, you'll have the chance to see the amazing things in between. The Buddist grotto of Datong, the hanging monastery, the ancient holy mountains of Wutai Shan and the leg cramping 2200m of steps up Hua Shuan mountain. |
| | *** Nepal - Known for hiking but equally breathtaking to drive, it has an amazing transition from valley plains to foothills and then the majestic Himalayas. |
South America
You say South America and people think of Patagonia... but it turns out that's a sucky drive. A great hike, but not a particularly good drive. Here are my top picks.
| | |
| --- | --- |
| | ***** Nazca, Aerequipa, Puno, Cusco - This is the best drive in the continent. The world's deepest canyons, staggering mountains, lakes, ruins, and archeological spectacles. It's a tough road and the sights are great. |
| | *** Atacama - In southern Bolivia at a staggering 4,500m of altitude lies one of the worlds most picturesque deserts... and it kills people every year. Don't do it alone. Pay a few bucks to tag along with a guided tour. If you don't you'll likely fall through an invisible soft spot in the world's largest salt pan. For all the danger though, it's some of the most unique scenery you'll ever see. |
| | *** Bariloche and the Lakes District - In western Argentina you will find long drives beside sparkling blue lakes framed with snow covered mountains and dotted with bistros and ice cream stands. It ain't off roading - but it's a gorgeous drive. |
Middle East
There is one great drive, an amazing drive. There are interesting sights elsewhere in the Middle East including Istanbul, Bodrum and Goreme in Turkey, and Esfahan in Iran. But these are relatively easy to get to and a vehicle doesn't add any magic.
| | |
| --- | --- |
| | ***** Jordan/Syria - Start near the Red Sea in southern Jordan and head north to Wadi Rum, Petra, Amman, and Jerash. Then across the border into Syria to Damascus and the ancient Umayaad mosque, and then to the overpowering Crusader castle of Krak de Chevalier - with Richard the Lionhart's shield still carved in the dining hall (knights of the round table). Exit into southern Turkey. |
Europe
Frankly there's not a lot of Land Rover type experiences to be had, the roads are too damn good. But I did come across some interesting sights...
| | |
| --- | --- |
| | *** Norway - Stunning. Driving over the fjiords and through the tunnels that stretch for fifteen or twenty kilometers. Flan. Bergen. Really terrific. |
| | ** Northern Bulgaria and Romania - Great territory, castles, cheap food and hotels, this is old Europe that is still a bargain. |
| | ** Poland and the Baltics - Krakow is a terrific historic olde town. I was unprepared for the impact of Auschwitz. The castles of the Teutonic knights in the north. And as an extension - the capitals of the Baltic countries are storybook cities that will continue to impress. |