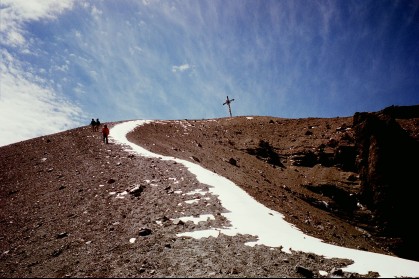 Packing List
A short list of medicines, clothing, and equipment to consider bringing on your expedition.
Includes a section on mountain climbing and altitude sickness symptoms.
Equipment
Communication is key. At a minimum you need a way to get help in an emergency. Fortunately mobile phone technology is making life easier. Mobile phone coverage is available near most highways of the world. Depending on the country, it may be possible to rent a cell phone at the airport. If you are going off road, you'll likely need additional coverage - and for that I recommend an Iridium satellite phone. Rentals are relatively low cost.
The Palm Pilot was another key piece of technology used for two critical roles - track team expenses and record daily journals. I used a Palm V with a folding keyboard. For team expenses we used the Expense function and had a designated Treasurer who recorded each expense, the amount, location, who paid for it, and who it should be shared with. At the end of each week, she tallied the expenses and the team would settle up in whatever currency we happened to have. For journals, the Palm was portable and compact. It was easy to unfold the keyboard and type in a 200 word entry in a restaurant or campsite. It worked much better than a laptop and I worried a lot less about theft.
Medicines & Health
Most travelers will experience some stomach changes with the different food and water. I recommend Pepto Bismol tablets which allow your body to keep processing while it adjusts. Immodium is also an option. You should visit a travel clinic prior to leaving to get your immunizations, and prescriptions for anti-malaria medicine plus Cipro for traveller's stomach (dysentery).
Get vaccinations six weeks in advance if possible, a Yellow Fever certificate is necessary when visiting Zanzibar (you don't need the actual shot) - be sure to ask for one at the travel clinic.
Other useful medications; Advil, Benadryl or other antihistamine, Cold/flu medicine, Mosquito repellent (DEET high concentration), Sunscreen, Aloe Vera gel
More detailed information on 220 individual countries can be found at www.tripprep.com.
To find a reliable clinic abroad, go to the International Society of Travel Medicine's site, www.istm.org
Official health information is available at the Centers for Disease Control, www.cdc.gov/travel

Clothing & Packing
Day Pack
Sun Hat or cap, sunglasses, clip-ons for regular glasses
Bird or mammal field guides
Reading material
Digital camera, with extra memory chip
Binoculars
Chapstick
Suitcase
Pack light. Hotel and hostel stops are much easier if luggage is kept to a minimum. Use laundry service on the road and expect to buy inexpensive clothing as needed when in country. Clothing is a matter of taste and you should outfit yourself to enjoy the experience. Use packing plastic smush bags to store sweaters/fleece, bulky clothing (these seal out the extra air and make sweaters more compact).
Sample clothing list – Safari
3 pairs of pants (2 for the field, 1 for evening) pants can be the kind that zipper off into shorts (such as Expeditio), or blue jeans.
Long casual khaki button-down dress or skirt (okay for day wear & evening in the bush or lodge, can be brought in lieu of the 1 or 2 pairs of pants mentioned above).
3 shirts (stone/light moss/sage-colored, not white colored) (2 for the field, 1 for evening)
2 under T-shirts, 7 pairs underwear, 7 pairs khaki-color cotton socks (enough for about 1-3 weeks in the field, can wash these out).
Shoes (brown color to match evening dress or casual khaki dress)
Fleece jacket for early morning/sunset game drives
Bathing suit, bikini
Optional clothing list – Mountain Climbing
Hiking boots (required), should be waterproof and reasonably warm (Kili has snow at the summit but crampons or specialized boots are not necessary)
Warm hat, gloves, for freezing temperature
Rainproof shell (top and bottom) - wear over fleece jacket at top of mountain for extra warmth
Long underwear, sock liners (4 pair)
Sub-zero weather sleeping bag, camp pillow
Climbing head lamp
Playing cards
Granola or energy bars for snacking on the trail
Toilet paper (important - this is not provided on Kilimanjaro)
Quick-drying camping towel
Glucose tablets (critical for the final summit push on Kilimanjaro)
Recommended prescribed medicines: altitude pills (Diamox)
Mountain Climbing
Before leaving home – get a prescription for altitude medicine at the travel clinic when you get your shots. Diamox is most commonly used. You will need to start taking the medicine the day before you climb and continue until the day after you finish. Also pack a supply of Power Gel or glucose tablets for the final day. Mountain mix, granola, or dried fruit is also a nice treat while climbing.
Before you climb – stock up on bottled water at your hotel or at the base of the mountain. You should drink 3 litres a day (the altitude medicine will force you to urinate frequently – but do not stop hydrating). Water can be purchased on the mountain if you are doing Machame route (up to Horombo Hut), but gets progressively more expensive. Put the water in your main bag, carry one bottle in your day pack when climbing (drink the other in the evening). There will be lots of boys at the mountain base renting hiking poles. Rent them. They are very helpful especially in the final two days of climbing, and your money will support the local economy.
Climbing - most of your gear will be carried by a porter, you will only carry your day-pack. Take your camera, bottle of water, trail snacks, hat, sunglasses, and sunscreen. Climb slow. You should never be out of breath on the climb (until the final ascent). Slow steps, frequent rests, and easy breathing, will keep your energy tank full and help you ward off altitude sickness. Eat lots. Most people gradually lose their appetite as they climb the mountain, and without food you cannot climb. Force the food down, eat as much as you can at every meal. Bring Tabasco or other seasonings you enjoy. Food equals energy.
Altitude sickness
As you climb, the number of oxygen molecules per breath decreases steadily. In order to properly oxygenate the body, your breathing rate (even while at rest) has to increase. This extra ventilation increases the oxygen content in the blood, but not to sea level concentrations. Since the amount of oxygen required for activity is the same, the body must adjust to having less oxygen. In addition, for reasons not entirely understood, high altitude and lower air pressure causes fluid to leak from the capillaries which can cause fluid build-up in both the lungs and the brain.
Mild AMS (Acute Mountain Sickness) - AMS is common at high altitudes. At elevations over 10,000 feet (3,048 meters), 75% of people will have mild symptoms. The occurrence of AMS is dependent upon the elevation, the rate of ascent, and individual susceptibility. Many people will experience mild AMS during the acclimatization process. Symptoms usually start 12-24 hours after arrival at altitude and begin to decrease in severity about the third day. The symptoms of Mild AMS are headache, dizziness, fatigue, shortness of breath, loss of appetite, nausea, disturbed sleep, and a general feeling of malaise. Symptoms tend to be worse at night and when respiratory drive is decreased. Mild AMS does not interfere with normal activity and symptoms generally subside within 2-4 days as the body acclimatizes. As long as symptoms are mild, and only a nuisance, ascent can continue at a moderate rate. When hiking, it is essential that you communicate any symptoms of illness immediately to others on your trip. AMS is considered to be a neurological problem caused by changes in the central nervous system. It is basically a mild form of High Altitude Cerebral Edema
Moderate AMS - Includes severe headache that is not relieved by medication, nausea and vomiting, increasing weakness and fatigue, shortness of breath, and decreased coordination (ataxia). Normal activity is difficult, although the person may still be able to walk on their own. At this stage, only advanced medications or descent can reverse the problem. Descending even a few hundred feet (70-100 meters) may help and definite improvement will be seen in descents of 1,000-2,000 feet (305-610 meters). Twenty-four hours at the lower altitude will result in significant improvements. The person should remain at lower altitude until symptoms have subsided (up to 3 days). The best test for moderate AMS is to have the person "walk a straight line" heel to toe. Just like a sobriety test, a person with ataxia will be unable to walk a straight line. This is a clear indication that immediate descent is required. It is important to get the person to descend before the ataxia reaches the point where they cannot walk on their own (which would necessitate a litter evacuation).
Severe AMS - Presents as an increase in the severity of the aforementioned symptoms, including shortness of breath at rest, inability to walk, decreasing mental status, and fluid buildup in the lungs. Severe AMS requires IMMEDIATE descent to lower altitudes.
Altitude sickness is a lottery. Some people climb Kili multiple times yet may experience altitude symptoms only once, or not at all. If you become ill, don't take it personally. Often the fittest people have the hardest time with altitude. The only way to improve your odds is to spend a few days at altitude to acclimatize. Many climbers add an extra day at Horombo Hut to allow the body to become more acclimatized (ask GraduateTravel about extending your climb if you would like an extra day).