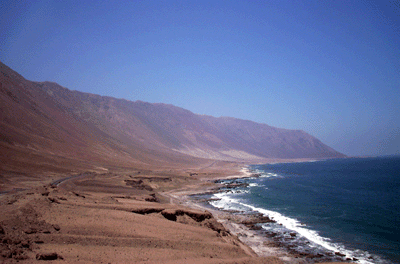 #2: Down Chile
(December 2003)
More desert then a long sigh as we find green in the south
Its funny how McDonalds seems like flavored cardboard at home, but is an oasis on the road. We pulled into Arica in the fading sun and bargained some rooms at the local Best Western, walked down the pedestrian alley that is the town's heart and came across the golden arches. Clean bathrooms, crispy fries, efficient service. After a Big Mac and Coke, it didn't feel like we were risking our health in a foreign country, it seemed more like a series of day drives down the coast. Stacey decided that she wouldn't fly to Santiago, she would stay on and drive down with me. Then, as we left, a bum very politely asked us for our leftover fries. Ok, it wasn't exactly like home.
Down the Coast
I was thrilled that Stacey opted to stay on. But the conditions didn't get much easier. And a few hours out of Arica, the truck started overheating. Blimey. I changed the fuel filter, checked the air filter, did nothing. Had to turn off the air conditioning on the hills.
Humberstone is an abandoned nitrate mine sitting off the side of the Panamerican. It remains as a tourist attraction, the rusting tin creaking in the wind. We wandered the sandy streets. I was fascinated by the old mine. An old tennis court that had seen its last play at the end of WWII, an old locomotive shipwrecked on its way into a trackless desert. Giant warehouses shot through by the setting sun. What stories had played out here - greed, ambition, heroic stands by honest men, lives that petered out in sweat. In 1947 artifical fertilizers made the mine uneconomical and it was shut down. The faded town was my favorite stop on this trip.
We arrived in Iquique and negotiated a great room in the town's best hotel. I left Stacey to sunbathe and scooted into town to a tin shack garage to get the oil changed. A grease and dirt encrusted fellow offered a selection of oil and I was relieved to see Castrol. Can't go wrong with that.
Like many of the northern towns in Chile, Iquique is trying to re-invent itself as a beach resort and condos line the southern beaches. The downtown is under renovation, a few cafes line a newly pedestrianized strip. Off the main plaza the venerable Casino Espana has set the dinner standard for years, decorated with rather nice paintings of the complete story of Don Quixote.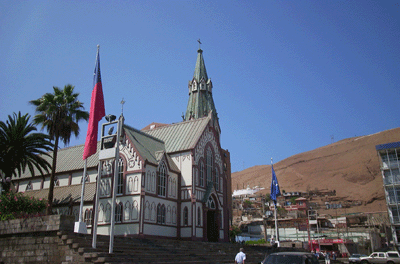 An iron church designed by Eiffel (of tower fame), pre-fabricated and shipped to South America, it livens Arica's main square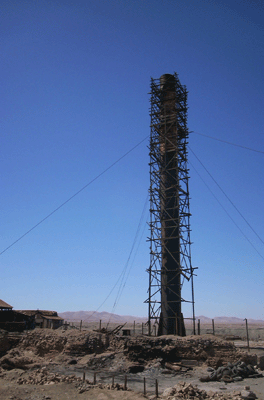 Marooned in the scorching desert, the abandoned nitrate mine of Humberstone rusts quietly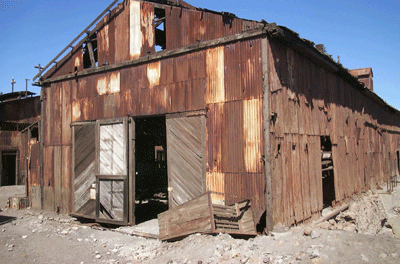 Nitrates, otherwise known as old bat crap, revolutionized agriculture in the early 1900's - but shortly after WW2 some genius figured out how to make petroleum-based fertilizer and the great guano rush was over leaving Humberstone suddenly uneconomic to run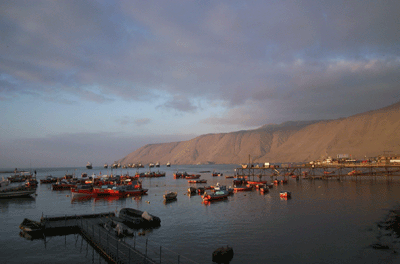 The delicious seaside town of Iquique bathed in sunset, cobbled streets and old restaurants are expanding as the city re-invents itself as a tourist destination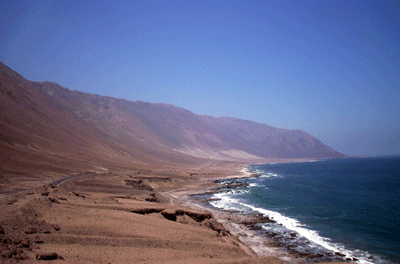 The most beautiful drive in South America, the seaside run south from Iquique to Antofogasta on the flank of 1000 ft cliffs beside the ocean, occasional fishing shacks break up the otherwise empty desert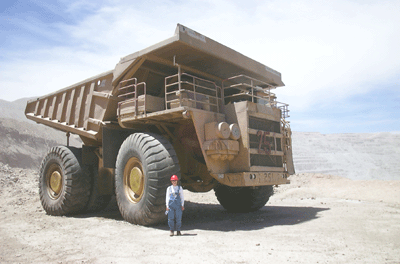 The world's largest copper mine in Chiquicamata is also one of the highest elevation worksites, walk don't run in the thin air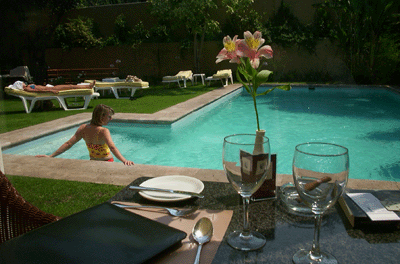 Some R&R in Santiago at the end of a long dirty dusty desert drive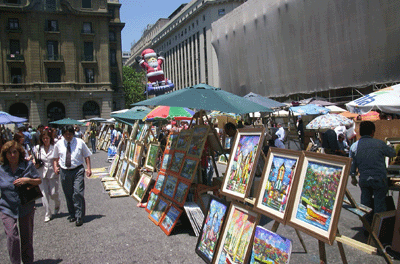 Santiago's main square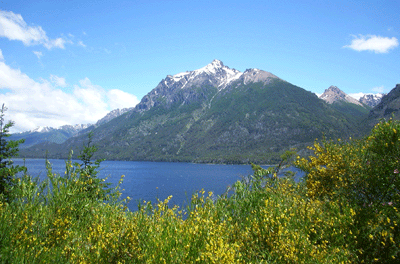 South of Santiago into the Lakes District, a dramatic change from the north, known as the Switzerland of the south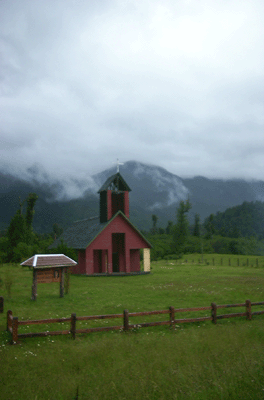 A tiny country church on the border crossing - Chile is truly a country of extremes from desert to lush mountains